Growing a year older calls for celebration. You only celebrate this milestone once a year. Birthday celebrations bring together families and friends who come to share the gift of another year.
Forgetting your best-friend's birthday is inexcusable. A birthday celebration gives you an opportunity to let your friend know how special they are to you. You therefore want your best friend to feel special by saying the right words. Choosing the right words that are not only powerful and sensitive but also emotional may prove a bit daunting. You want to say words that will show your best friend that they are important. Words that will have an impact.
Our carefully selected words will have your best friend feeling all emotional and loved on their very special day.
Birthday Wishes For A Best Friend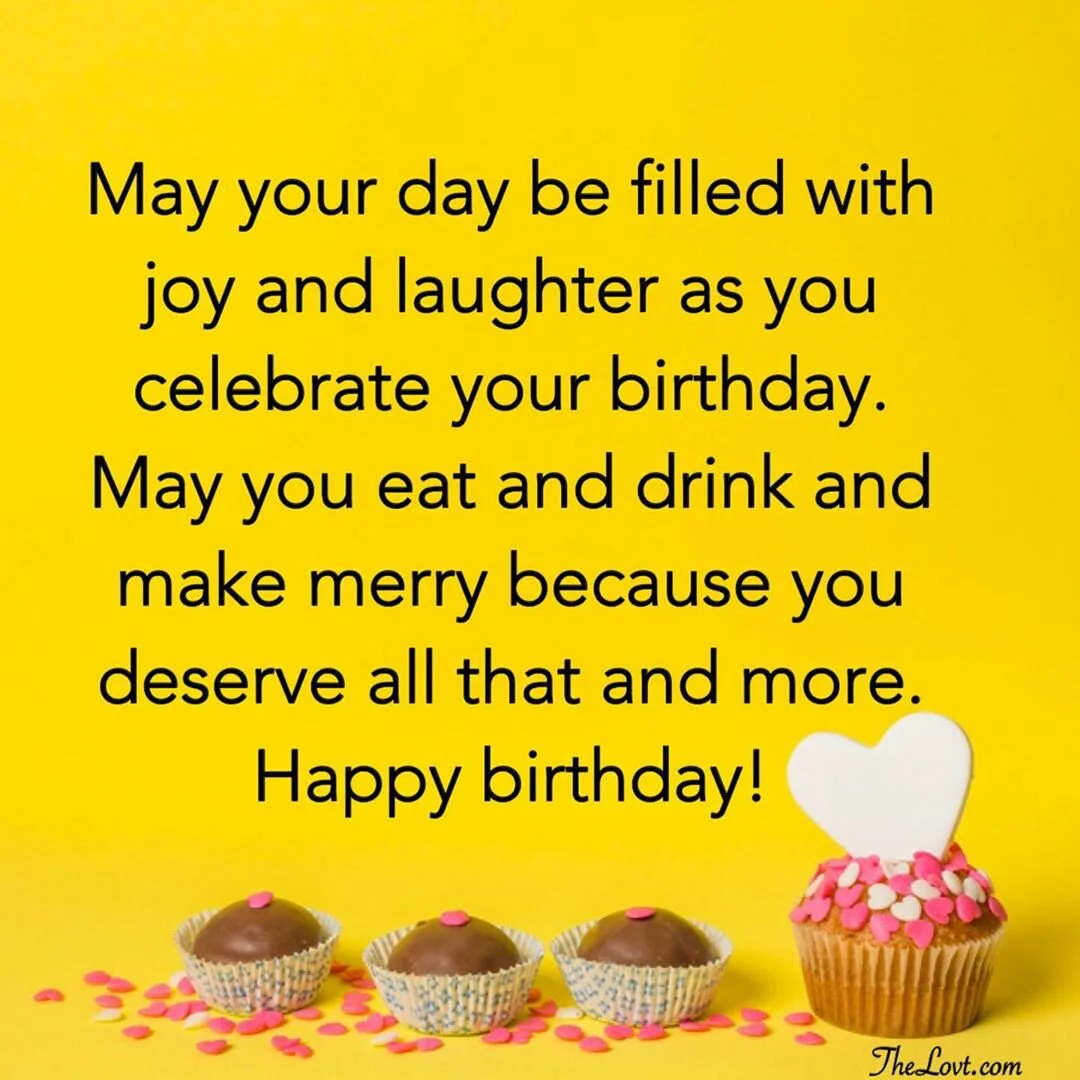 1: It is a special day for a dear person. Let me be the first one to shoot birthday wishes your way…enjoy till you drop!
2: May you have an unforgettable day that you will remember till your next birthday. Happy birthday buddy and may all your dreams come true.
3: Happy birthday to my one special friend. May today be the beginning of a new chapter in your life because things can only get better.
4: My world is brighter and clearer because I know you have my back..it is a joy to celebrate your special day with you. Happy birthday buddy.
5: As you turn a new page of a new day of another year, may you have new beginnings and all things fresh. Happy birthday.
6: Happy birthday to a special friend on their special day. Enjoy your day pal.
7: It is always a blessing to turn a year older. Many happy returns on your special day. Thank you for being a friend and for adding value in my life. Happy birthday mate.
8: May your special day be as bright as you are. Happy birthday to one of the most amazing persons in my life. You are special and I celebrate you today.
9: Wishing you more life, lots of love and happiness as you celebrate your birthday. Happy birthday!
10: Happy birthday to the most amazing person in my world. May this day be as amazing as you are.
11: It is an honor and a blessing to celebrate your birthday with you. Cheers to many more birthdays!
12: As you celebrate your birthday, this is to wish you all the best and to let you know I value our friendship. Happy birthday! Cheers!
13: May your day be filled with joy and laughter as you celebrate your birthday. May you eat and drink and make merry because you deserve all that and more. Happy birthday!
14: Happy birthday dear friend. May the coming year be better than all the previous years combined.
15: May favor and blessings locate you and follow you to the coming year as you celebrate your birthday.
16: A new year comes with new beginnings. May your new year be full of joy, happiness, good health and laughter. Happy birthday and enjoy your day.
17: May all the joy you have added in my life this year return to you in full measure, pressed down and running over. Happy birthday dear friend
Emotional Birthday Wishes For A Best Friend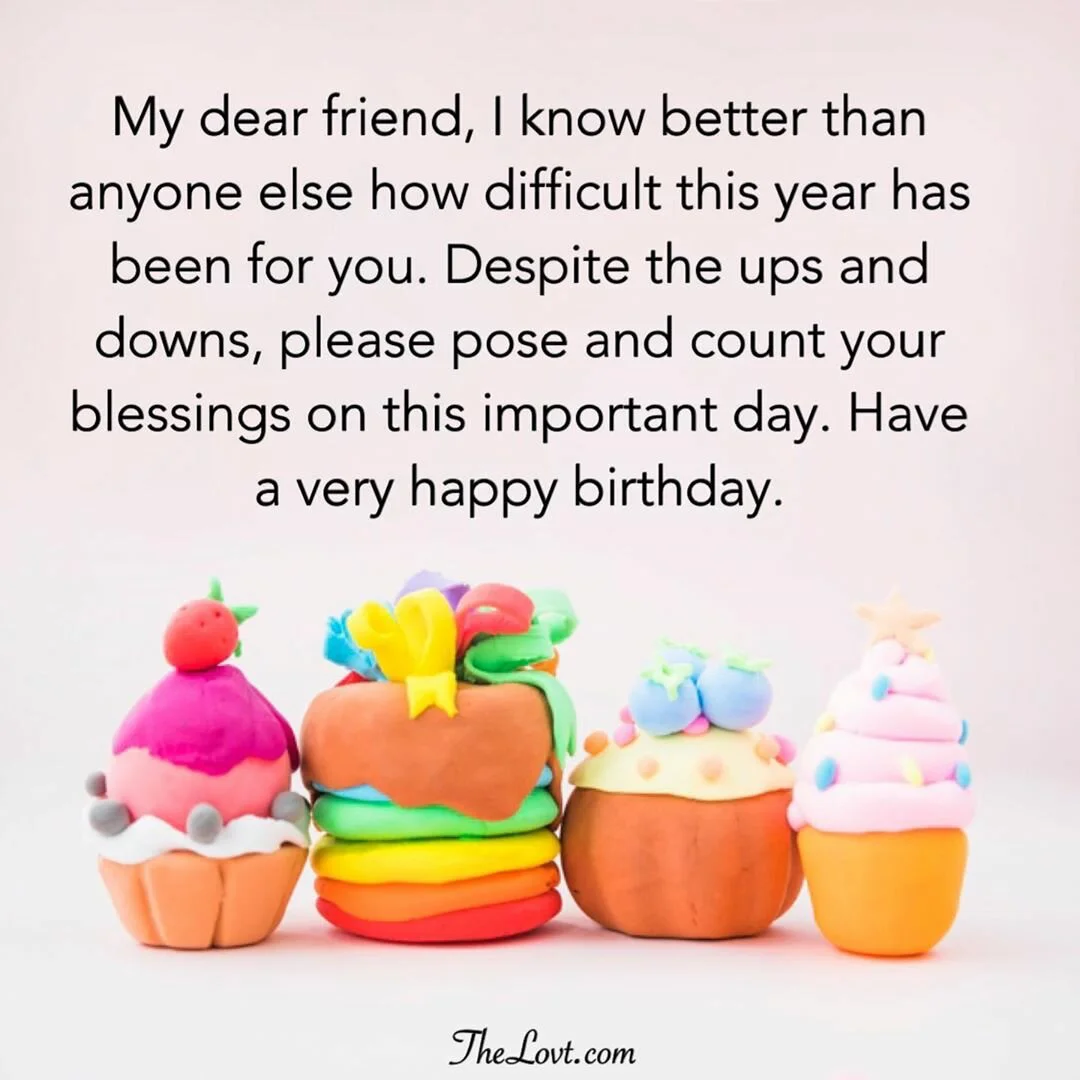 18: My dear friend, I know better than anyone else how difficult this year has been for you. Despite the ups and downs, please pose and count your blessings on this important day. Have a very happy birthday.
19: I know I never say this often but I love you buddy for being there for me and giving me a shoulder to lean on. As you celebrate your birthday, remember you have one human being who is glad to have you around. Happy birthday dear.
20: Friends come and go but true friendship lasts a life time. Our friendship has made us family. I celebrate you today and wish you long life to see you achieve all the desires of your life. Wishing you a happy birthday with lots of love.
21: You deserve the best because you are simply the best, better than all the rest. Happy birthday dear friend and may you blow many more candles. I love you.
22: I do not know how I would have gone through this year without your support. Having you holding my hand through the most difficult time of my life has been a confirmation that you are more than a friend and I treasure you. That is why I wish you only the very best as you celebrate your birthday. I will always have your back. Happy birthday!
23: You are the sister/brother I never had. Thank you for being a friend. I am glad we chose each other and our differences have made us better friends. Happy birthday dear friend. As we celebrate together, I know I am blessed to have you in my life.
24: When I count my blessings every year, you are always on the top of my list. You are special and I count myself lucky to share such a deep connection with you. Happy birthday dear friend and keep shining.
25: Choosing that desk in class many years ago is one of the best decisions I ever made. Look at us now. Still going strong despite the challenges. We have achieved so much together and this year has been particularly special for us. Happy birthday dearest and cheers to new beginnings.
26: Talking to you every day always puts a smile on my face and lights up my world. May your light shine brighter for you as you celebrate your birthday. You are a blessing to me and I count myself lucky to be your best friend. Happy birthday bestie.
27: You know you have a best friend when you share secret jokes in a crowd just by looking at each other. Happy birthday to my best friend. Keep smiling.
28: Who needs a therapist when they have a best friend like you. Thank you for being there for me through thick and thin. Happy birthday dearest and many happy returns.
29: Having you in my life has challenged me to be a better person. I cannot even be able to express what our friendship means to me. We are just right for each other. I thank God with you for another year. Happy birthday dearest. You are simply the best.
30: You have seen me at my best and at my worst. And you are still stuck with me. That's what best friends do. I am blessed to have a true friend like you. Happy birthday my friend.
Funny Birthday Wishes For A Best Friend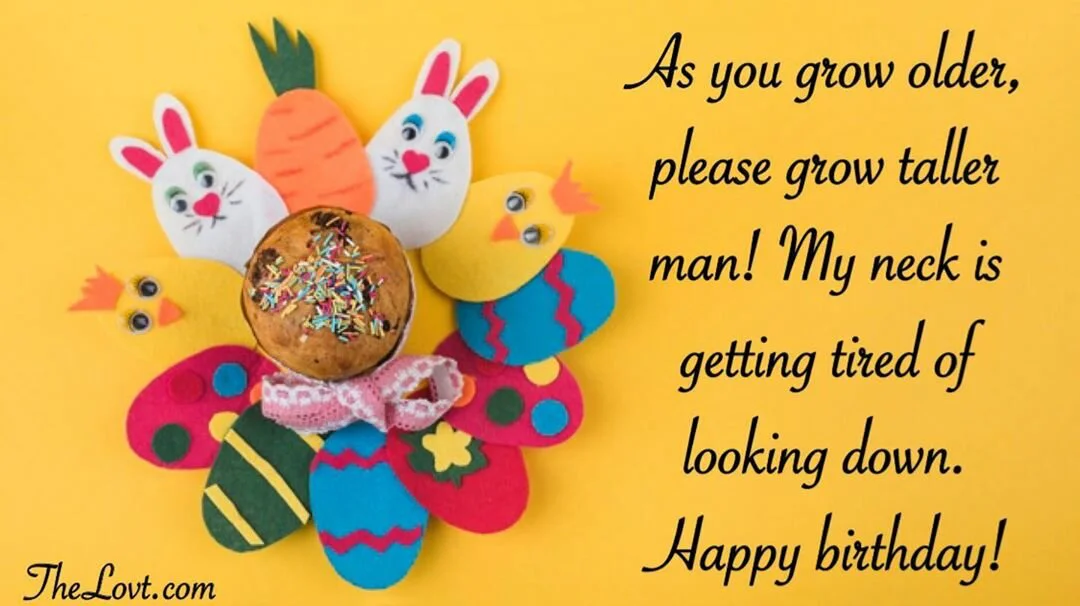 31: I don't know anyone else normal enough to tolerate your crazy nature! Your craziness makes life worth living. Happy birthday crazy one!
32: As you grow older, please grow taller man! My neck is getting tired of looking down. Happy birthday!
33: It is yet another new year for you. I can't believe how I have put up with you for so many years! But life would be boring without you. Happy birthday my crazy friend and blessings to a new year.
34: As you celebrate another birthday, looking at you confirms that we are going to be weird old people together! Well weird is not so bad after all! Happy birthday and to many years of weirdness.
35: As you grow older, keep being clumsy and remember that when you fall down, like you always do, I will pick you up from the ground after I finish laughing. That's how we met anyway and are now inseparable. Happy birthday clumsy one.
36: Another year older and the wrinkles are already starting to show! How many white hairs now! Anyway, just kidding. Happy birthday mate.
37: How many candles are we blowing this year? I see they could not even fit on the cake! Looks like the candles were more expensive than the cake this year. Happy birthday to my amazing best friend.
38: Almost putting you in an old people's home buddy! You are growing too old too fast! You need to slow down now so that I can catch up with you to keep you company at the home. Happy birthday best friend. Here is to more birthdays.
39: Are you crazy, Am I crazy or are we just crazier together. Let's find out tonight as we celebrate your birthday. Happy birthday to my crazy best friend.
40: Calories for who! it is my best friend's birthday and we are not counting calories tonight! Happy birthday and let's eat, drink and make merry.
41: We need to create more stories for our grandchildren. Let us go out and be silly tonight. Because it is your birthday and being silly is what we do best.
42: I think this the year we start lighting bonfires instead of candles! The candles will be too many they might cause an accident! Happy birthday mate and age gracefully.
43: Thank you for keeping my secrets. I promise not to spill any beans if you share all your birthday gifts with me! Happy birthday my partner in crime.