Your religious leader, like any other resourceful person in your life, has played a huge role in modeling and shaping you into the straight person you are. With this in mind, they deserve the most heartfelt, and sincere birthday wishes.
At the same time, most people have a hard time wishing their pastors a happy birthday because of the "holiness" perception and social status associated with them. Trust us, they are normal people like you and I. You don't have to send anything complex.
Fortunately for you, we have come up with some of the most appropriate wishes for such occasions just to save you the awkwardness and self-doubt. We have you covered!
Birthday Wishes For Pastor
1: We thank God for granting you the wisdom and knowledge to pastor such a large congregation and keep us all pivoted on the things that truly matter. You have inspired countless lives through your sermons, and we all wish you good health, happiness, and everlasting joy. Happy birthday Sir!
2: Man of God, as you turn a year older, may you continue being the visionary leader that you are, solely committing your life to the work of the ministry. All I pray is that you have enough strength to impact more lives in the years to come. Have a memorable birthday.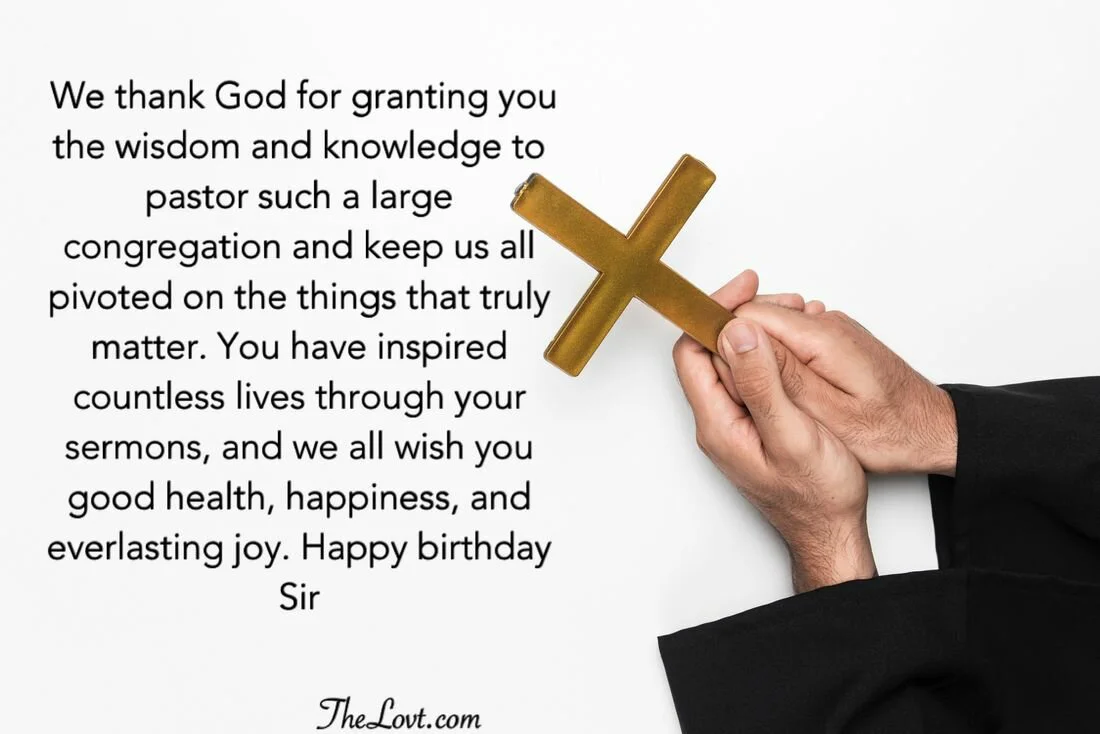 3: Your concern for our spiritual lives and the dedication to nurturing young Christians are some of the most commendable and outstanding things about you. Thank you for being so phenomenal. Happy birthday!
4: Happy birthday, minister of the Gospel! We pray that God gives you victory over every situation. May this light you have begun, shine brighter as the days go by because you are a blessed man. Wishing you all the best today!
5: On this special day, you came into existence. I hope we continue sharing in the magnificence of your life. It is my prayer that you continue abiding in the statutes and laws that have been governing us. Happy birthday, Spiritual father.
6: We pray that the good Lord continues to give you victory over all your foes. You have come so far, transformed thousands of lives, shown us the light and created a standard no one could ever imagine. Age like fine wine, dear pastor. Happy birthday!
7: This generation and the ones to come are lucky to have the insights of such a wise man of God. More than anything else, I pray that all your heart's desires are fulfilled before the end of your days. Happy birthday to the best pastor in town.
8: Pastor, as you celebrate another year of God's divine blessings, it is my sincerest prayer that you experience the best year of your life yet, as you grow both mentally and spiritually. Best wishes on your birthday.
9: A very happy, majestic and blissful birthday to my pastor. For always guiding us in the right path and bringing us closer to our Lord Jesus Christ, we will forever be grateful. Here's to touching more lives and bringing more souls into the kingdom of God!
10: If I could think of one person who has lived an honest, virtuous life, you would be the only person in mind pastor. Words are not enough to describe all we have learned from you. May you live longer than your greatest expectations. Happiest birthday!
11: Dear spiritual father, the presence of God has been so mighty in your life. We appreciate your faithfulness and commitment to this ministry and to serving God as well as people. Wishing you more fulfillment in the years to come. Happy birthday.
Inspirational Birthday Wishes For Pastor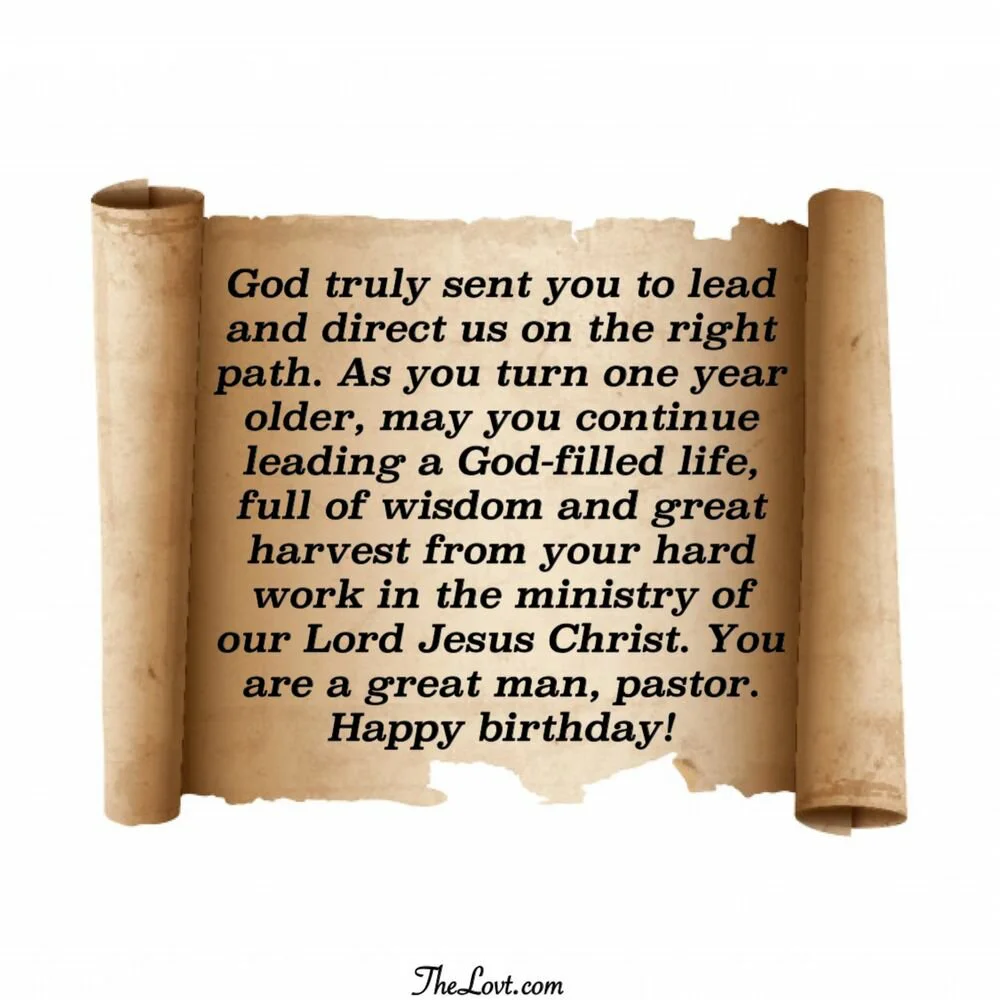 1: God truly sent you to lead and direct us on the right path. As you turn one year older, may you continue leading a God-filled life, full of wisdom and great harvest from your hard work in the ministry of our Lord Jesus Christ. You are a great man, pastor. Happy birthday!
2: Regardless of the hour, time and day, you have always made the extra effort and ran the extra mile to ensure your people are catered for. We would never ask God for a better person. Happy birthday and all the best in your future endeavors.
3: Happy birthday to the most compassionate, loving and understanding pastor. For the countless times you have walked with me, helped me learn regardless of my mistakes and picked me up when I stumbled, may God bless you mightily. Your best days are still ahead.
4: I could never thank you enough for your ministry which has been a key tool in the transformation of countless lives. Your service to the Lord is not in vain, dear pastor. Celebrate this new dawn with thanksgiving and pride in what you have achieved by the grace of God. Happy birthday.
5: Each time I think of you, I envision your warm smile and words of wisdom. You have been a wonderful counselor, a great teacher, and above all, a faithful minister of the gospel. No one could ever replace you. Happy birthday.
6: Our humblest prayer today is that you receive the greatest blessings and immense peace. You deserve all the good things in this world because of your support, guidance and unending love. Have the most rewarding birthday!
7: Your deeds over the years have taught us how to be responsible and virtuous. For that, we love and respect you dearly. Happy birthday to the most instrumental spiritual father.
8: Over the years, you have raised our value and standards, beyond the most expensive diamond. Your influence and guidance have inspired great success in people's lives, and we could never thank you enough. Only God can reward you appropriately. Happy birthday, sir!
9: The fact that so many people look up to you, including other pastors, says a lot about the person that you are. Thank you for nurturing a spirit of faith and success in us, and for being the wisest go-to person. We truly don't deserve so much goodness in our lives. Happy birthday pastor
10: On the outside, you look like a normal, meek person, but deep within you, flows rivers of knowledge and wisdom. Only God knows how life would have been without you around. Thank you for heeding to the call of the Most High. Happy birthday.
11: I don't have enough vocabulary to properly portray and esteem your majestic nature on this special day. However, I feel obliged to wish you a blessed birthday, filled with happiness and joy. Keep reigning and being the great man that you are.
Funny Birthday Wishes For Pastor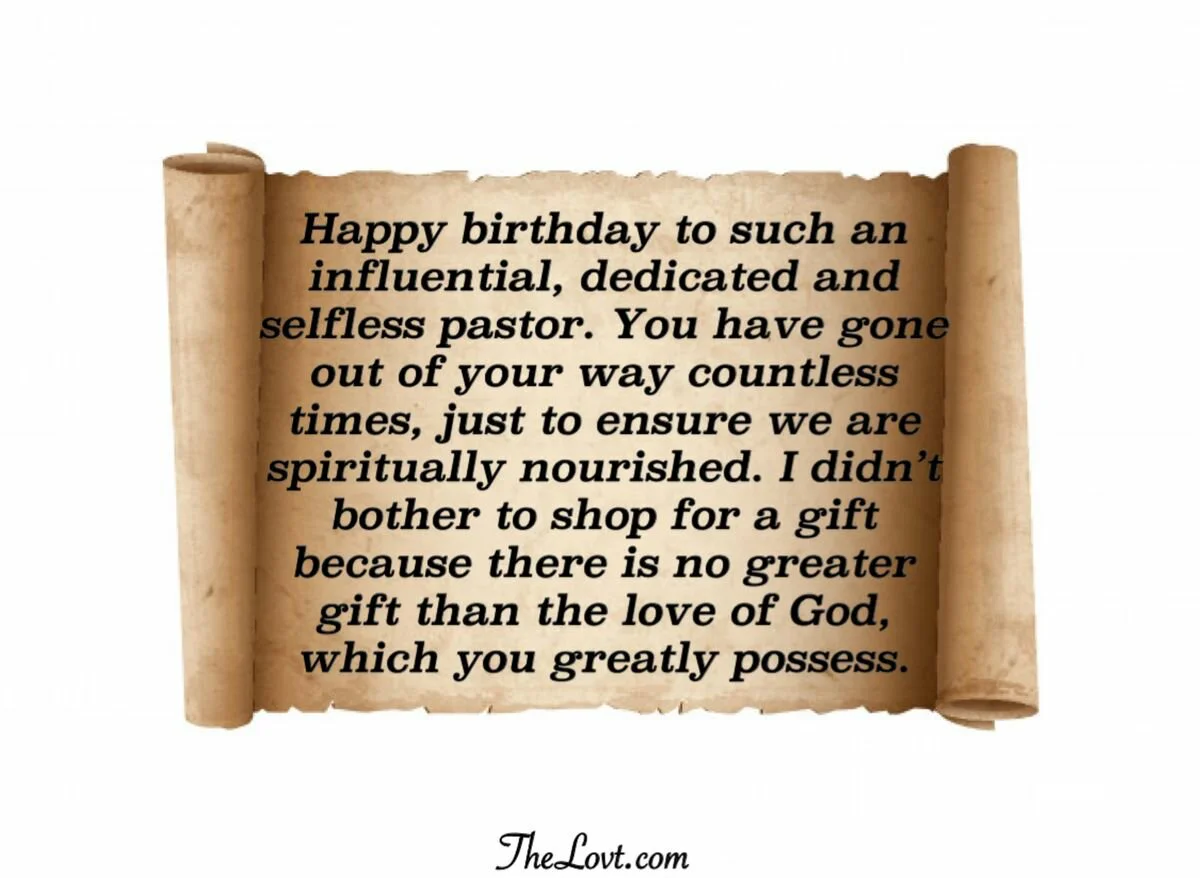 1: Happy birthday to such an influential, dedicated and selfless pastor. You have gone out of your way countless times, just to ensure we are spiritually nourished. I didn't bother to shop for a gift because there is no greater gift than the love of God, which you greatly possess.
2: Enjoy this very special day Sir. I'm so blessed to have a pastor who knows how to take a joke. You are one in a million. Take this time to reflect on another year lived and on the great things ahead of you.
3: Over the years, you have made the devil extremely angry by pastoring and mentoring so many people. Lucky for you, God is on your side. Don't make any more enemies, though. Have a spectacular birthday.
4: Pastor, as we celebrate your birthday, we could not help but think about how awesome you are. You are the cream in the coffee, the salt in the soup and the strawberry on a cupcake. Have a blast!
5: God has blessed you with another birthday. Here's a toast to commemorate this special occasion. You were created just for our sakes. Enjoy our company and good vibes. Thank you for being such a spectacular pastor.
6: At this rate, we will find it difficult to give you more gifts. That's because we celebrate your birthday every other day. Enjoy everything this life has to offer, dear pastor.
7: Happy birthday to the only old pastor who considers himself young. I hope your youth is filled with love, hope, and provision. You are the best thing that happened to countless lives
8: Dear pastor, Happy birthday! May you experience joy and peace like never before. All you have to do is wear your birthday suit and make sure it is ironed because it gets wrinkled each year. Just kidding! Have a good one.
9: I tried getting you a birthday card that matches your age, but I couldn't find any stone tablets. As old as you are, enjoy this special day knowing you have a special place in our hearts for the good work you have done over the years. Happy birthday, pastor.
10: Today, like any other day, you qualify to be called "youth" mainly because the word "you" is contained in "youth." I hope this makes you feel happier than you were. Happy birthday, pastor. Thank you for being our comfort and strength.