Welcoming a baby into the world has to be one of the heartiest experiences anyone could have. Think about it! Wouldn't you want to be among the first people to send your positive inspirational messages to the beginning of a new generation?
Your friends or family are finally having a new baby, but you don't have any idea how to construct a cute meaningful message. Leave it to us! For now, worry about getting the right gift, and a beautiful card. You will find all the examples you need for the newest baby in town.
You don't want to miss this.
New Born Baby Wishes
1: Sending warm wishes to the newborn baby! And to the luckiest parents on planet earth, heartiest congratulations on this great blessing!
2: Congratulations, dear ones! We always knew that the time would come. Here's your chance to enjoy the baby's feet and sweet smell. Take as many pictures as possible and savor every moment, because they will not always be kids.
3: We just received news that an angel in heaven left just to appear in your lives. I believe this bundle of joy is a blessing from above. Congratulations, friends.
4: Finally, we have a new member of the family. I can't wait to cuddle with her and teach her my mischief. Don't worry, she'll turn out just okay. Enjoy this blessing!
5: I would pick you as the world's greatest parents without a second thought. You have outdone yourselves with the other kids and this one will be no different. Congratulations on this milestone!
6: The addition of a new baby adds to the sweet memories and fun times you will have. Cheers to greater experiences, more laughs, and better days ahead. I love you guys.
7: Nine months of labor have finally proven to be rewarding. We thank God for this distinguished guest who is here to stay. Sending the best wishes and blessings in the newborn baby's life and future.
8: Spreading love and warm wishes to the family of the newborn baby. For the longest time, you have wanted a baby girl, and your prayer has been answered. Take care of her with all you have. Congratulations.
9: You must be the proudest parents on the planet right now. Seeing a new innocent soul must be quite a sight to behold. Count your blessings and appreciate all you have. Congratulations on the new baby.
10: Get ready for laughter, noise, and lots of hugs because we are so excited for you. Thank you for making up proud godparents. You will forever be in our prayers. The newborn baby will be the best person we have seen, yet.
11: To have a baby is by itself a great blessing, but to have a beautiful baby is overwhelming! We are happy for you and hope that more blessings will follow.
12: This might be your first child, but we know that it won't be your last. Congratulations on your new child.
13: Getting a child completely changes the outlook and perspective of life. As you start this journey of parenthood, we hope that you become more mature and wise. Finding the right ways to love your baby will be interesting but you'll figure things out. Congrats!
14: There is nothing sweeter than a baby's laughter, nothing cuter than a baby's cry, and nothing nobler and earnest like a baby's love. With time, you will realize that this is the greatest gift you will ever receive.
15: As an experienced parent, the only advice I can give you right now is to enjoy every moment of your baby's infancy while you still can. They grow up so fast, you wouldn't want to have regrets later on. Congratulations.
16: Your new baby will most certainly fill every void in your heart and take away all the negative energy you have hidden in your heart. I look forward to meeting this great blessing. For now, receive my heartfelt congratulatory wishes.
17: There's always something about babies that makes us smile. We already feel fuzzy and warm all over him, thanks to his handsome nature. Wishing you the cutest life story, wherever you are!
Congratulation Wishes For New Born Baby Boy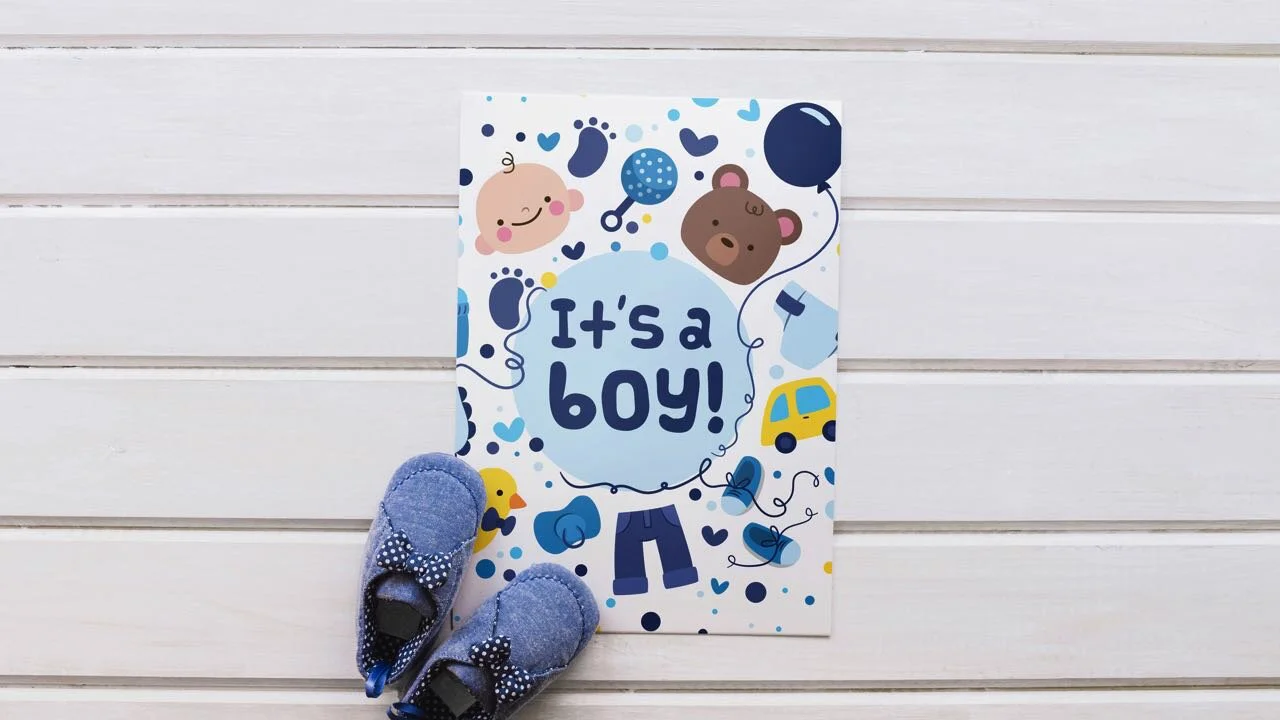 1: I would like to take this opportunity to wish you and your baby boy the very best life. Good luck in all your endeavors in this journey of parenthood. Congratulations!
2: Changing nappies and waking up early in the morning will never get easy. On the other hand, you have the cute warm cuddles and giggles with your little one. Embrace this new gift, brace up, and keep pushing. You will one day be the proudest parent.
3: Today, being one of the greatest days of your life, I would like you to receive our love and best wishes as you start this new experience. Becoming a father is easy, but becoming a great dad is not easy. I believe in you, sir. Congratulations.
4: Here's a congratulatory message on your new baby boy's arrival. You must be the happiest mom on the planet right now. I am happy for you and I can't wait to see the lovely prince.
5: Your newborn son will most certainly take after you and your wife. Wisdom and knowledge are his portions today and for the rest of his life.
6: Cheers to the baby boy with the most beautiful parents. You have made us all proud by getting through the hardest times and coming out victorious. God bless you and your new son.
7: Hoorah! I can't wait to meet the new young man. Sending you loads of hugs and kisses, and more for the baby. Here's to starting this new chapter with love and motivation. You deserve the best.
8: At last, your love has come home. No tape could ever measure how dear you hold this baby boy at heart. That assures me that you will be the greatest parent on planet earth. Congratulations dear one.
9: Words cannot describe how happy I am to be a godmother to the most beautiful baby boy in the world. I know we will have plenty of good times together. Let this new blessing wash away all the sorrows that have lasted the night.
10: Wishing you plenty of wonderful moments together as you begin this interesting journey. One day, you will look back and realize how you pulled through. So smile through all the troubles as you raise the little man. It will all make sense someday.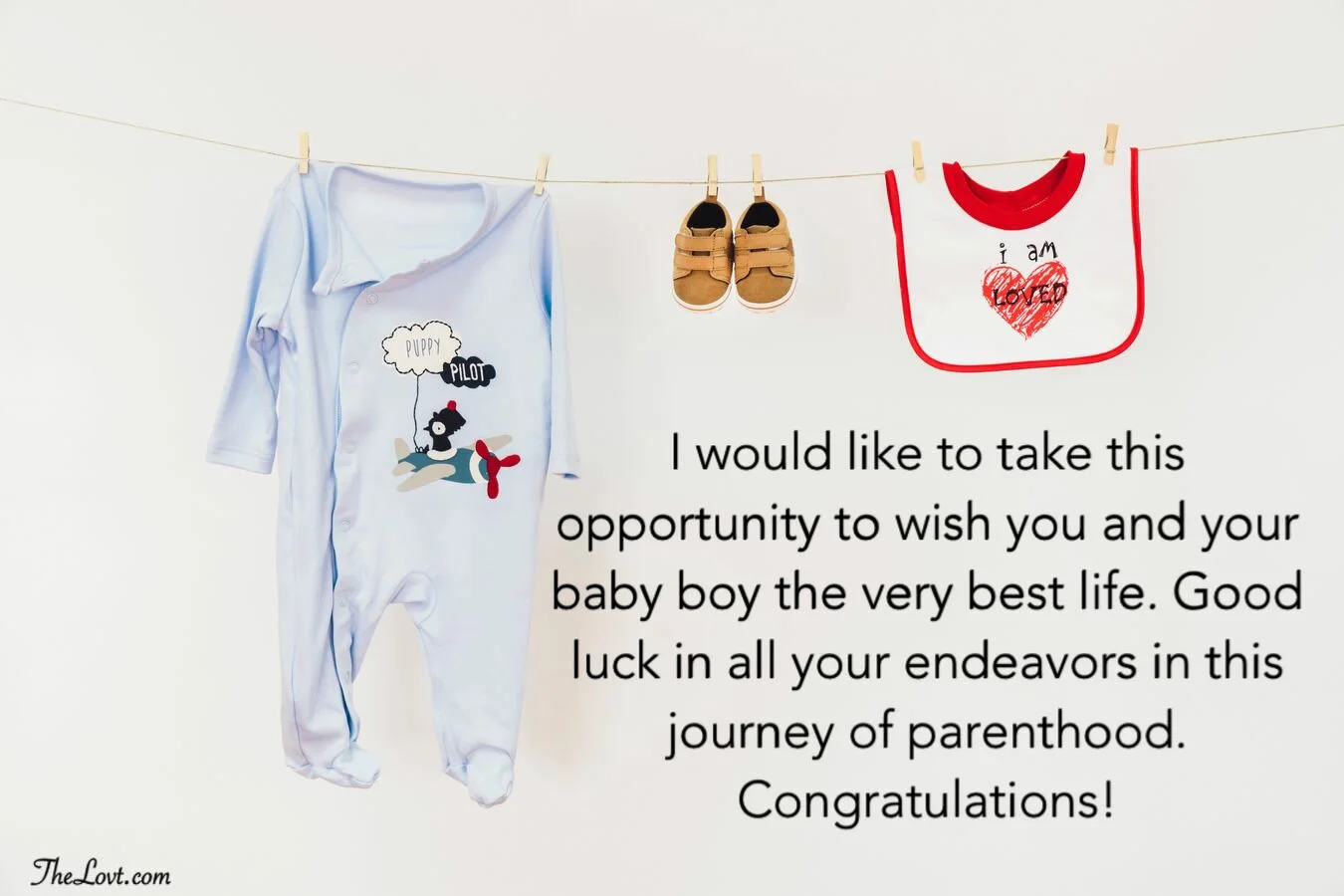 11: Your new baby has a striking resemblance to you. There is no deserving couple in the world like you guys. Your little man will grow up to bring you happiness and joy like never before. Congratulations.
12: We take this opportunity to welcome your baby boy. With a bigger family, comes great responsibility. Thank you for being the perfect example of a couple that has gone through it all but come out stronger. Best wishes on raising this new baby.
13: If your baby is such a beautiful one now, what about when he starts crawling? I can't wait to see him grow up into a great young man. Wishing you all the best in this great journey of parenthood.
Congratulation Wishes For New Born Baby Girl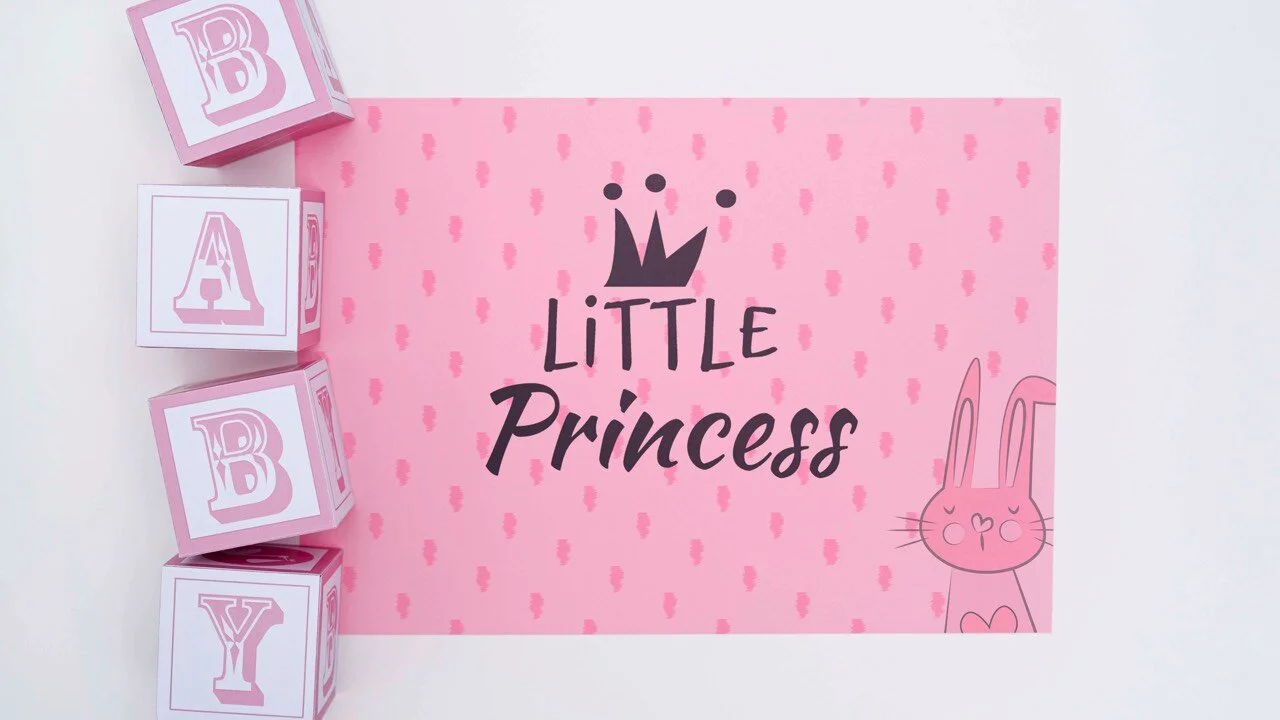 1: You are the finest brew from mother nature. On behalf of all our friends and family members, receive the heartiest congratulations on the birth of your beautiful baby girl.
2: Your new baby girl's smile and laughter have been so contagious and it's only been a few days. Cheers to the newest member of the family. Here's to making many memories in the future.
3: Congratulations on finally becoming grandparents to a very pretty baby girl. You will never get enough of the innocent drools and cute giggles. This is going to be one lucky baby because she is surrounded by the best.
4: Finally, you get the chance to enjoy your baby's little feet and smell. I can only imagine how happy you must be at the moment. Take this new phase with gladness and know you have everything you need to give this baby the best life. I'm always here to help.
5: All the best in keeping up with the sleepless nights and challenging times. At the end of the day, you will be the proudest parent because this baby will turn out to be a queen to whom many look up to.
6: Utmost beauty and magnificence are painted all over your new baby girl's face. Suddenly, life has taken a whole new direction for you, but it's all for the best. Best wishes to the ever-growing family. Greatness awaits!
7: Sometimes, life feels almost perfect. Now is one of those times. With the perfect family and a beautiful baby girl, what more could you want in life? Congratulations on the new addition.
8: You have been strong enough all along and finally, your labor has paid off. Eat the sweet fruits of watching a majestic girl grow up into an incredible woman. You have what it takes to bring her up in the right way. Congrats!
9: Two became three. It was always great having just the both of you, but now things will be better. With this new bundle of joy, you will grow more responsible and affectionate. Wishing you all the best in nurturing your young family.
10: The perfect baby girl has just come into your lives. Make the most out of this by creating a happy environment for her. Above everything, I'm proud of the far you've come and the blessing you have received. I haven't been this happy in a while.
11: Your newborn baby girl makes the perfect addition to the family. In more than one way, you seem complete. You truly deserve this sweet baby because you have been so diligent in your work and life in general. Enjoy every bit of it and best wishes!
12: Congratulations on having the most beautiful baby girl anyone has seen in a while. You are a constant reminder that anyone can achieve all they want in life. Your baby could not get better parents than this.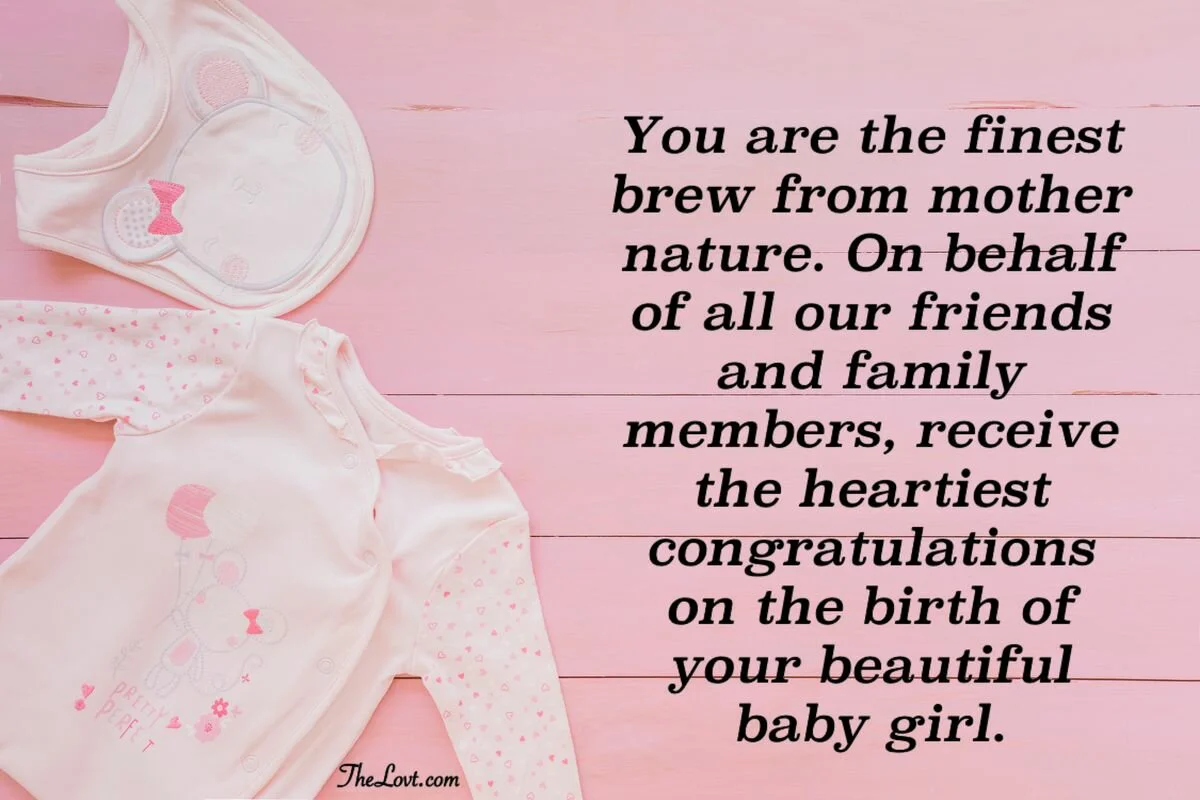 13: I thought I had seen it all until you brought the most spectacular being to the world. I would hold your new baby girl all day and night and still not have enough of her. We welcome her with gladness and good tidings. May she receive anything she ever needs in life.