Sometimes, a colorful heart and a few warm birthday pleasantries don't suffice when it comes to wishing your wife a happy birthday. Even the greatest gift may feel incomparable to your love for her; having in mind, the things you've both been through.
For such special occasions, accompanying a gift with the perfect birthday wish would make an ideal present. Life is too short! We are offering you the easiest way of making your wife the happiest woman on her birthday. Below is a detailed list of the most timeless and heart-warming birthday wishes for your wife. Enjoy and by all means, tweak them to suit your needs.
Birthday Wishes For Wife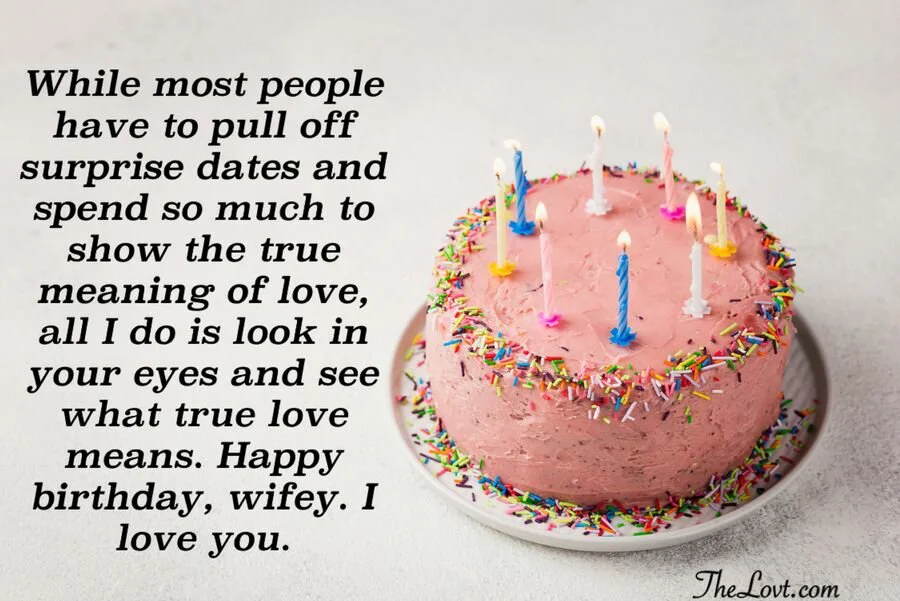 1: While most people have to pull off surprise dates and spend so much to show the true meaning of love, all I do is look in your eyes and see what true love means. Happy birthday, wifey. I love you.
2: Seeing you opening the gifts I gave you is like seeing a gift opening other gifts because, in essence, you are my God-given gift. Happy birthday, queen. You are a dime.
3: Happiest birthday to the sexiest, hottest and prettiest woman in the world. For all you have done for me, thank you. I could never be grateful enough for being there for me when I needed you most.
4: Cheers to a new year full of blessings and favor. As you turn one year older, always remember that we have each other for life, regardless of the ups and downs in life. Happy birthday, dear one.
5: To glamorous people like you, I believe age is simply a number because you look better by the day. Here's to becoming wiser, more resilient and more loving. Happy birthday, love of my life.
6: For so long now, you have been a constant reminder of true love, commitment, dedication, and determination. You have been instrumental in every aspect and I could not fully describe my love for you. Have the best birthday yet, lovely wife.
7: May this birthday be as sweet and as bubbly as you are. Today is a reminder that even as we grow older, we become more united and deeply engrossed with each other's company. I would trade anything in the world to have you all over again. Happy birthday!
8: Happy birthday to the woman of my dreams and the mother to my precious babies. You are the one who has stood in the gap for our family and even gave up so many things to make us happy. I am blessed to be called yours.
9: No fairytale or fable will ever compare to the love story we share. Being with you has opened my eyes to a world full of joy, love, hope, and peace. I wish to hold you close all the days of my life. Happy birthday, Queen of my heart.
10: Happy birthday to the best wife and the most remarkable mother in the universe. Having you as my wife, best friend and confidant has been the best thing in my life. Thank you.
11: Life with you and our family has been my dream come true. Waking up and sleeping next to you is simply magical. I hope for brighter days full of love and bliss. Happy birthday, darling.
12: In my darkest times and my lowest moments, you have filled my life with light. Thanks to you, I can smile more often and love a little harder. I would never trade you for anything in the world. Happy birthday, princess.
Romantic Birthday Wishes For Wife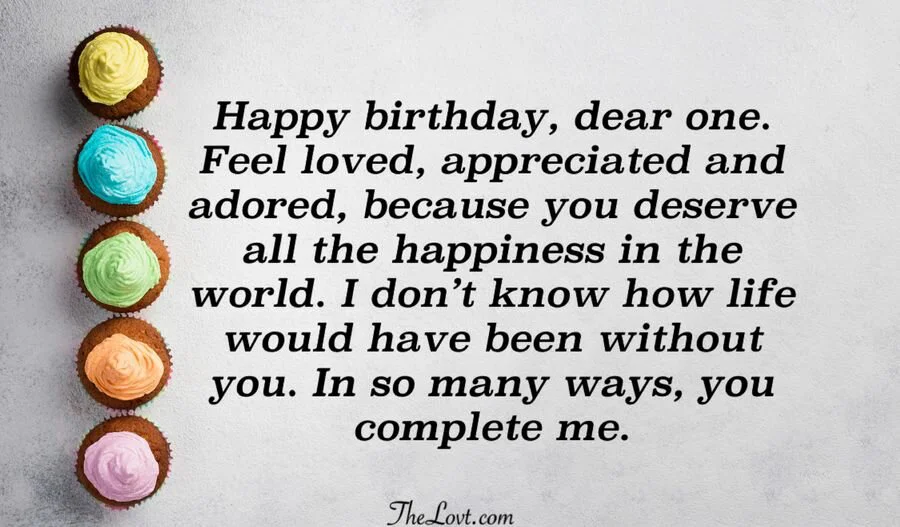 1: Everyone seems to think you are growing old just because you are celebrating your birthday today. To me, you are the same when I first set my eyes on you, only a bit more beautiful and elegant. Happy birthday to the most stunning and gorgeous wife.
2: I would never take you for granted, my love. Many people struggle and stress over getting their soulmates, but I have been lucky enough to find you n time. I wish to have more special moments with you. Happy birthday
3: Happiest birthday and best wishes to you, honey. We have come a long way, and we are truly going far. In all the world, you are the only one who completes me, the yin to my yang and the spinach to my Popeye.
4: Just when I thought marrying you would be the best thing in life, spending the rest of my life with you is the real icing to the cake; a cake that will last forever. You are my strength and my comfort, and I love you for that. Celebrate this birthday with joy and peace, knowing you have someone who loves you to the moon and back. Happy birthday, baby girl.
5: Happy birthday, dear one. Feel loved, appreciated and adored, because you deserve all the happiness in the world. I don't know how life would have been without you. In so many ways, you complete me.
6: Alas! We have circulated the sun again and it's finally your birthday. Best wishes as you journey on in life and best of luck in all your endeavors. You are a queen, so chin up and level your crown. Happy birthday, love.
7: Congratulations on making it through another year. It has been tough and strenuous, but you have mastered the art of being strong-willed and I am proud of you. Happy birthday. I have never regretted a single day, being with you.
8: Happy birthday and warm tidings to the most beautiful wife. I hope this new year brings you happiness and the utmost joy. You have been a key figure in my life, and I have seen the real power of true love. Thank you for everything.
9: Every morning, I wake up thanking the Lord for blessing me with such a beautiful, mature and responsible wife. Words are not enough to express my gratitude and formidable love for you. Happy birthday. You are a masterpiece!
10: Though you are turning a year older, you still look sexy like before. Nothing in this world compares to what you make me feel. I am simply in awe of you. Happy birthday dear one.
11: You are my breath, my life, and my greatest inspiration. Happy birthday and thank you for being the one person I can depend on. I love you.
12: More than anything else, I wish to keep a smile on your face for the rest of our days together. I have had the privilege of knowing you, becoming your best friend, and now your partner for life. What more could I ever desire? Happy birthday pretty faces.
Funny Birthday Wishes For Wife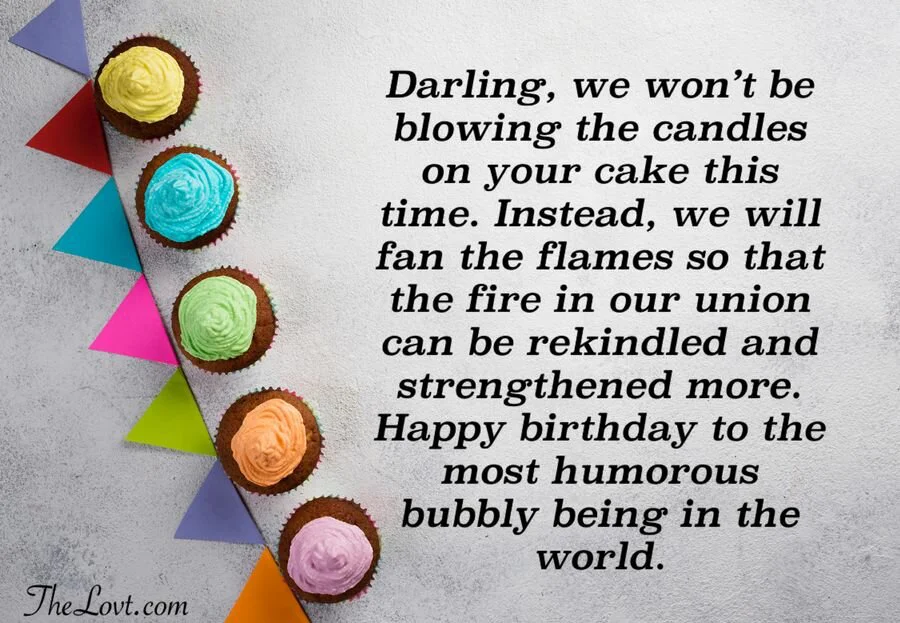 1: Darling, we won't be blowing the candles on your cake this time. Instead, we will fan the flames so that the fire in our union can be rekindled and strengthened more. Happy birthday to the most humorous bubbly being in the world.
2: I enjoy everything that happens during your birthday, but what I love most is that as you grow older, I get to look better when standing next to you. Have a blast today. Happy birthday!
3: Each year, it feels as though you are growing younger and younger. Soon I might find myself married to a toddler. Your touch, crazy laughter and amazing attitude have fueled this relationship for the longest time now. Happy birthday, love of my life.
4: Happy birthday, my queen. Unlike the other times, I only have one wish for you today. I pray that nothing will separate us, including death. You and I forever, even in our skeleton phase.
5: To celebrate this special birthday, I will kiss you endlessly and allow you to hug and cuddle me as much as you'd like. Unfortunately, I might end up fatigued because of your wild nature. Happy birthday, baby girl.
6: I would rather stay indoors and watch you all day, rather than go to the cinema because you have more than a movie could ever offer. In short, you are my favorite movie. Happy birthday.
7: Best wishes and happy birthday to the loveliest woman in the world. I would love to make numerous memories with you; whether sweet, crazy or humorous. You are the best company in the world.
8: I know I haven't been the best with messages, but after you finish doing the laundry and dishes, keep in mind that I love you and that I hope this new birthday brings forth happiness and fulfillment like never before. Thank you.
9: The only reason why I always remember your birthday and our anniversary are because you are 'community property'. Just kidding though, you are all I could wish for a wife, and more. Happy birthday.
10: As you celebrate this long-awaited occasion, I would like to make a wish on your behalf; that you will stop nagging me about my smelly socks and eating disorder. I love you to the moon and back. Happy birthday.
11: Since you love candy more than you love food, I concluded that the perfect birthday would be having us swim in candy while eating it all day. This is my special birthday gift to you. Happy birthday, sweetheart.
12: Happy birthday, the apple of my eye. I would never want you to worry about the wrinkles on your face as you grow older. Even then, I will still love and care about you. The marriage vows were for better or worse. So we have to live with the pimples and wrinkles.
Also Read: All-inclusive Happy Birthday Wishes For Girlfriend