Forget the small talk and divided attention. Most girls need some good old school loving. One that includes long romantic paragraphs and notes from their lovers. Whether your girl realizes it or not, you would be doing yourself a great favor as a guy if you set some time aside to jot down all your thoughts and feelings. If you have no clue how to go about it, we have you covered.
Who doesn't love a romantic boy anyway? Below, we have some sweet, romantic and funny love paragraphs that will blow her mind. You can't go wrong with this one. Take the shot, push your luck!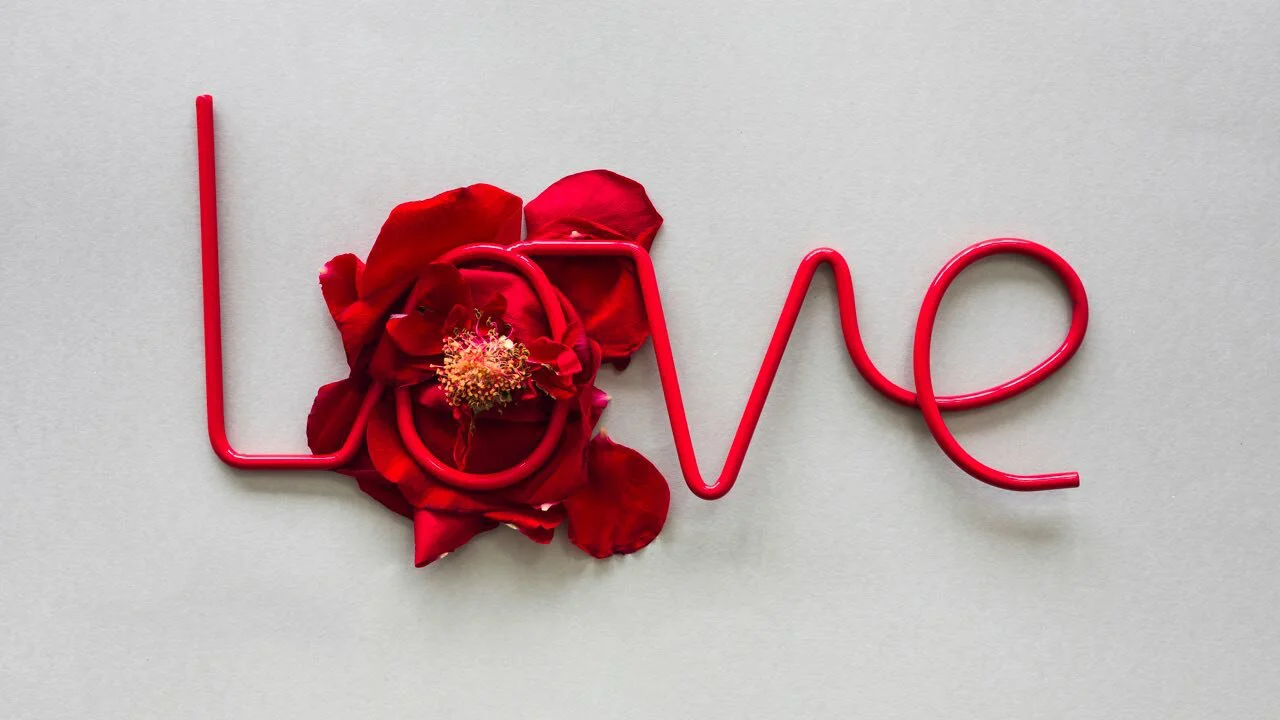 Romantic Love Paragraphs For Her
1: I have dreamed about you every day, for the past month. I could spend every minute of my day with you and still miss you at night. Only God knows the heights and lengths I would go to make sure we remain soulmates forever. You are the beat to my heart and the rhythm that plays on my mind during happy moments. Let me love you forever, my queen.
2: One of the greatest feelings in the world is getting lost in your eyes. I was meant to look at you all my life, and I would do anything to go back in time and meet you sooner. With the most beautiful eyes, you pierce through my soul and mind to bring out the best in me and that's why I would never give you up for anything in the world. I love you more than life itself.
3: Deep down, I know you and I are a unique species because I have never witnessed such love. Fairytales and romantic legends aside, you and I will stand the test of time and overcome the greatest challenges. What I feel for you is incomparable to the best thing that has happened to anyone in the world.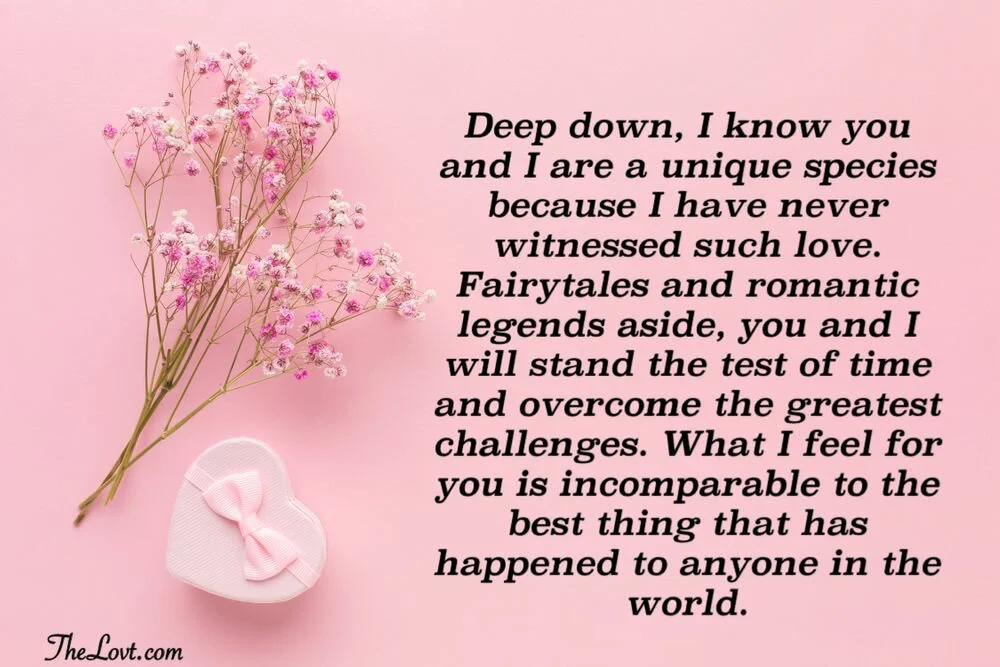 4: If I died in your arms, it would be right where I'm supposed to be. In you, I find solace, peace, and the greatest bliss. No one completes me as much as you do. Because of you, I have discovered the meaning of true love. Thank you for sticking around through thick and thin. I still find you as attractive as the first time I lay my eyes on you.
5: Before I met you, I had no idea there existed such kinds of sweetness and idleness. I am like a rare language that only you can understand. No one gets me as you do, and no one makes me as happy as you do. Even without thinking, you already know what I need. I am your open book, thanks to your care, love, and compassion. Thank you!
6: Good things come to those who wait. I was lost, hopeless and broken before you came around. Meeting you was my saving grace, but knowing you were a life changer. If I spent every second of eternity writing about you, I could still not describe how amazing you are. Words alone, are not enough to describe how much I love you. You are the greatest friend, partner, and confidant anyone could have.
Deep Love Paragraphs For Her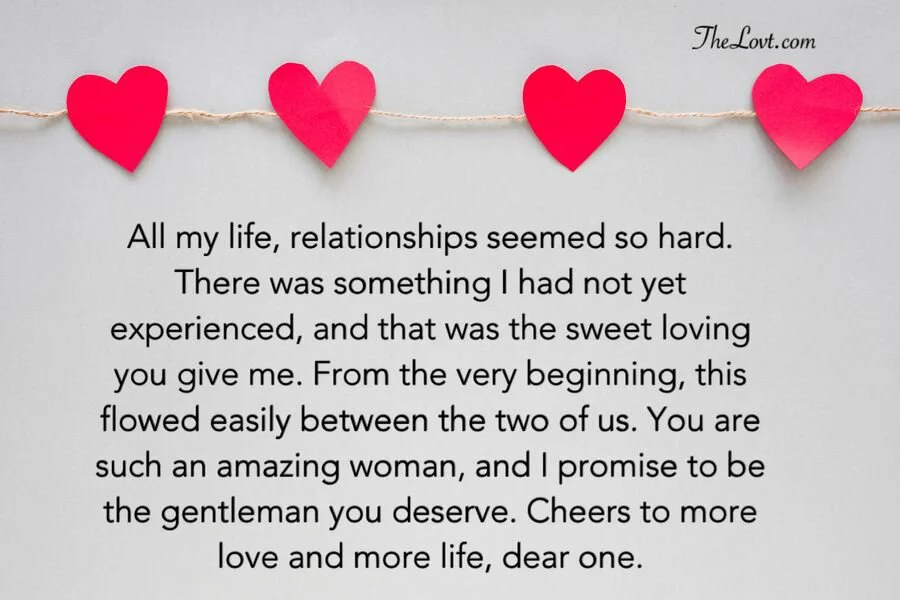 1: I will always be there for you. Not just during the good times when we are blissful and at peace. I am here for the bad times as well, the sleepless nights, the stressful workdays and the traumatizing experiences. I promise to love and hold your hand throughout the storms of life and when things get better, I will always be there to celebrate with you. Thank you for being the best thing that ever happened to me.
2: If I haven't said it in a while, I love everything about you. I love your hair, I love your sense of fashion, I love how you make me smile, but more than anything, I love how you make me feel alive. I cannot clearly express my gratitude for making me feel like the luckiest and most amazing person in the world. I strive to be the man you need every day because you deserve all the happiness in the world.
3: Each time I look into your eyes, I fall deeper in love with you, and it makes me realize that we are destined to be together. You were created last, modeled in great detail and made for me alone. Seeing you every morning is a gift I would never take for granted. Loving you comes naturally, and it's been the best thing in life.
4: All my life, relationships seemed so hard. There was something I had not yet experienced, and that was the sweet loving you give me. From the very beginning, this flowed easily between the two of us. You are such an amazing woman, and I promise to be the gentleman you deserve. Cheers to more love and more life, dear one.
5: Amidst the troubles around us, you are the first person I want to talk to when I wake up and the last person to speak to before I sleep every day. With you by my side, I feel special, loved and well cared for. You are my strength, my comfort and my light at the end of the tunnel. I am more than glad to have you in my life.
Short Love Paragraphs For Her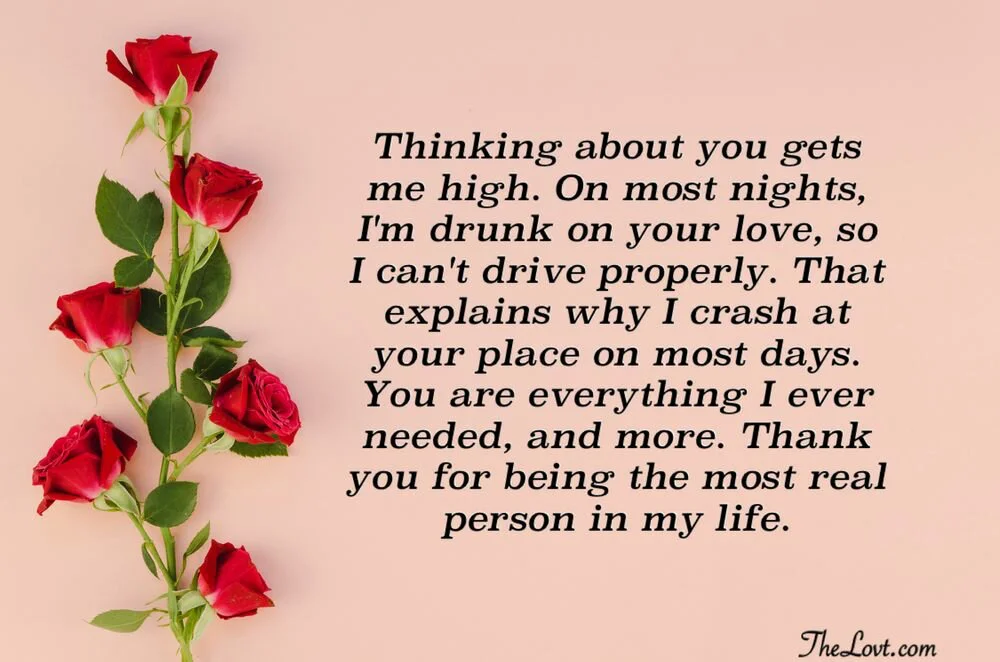 1: To me, love is a state of well-being that makes your eyes shine and heartbeat every time you think of someone. You are that someone that makes my days brighter and my smile wider. Saying 'I love you' a million times would still not paint a clear picture of what I feel for you.
2: Thinking about you gets me high. On most nights, I'm drunk on your love, so I can't drive properly. That explains why I crash at your place on most days. You are everything I ever needed, and more. Thank you for being the most real person in my life.
3: You make me so happy without trying. It almost feels like you were brought to this world specifically to make me happy. I have purposed to show you how much I love you for the rest of my life.
4: If I could, I would stop doing everything else in life just to be with you every minute of every day, for the rest of our lives. You changed my entire outlook on love and redeemed me from the shackles of guilt and brokenness. I owe you everything. I love you.
5: Finding both a lover and a best friend in one person is the best thing that could happen to anyone. I would never survive a day without you, not because I don't have what it takes, but because you complete me in all aspects. If only I could give you the ability to see yourself through my eyes, then you would understand how much you mean to me.
6: I have no words to thank God for blessing me with such a beauty. You set my heart ablaze with your touch and light up my world with your bright smile. If I could live one more time, I would do everything with you, only much sooner. Like a magician, you have cast a spell on me that could never be removed. I am bound to you, forever.
7: My goal in life is to kneel in front of two girls. One of them is you when proposing, the other one is my daughter when tying her shoelaces. You will make the best mom and wife the world has ever seen. Cheers to the fiery love that burns within us!
Funny Love Paragraphs For Her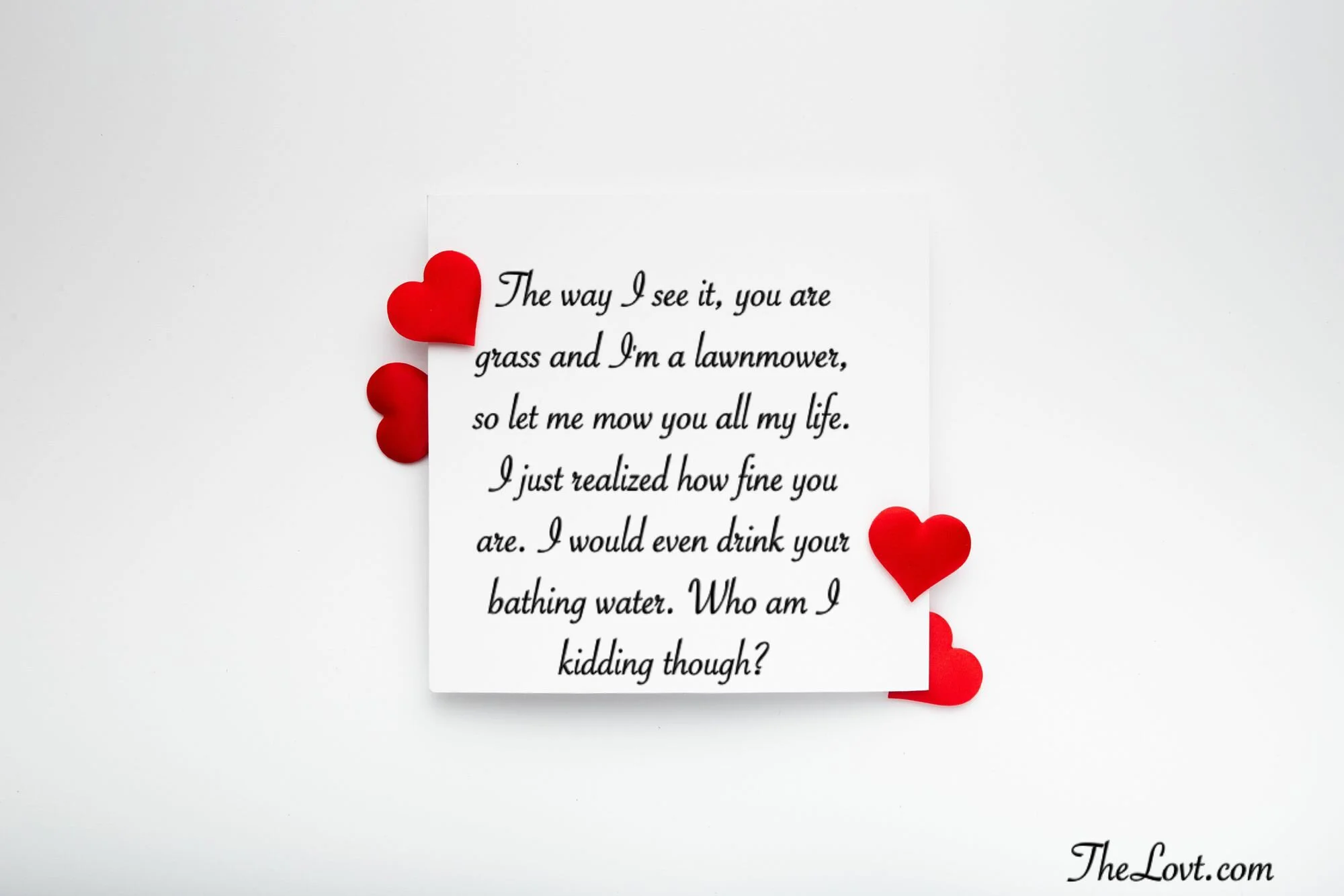 1: I wanted to send you something nice to make you smile, but the mailman ordered me to get out of the mailbox. I love you just the way you are, but I only need to change one thing about you, and that is your last name.
2: Having put some thought into it, my love for you feels like the gravitational pull between Earth and the sun, the closer it is, the stronger it gets. You are my favorite person and the only one who is big enough in my small world.
3: There are 26 letters in the alphabet, but the ones I love most are U, R, Q, T. No one else deserves my love and affection apart from you. I just pray that God doesn't notice one of his angels is missing, because I want to be with you for life.
4: I rarely gamble, but I would bet my life that I will never stop loving and caring about you. There is no way I could make it this far without you. Regardless of your stubborn and nagging nature, I would never replace you with anything in the world.
5: The way I see it, you are grass and I'm a lawnmower, so let me mow you all my life. I just realized how fine you are. I would even drink your bathing water. Who am I kidding though?
6: You are, indeed, the love of my life. I hope you have what it takes to tear through my heart to find where I have hidden the love, I have stored for you. Like a needle in a haystack, no one would be able to find or take away what we have.
7: With you, all my worries are replenished, and all my troubles solved, thanks to your bubbly nature and contagious smile. I was never a professional photographer, but I pictured us together from the moment I saw you.