To live a completely fulfilled and well-acclaimed life, you should train yourself to live from a place of gratitude at all times. Regardless of the situation, there is always a reason to be grateful, especially to friends and family who pick you up along the way.
When was the last time you genuinely acknowledged any of your friends for the love, care and support? Better yet, how many times do you check up on them and let them know how grateful you are for the friendship you both share?
If you'd like to get a wide variety of ideas on how to come up with this, then you are in the right place. Buckle up and get ready to learn!
Thank You Messages For Friends
1: More than anything, I thank God for sending you my way and for being my shoulder to lean on this whole time. No one could ever replace you or the friendship we have. Thank you.
2: Having someone to support your dreams no matter the circumstances in life is everything you could ever wish for. Thank you for never giving up on me.
3: I am blessed to have you in my life. All the time and effort you have used to make me happy will be rewarded someday. Thank you for being my one in a million.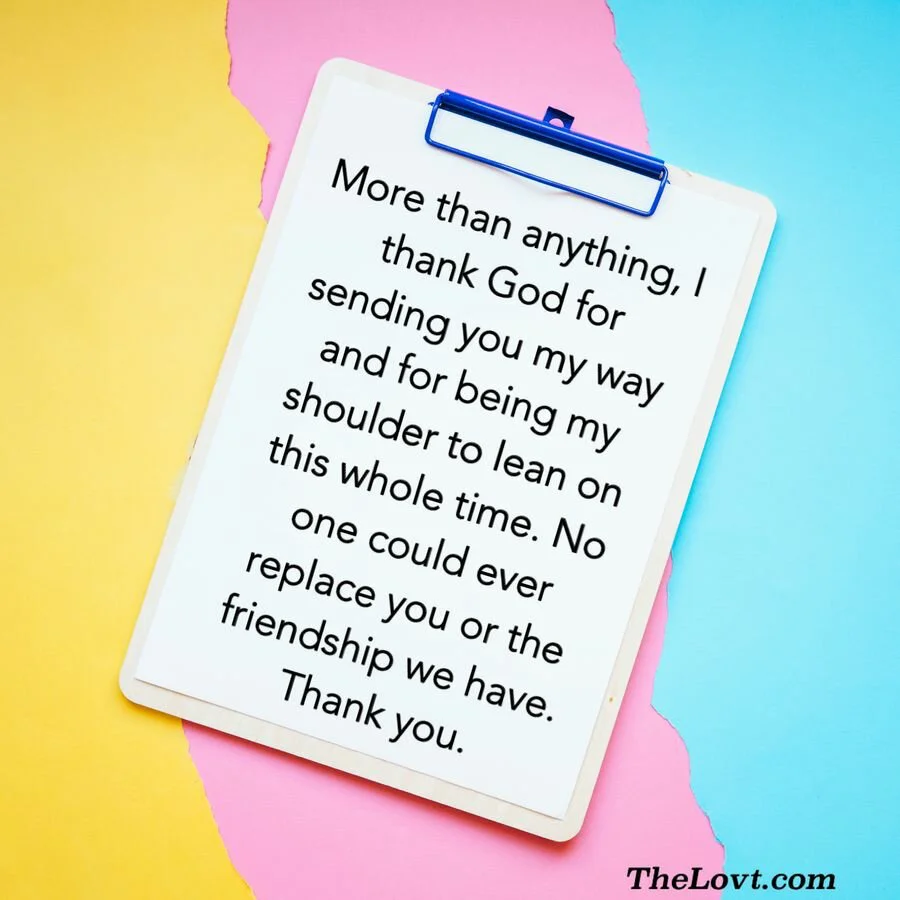 4: Thank you for being so wonderful and encouraging even when the rest of the world turned their backs on me. Wake up every day knowing you have a special place in my heart.
5: Accept my warmest gratitude for your words of comfort, for the happy times and for understanding every bit of me. I don't take this friendship for granted.
6: You would never imagine how much your input has shaped me into the resilient person I am today. I owe you my life and more. Thank you for being a friend and a brother.
7: In life, people come and go but I have the assurance that you will always be by my side and that is why I would never trade you for anything in the world. Thank you for the gift of friendship
8: To me, you are no ordinary friend. You are like my guardian angel who always keeps me intact and safe from mental breakdowns. You know how to correct me and cheer me up and I can't imagine how lonely life would be without you. Thank you.
9: Every day, there is a reason to thank you for sticking around. You keep me smiling and thinking positively and that is enough to be grateful for in a whole lifetime. Cheers to a tighter bond and better times ahead.
10: I have had so many friends in life, most of whom we share so many things in common. But what I love most about you is how you respect all our differences. Thank you for being the best, effortlessly.
11: Thank you for showing me the right way when I was lost. Many don't have the privilege to have such a supportive and caring friend. I am so lucky to have you in my life. Best friends, now and forever.
12: Please accept this thank you gift from me as a small token of my utmost appreciation. You have been my light at the end of the tunnel as well as my save heaven. Sending hugs and kisses.
13: I appreciate you for the decisive, loving and caring person you are. But mostly, I appreciate you for being a friend like no other and for taking up the responsibility of a true best friend. To me, you are a sister. Thank you.
Best Thank You Message
1: Being your closest friend has been the greatest blessing. I know I don't tell you how grateful I am for having you around, but always keep in mind that I would not have my best day with anyone else but you.
2: A true friend learns how to criticize you and love you despite all your flaws. To me, you have been the best example of true friendship. Thank you for everything.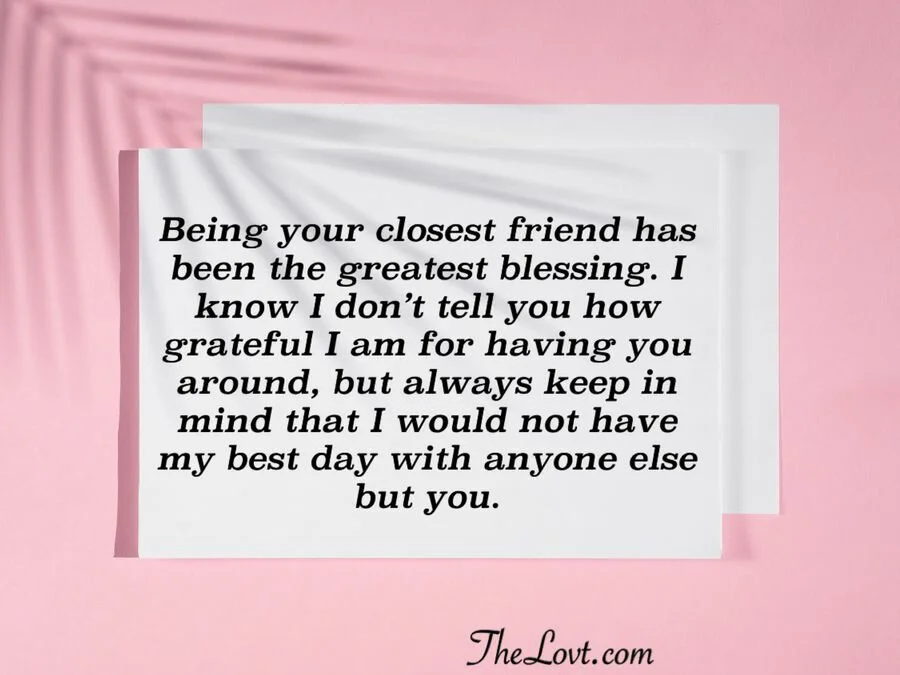 3: Thank you for making me the luckiest person in the world simply because I have the divine opportunity of being your best friend.
4: I know I can be so nagging and so hard to handle sometimes, but you have done the best job sticking around and offering me the best advice. You are the kindest and most loving person I know, and I pray that this friendship extends even to our kids. Thank you!
5: It is so hard to find someone who thinks and acts exactly as you do. Not only are you the most unique person I know, but I would never trust anyone else with my life aside from you. Thank you for being real with me.
6: Even though we don't talk about feelings as guys, I would like to appreciate all the effort you've made to make me feel comfortable around you. Friendships like these make life more interesting.
7: Let's keep loving, caring for each other and strengthening this bond. Without you, I would be lost and hopeless. But you changed everything for me, and I will forever be grateful for it!
8: Often are the times I forget how fortunate and blessed I am to have you in my life. Your generosity has pulled me off the darkest holes and your sharp wits have offered insights when there was no hope. Thank you so much, dear friend.
9: Your help and encouragement have been my guiding light and have gotten me through the worst situations. Thank you for being so good to me.
10: I can recount so many situations where you have made me the happiest person on the planet by simply taking me out. I could never thank you enough, dear friend.
11: Helping me at all times and sacrificing your energy is a clear demonstration of true friendship at work. If I could spend the rest of my life with one person, it would be you.
12: Thank you for the many things you have done for me, and the many more I can't remember. If you ever need anything in life, I am one phone call away. May God bless you abundantly.
13: Everyone in my family knows how tight we are. But no one ever realized it has always been tighter than that. Honestly, I would lay my life for you. Simply because you were there for me throughout every stage in life. Thank you for everything.
Funny Thank You Messages For Friends
1: It appears God handed all the talent to you because I am here once again to thank you for being such an awesome friend. How do you feel it is so great?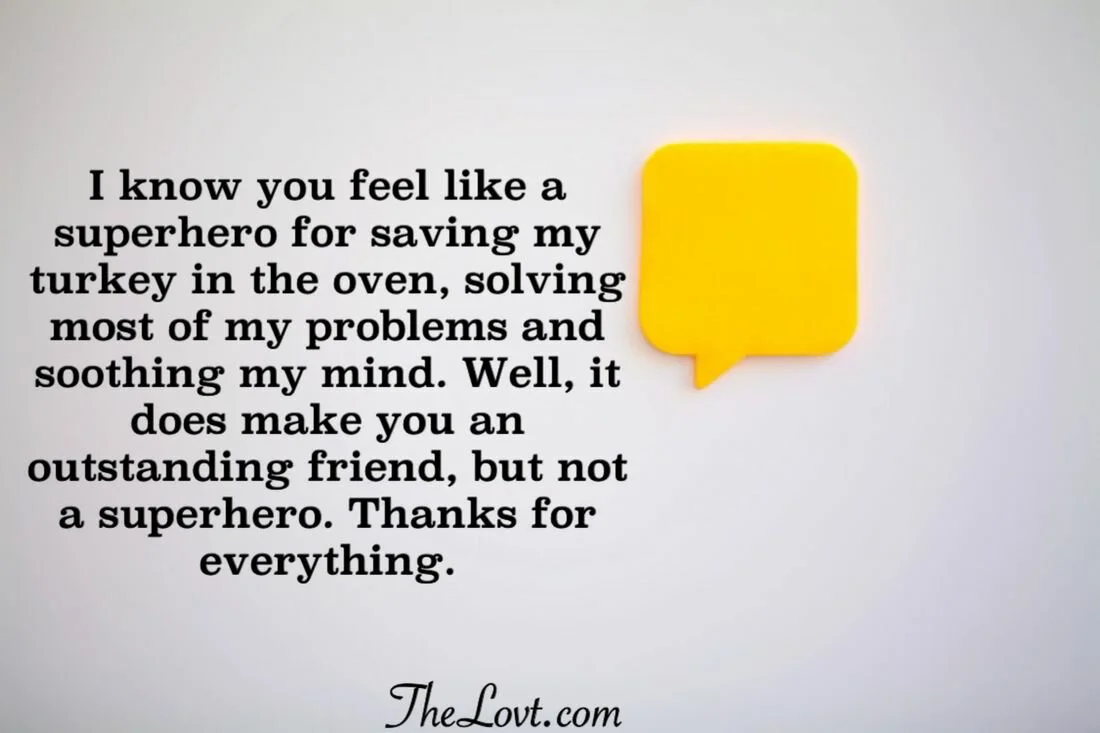 2: I know you feel like a superhero for saving my turkey in the oven, solving most of my problems and soothing my mind. Well, it does make you an outstanding friend, but not a superhero. Thanks for everything.
3: Sometimes, I want to forget everything you've done to help me because you've taken so much credit already. But I still find myself sending you such thank you cards, just to remind you how much I appreciate you being my best friend.
4: I will lower my ego this once just to let you know how grateful I am to have you and how important you are to me. But let it be the last time I am thanking you. Just kidding, I will always be thankful.
5: You've always pushed us to the limit even when we can't tolerate your nagging nature. But still, you remain to be a very reliable person. Thank you for being such a loving and caring friend.
6: The last time I remember someone being praised so much was when Michael Jackson was alive. Do you have to be good at everything? Thank you for being a constant reminder that we can achieve all we want in life and more.
7: Thank you for being the main distraction in the squad. Because of you, every other girl wants to be with you, but we still love and appreciate you.
8: I am beyond convinced that there is a poster of you in a galaxy far away because there is no way you would have come from this world. Go back to your planet, you good looking humanoid.
9: Your help and wits have come in handy, more than anything else this year. Here's a thank you card for the many times my ego didn't allow me to thank you properly. Feel appreciated and loved.
10: You know so many things regarding life and academics, but one thing I'm glad you don't know is failing. Because if you knew how to fail, you would never have pulled me out of the shackles of disappointment and failure.
11: Together with all our friends, we officially announce this your national holiday. We will raise a toast every year to remember how much impact you have had in our personal lives. You deserve all the happiness in the world.
12: Sending you a 'thank you' card with cute messages is such a lame thing, but that's who we are: Lame people who would have never tasted success without your help. You will forever be etched in our hearts and minds.