Did you know: Gratitude has the power to transform your workplace? Whilst many people see it as a form of weakness, it is known to do the exact opposite; It strengthens relationships and enlivens the environment. Staying positive during difficult situations, offering extra work time and being open are some of the ways to show gratitude to your boss.
However, sending a short, simple or funny thank you note could hit the nail on the head. Folks, it's never that serious. Regardless of how harsh your boss can get; they all have a soft spot that can be exhibited through your gratitude. Trust us!
With that, skim through our prime collection of thank-you messages for your boss.
Thank You Messages For Boss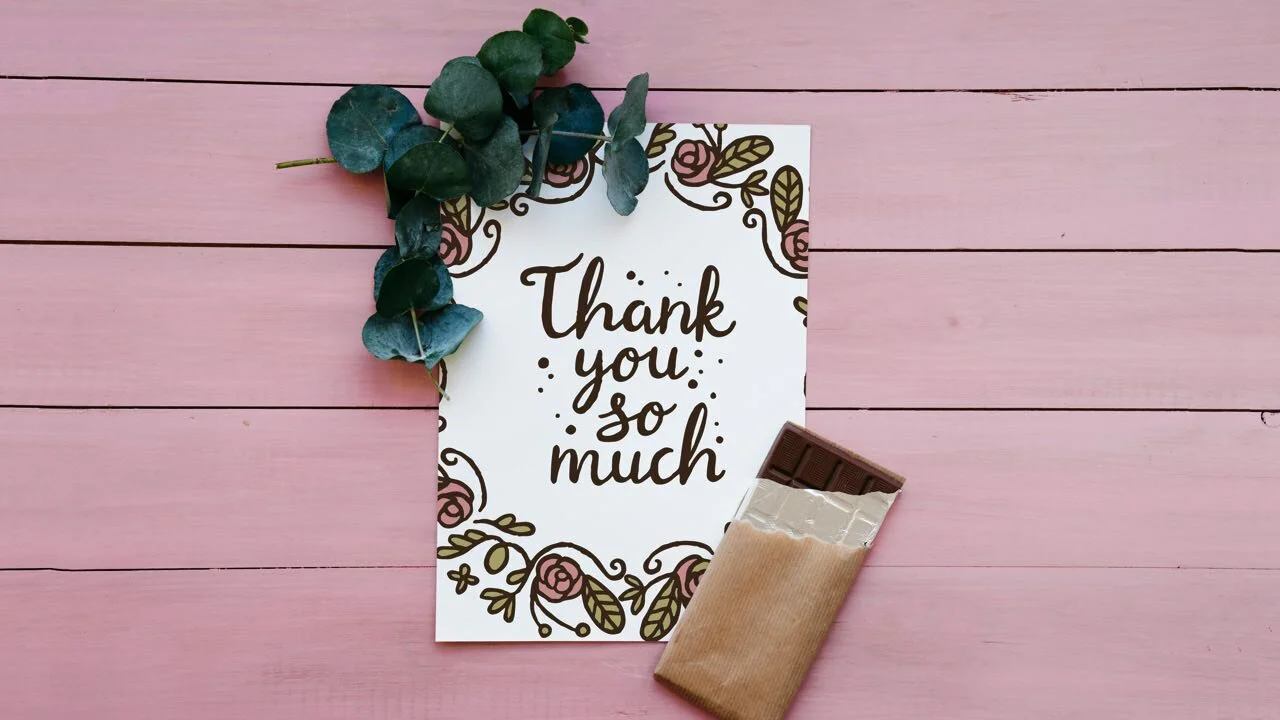 1: In my whole career, I have never been this happy and motivated. Having an extra-ordinary boss like you is truly a blessing. Thank you for being the best boss in the world!
2: For always being fair and never having any sophisticated specifications when distributing tasks, I am so grateful. Your guidance and insights have helped fuel my career and get to levels I never thought I could.
3: Dear boss, we have all learned about being a servant-leader, thanks to your down-to-earth personality. A good leader walks his talk and you have proved this countless times. Thank you for everything.
4: Regardless of being my boss, you have been the most instrumental person in my whole career. Ever since I started working here, you have reminded me of the importance of consistency, progress, and hard work. Thank you for the great impact.
5: Your leadership and communication have inspired me greatly sir. If I had all the money in the world, I would still consider working with you. Many thanks.
6: Accept my heartiest thanks for the opportunity you gave me. I know you took a chance with me and it paid off. I will never forget your good deeds.
7: Your support and guidance have been like a light at the end of the tunnel during this tough period. We could never have done it without you. Thank you for being an incredible boss.
8: If all bosses would be like you, the world would be a much better place. Thank you for being the lifeline of this company and for giving us all hope every day.
9: Working closely with you sir has made me realize so many things in life. Complimenting my strengths and helping me solve my weaknesses has been amazing, especially coming from my boss. Thank you so much!
10: Thank you for creating a positive and lively working environment where everyone is entitled to their own opinion. From the bottom of my heart, I am grateful.
11: No amount of words could convey the gratitude I have for being the most understanding boss. You have taught me how to deal with people and how to be effective in a workplace environment. You will never be forgotten.
12: Before the year ends, I would like to say that you are more than just a leader to me. You are my friend and my inspiration. Thank you for such a transformational opportunity.
13: Five years ago, when I was on the verge of giving up on life, I could never have imagined such a fun work-life. You have been a key contributor to my growth, and I appreciate all the effort you have put in. Cheers to such a phenomenal Leader!
14: Being on this team and sitting under your command has been like betting on the best team. I am thankful for your integrity as a boss, and for always trusting us to deliver all the projects successfully.
Inspirational Thank You Messages For Boss
15: It is undeniable that I have learned tremendous work and life ethics because of your exemplary leadership skills and governance policies. I could never pay you for all you have done, but all I can do is express my gratitude. Thank you, boss!
16: Thank you for the unquestionable support that you gave me during the tough period and for understanding my unexpected absence. As a leader, you have made me feel comfortable and even more productive.
17: I know the past few months haven't been easy, but you have been a true mentor. Your insights and experience have helped me understand my job better and I look forward to working under your command. Thank you, sir.
18: More than anything, I am grateful for being such a dedicated and inspirational boss. You have gone out of your way more times than I could count to enforce a friendly working-environment. We celebrate you.
19: When you came in as our new boss, the team was facing a rough patch, but you have transformed everyone and made us united as ever. We may not say it every day, but each one of us is truly indebted to the work you have done.
20: If given an opportunity in the future, I will fully repay all you have done for me. Thank you for being a kind, caring and loving boss.
21: Ever since I started working for ABC Company, I have experienced a lot of positive change in my life. Your acts of polite leadership have changed my way of living and imparted change in my thinking. Thank you for that.
22: I want to take this opportunity to thank you for the noble gesture of inviting us over with our families. The delicious three-course meal and the live band was such an ideal way to end the year. We love and respect you, boss!
23: To the best employer and boss: I admire your spirit of achievement and excellence. The strategies you have helped us implement over the years have helped us become who we are today. Thank you so much and may we continue excelling.
24: Because of your sheer dedication and high-level mannerisms, I have achieved unbelievable milestones this year alone. As a boss, you command gently and wisely, hence getting the best out of us. You are a dime, sir. Thank you.
25: I truly appreciate all the support and guidance you have given me throughout this project. Though I am accountable to you as my boss, you have proven to be a friend and a great leader. You have won my heart. Thank you!
26: Working closely with you has been nothing but an eye-opener. Your thorough nature, love for integrity and communication skills have all played a big role in the milestones of this project.
Funny Thank You Messages For Boss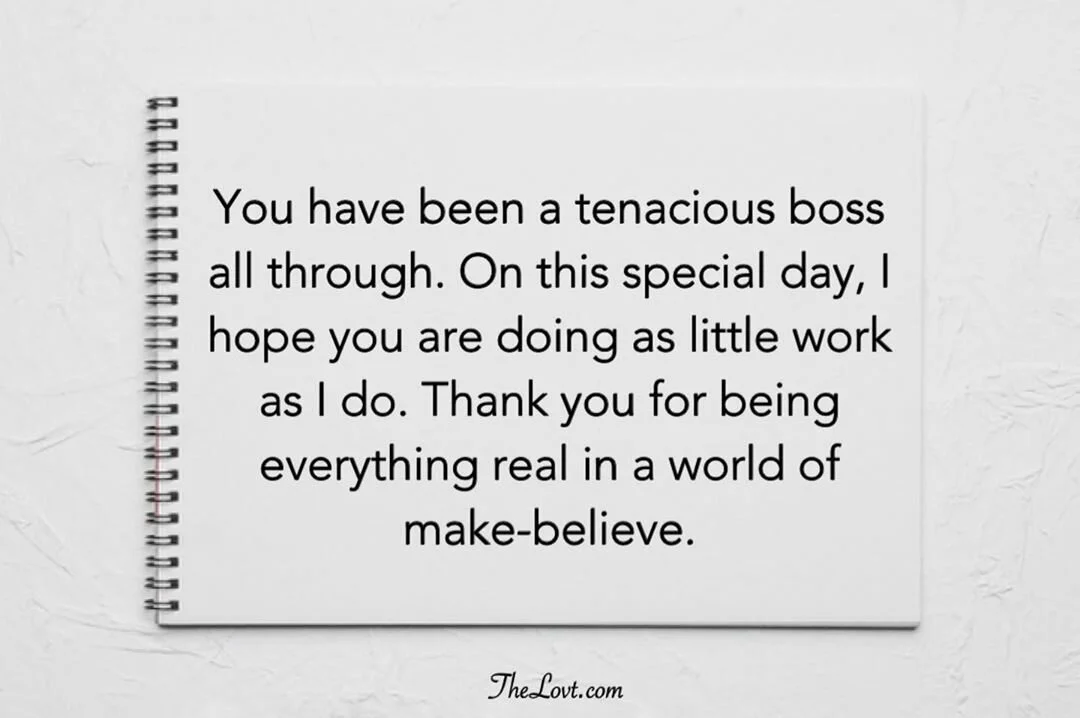 27: If you had not taken me in and nurtured me to such levels, I would have gone to the grave with these talents. Thank you for helping me realize my true potential.
28: People who get to work with you are privileged and are probably the luckiest people on the planet. For being the most interesting and funny boss, thank you!
29: Though we are best of friends, you were easily the first boss I wanted to push down a cliff. Enjoy this holiday sir. See you soon.
30: They say that a boss is only as good as their best and worst employee. With that in mind, happy boss's day to you and me. Thank you for everything sir.
31: Management and leadership consist of making it harder for people to work. Just kidding! You have done the exact opposite and have made us more productive. We are grateful.
32: Whilst most people use this day to square up with their bosses, I would never think of such. You have been brilliant, perceptive and inspirational. Have a good week ahead.
33: Have an incredible day today as we celebrate your birthday. We have observed a short work break in your honor.
34: You are the one boss I would workdays and nights for. If necessary, I would also sacrifice my weekends for you, because of the commitment you have portrayed.
35: You have been a tenacious boss all through. On this special day, I hope you are doing as little work as I do. Thank you for being everything real in a world of make-believe.
36: For being the least horrible and most tolerant boss, I am more than thankful. Bosses are supposed to be heartless. How did you end up being this good?
37: I have a million reasons for being grateful to you. You have guided this dysfunctional unit and nurtured our talents to perfection. You are a true master and we are your loyal sheep.
38: I wanted to send you this thank-you message on Facebook since that's where you spend most of your time, but I love my job too much. Thank you for being the dream boss.
39: Today, I celebrate you, not because you make a higher salary than me, but because of your selfless and objective nature that has gotten us this far. Thank you.
40: Much gratitude for being a father figure even though you are my boss. Like a parent who disciplines their naughty kids, you have corrected me and taught me well. At least you never had to cane me. I respect you and will live to walk in your footsteps.
41: Thank you for coming through when I needed you the most, irrespective of the fact that you are my boss. Your company and hearty laughter are all I needed. Cheers to better times and more achievements.
Also Read: Uplifting Birthday Wishes For Boss