Lads! Being in a fun, spontaneous relationship is one of the best things that could happen to you. But it doesn't happen by chance. You must play your part and strive to make your woman happy. Only then will you experience complete soul intelligence with each other.
It's super easy! You could start with our collection of goodnight messages. Trust us, every girl savors the beauty in the minute things. We can't promise you a solution to all your relationship problems, but we can guarantee a way to make things better.
Read through our sample Good Night Messages and give your girl an extra reason to smile and feel cared for.
Sweet Good Night Messages for Her
1: Tonight, I hope that your pillows are soft, and your blanket is warmer than ever. May your mind be filled with sweet memories of us and the extent of our love. Goodnight, dear one.
2: My love, I live for the days that I will wake up next to you. As you sleep, remember that I will always love you and strive to make you the happiest woman on earth. My heart longs for you and my soul craves for you. Goodnight.
3: Before you sleep, count your blessings, count the stars, and count on me to love and support you forever. Goodnight my queen. You are the only one I live for.
4: Seasons may change but I will always be the one person who will always love you. As you slowly drift to slumber, may peace and contentment fill your heart and mind because you deserve it.
5: Sleep tight knowing tomorrow is a new day, a clean slate and a new opportunity to prove to the world that you have what it takes to achieve all your dreams. I believe in you and so should you. Have the sweetest dreams darling.
6: As the darkness wraps itself around you, may its silent embrace take you to a sweet slumber. Sleep knowing that the angels of God are watching over you and that you have all it takes to prosper in life. Goodnight, my love.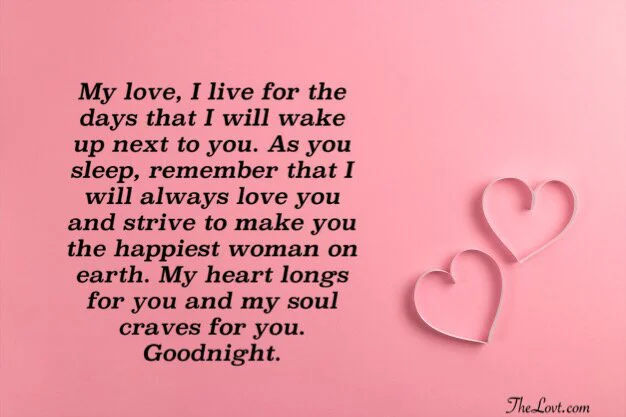 7: If I could sleep with you tonight, I would hold you close and surround you with my unending love. No one else completes me as you do. Beautifully surrender to the comfort of your bed and rest because the world needs you tomorrow. Goodnight, sweet girl.
8: Love of my life, as the stars shine down on us, may the moon guide you through the dream world. Let the radiance of your beauty glow wherever you go all the days of your life. Have a good night's rest tonight. I love you.
9: Goodnight princess. As you sleep, I pray that the mercies of God carry you through the night. May you experience the harmonious lullabies of a hundred angels as their wings comfort you.
10: We have a love so rare, powered by might and excellence, inspired by the great force that lives deep within us. Smile and sleep well knowing we have each other for the rest of our lives.
11: Imagining your beautiful eyes reading this, warms my heart. Your majestic beauty and spirit of excellence will always be a constant reminder of how lucky I am. I don't know what I did to become the happiest man on earth. With you, I am complete. Goodnight!
12: Close your eyes and open your heart. Experience the depth of my love and see how it goes beyond the skies and beneath the oceans. You are the beautiful sparkle that lights up my world and the sunshine on my dark days. Goodnight, love of my life.
13: Very soon, the sun will rise majestically and usher us into a new day, and we will meet again. I can't wait to see your beautiful face and watch your skin glow softly as you laugh heartily. Goodnight sweetheart. You're always on my mind.
14: I miss you every minute and think about you every day. All my life, I never thought I would find so much fulfillment in one person. Sleep well love and always remember there's no me without you.
Romantic Good Night Messages for Her
1: Look at the stars, see how beautiful they glow. Now look in the mirror and realize you are prettier than the sun moon and stars combined. Face the world with courage and the fierce spirit in you. Goodnight honey.
2: Because of you, I'm the happiest man alive. I miss holding you close and making you laugh. Nights without you are the worst. Be filled with peace and harmony as you sleep. See you tomorrow!
3: I hope you've had an evening that's as wonderful as you are, baby. I would give anything to be in your arms right now. Sometimes, I can't fall asleep for hours because I keep thinking about you. Goodnight and keep dreaming about us.
4: You drive me crazy with your wild laughter, fierce resilience, and stunning beauty. There is nothing more precious to me than you. Have a good night ahead and don't miss me too much. I love you.
5: Even though you are miles away, I can still imagine you sleeping beside me, snoring gently with the stars magnifying your beauty from above. Sending you lots of hugs and kisses. You deserve every good thing in this life.
6: Sweetheart, I don't want to stop talking to you, but I'd like you to rest up and refill your energy for tomorrow. Think of me before you sleep, and I will slay all your dragons. Goodnight, the woman of my dreams.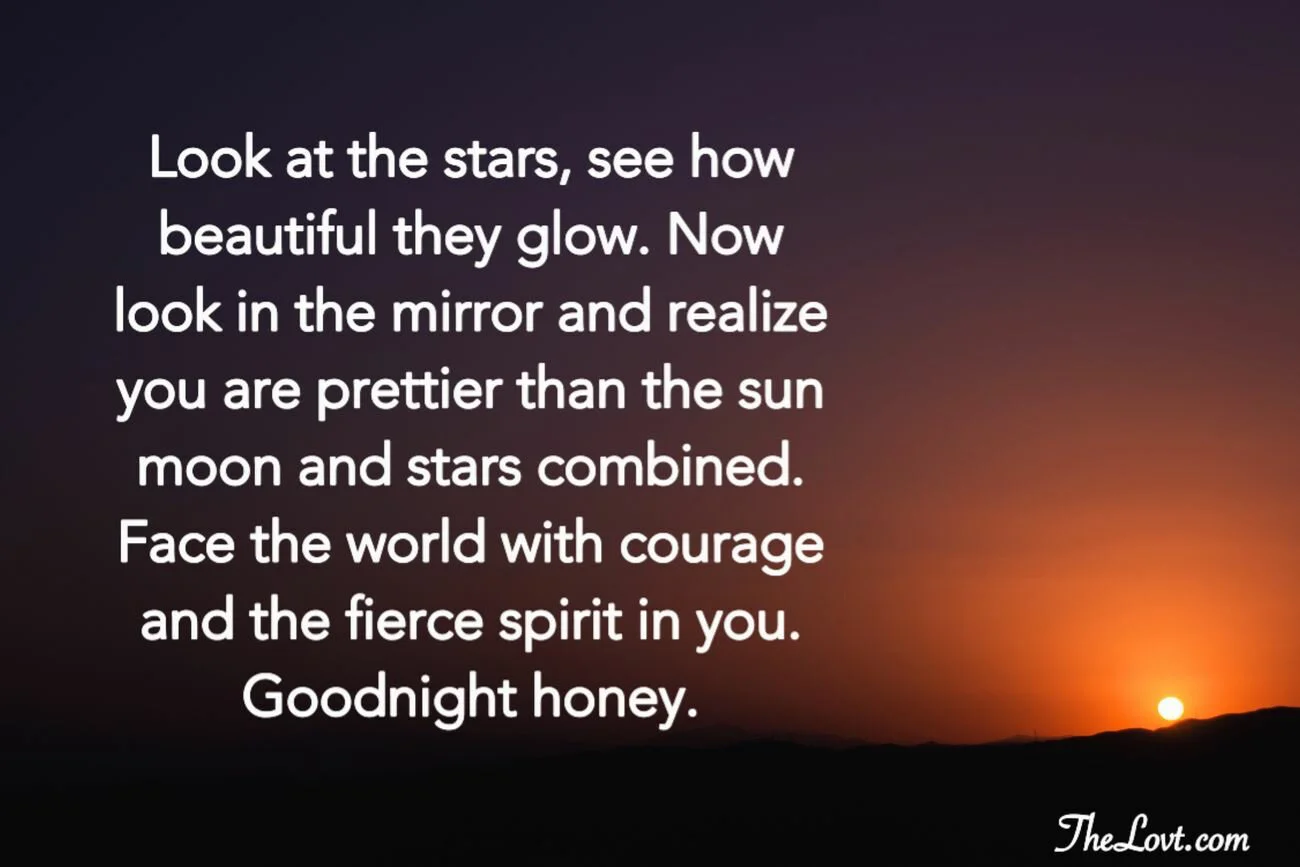 7: I pray that this wonderful night offers you insights into the kind of future you want. Have adventurous dreams and don't worry about anything. Goodnight, my everything.
8: Before you sleep, I'd like to tell you that I have waited all my life to have you. I would do anything to meet you sooner. Thank you for being my best friend and partner for life. Goodnight.
9: I am excited about having a life with you. I am anxious and happy, but I have confidence because I have the wisest woman for a partner. I am ready to start eternity with you. Goodnight, dearest.
10: A lot of people have told me that choosing you was the best decision I ever made. But truth is, you chose me as well. You decided to love me wholeheartedly, despite my flaws. I will forever be grateful for that. Goodnight.
11: Most people think the tender night with starry stars is the most beautiful sight on earth, but they have never met you. When I look at you, I see my dreams and visions. I know you are the perfect one for me. Goodnight sweetie.
12: Regardless of the mood, time, and day, I will never restrict myself from sending you texts and expressing my love for you. You are the one person that makes me feel alive. Thank you and goodnight. You are loved and appreciated.
13: Every day with you turns out to be the best day of my life. You warm me up and give me a reason to smile even when situations seem hopeless. I would confidently say that my life is perfect with you in it. Sleep well and count yourself a blessing to the world.
14: You are the last person I think of before I sleep. Thank you for always being my go-to person. No one else loves or adores you as I do. Goodnight.
Funny Good Night Messages for Her
1: Goodnight love. Don't let the bed bugs bite. I saw several of them at your house. I'm glad I didn't come over today. Talk tomorrow.
2: The night is meant for rest, not for texting. Go to the washroom, wash your face and your feet because it's time to fall asleep. Have a blessed night ahead.
3: Do me a favor and hold your phone very tight for me because it is a form of a virtual hug. Go to the world of dreams and think of me.
4: My love, I realized that the moon is angry at me and jealous of you because I don't need its light anymore. You light up my world like nobody else. Goodnight darling.
5: Like a good doctor treats a patient, so do I prescribe a good dosage for you. Take a wholesome amount of sleep, nice dreams, and fill your mind with memories of me. That way, you will have a wonderful night.
6: Sometimes, I envy your pillow because it is fortunate enough to have you every night. I hope to one day be your pillow for life. Have a good night, sleeping beauty.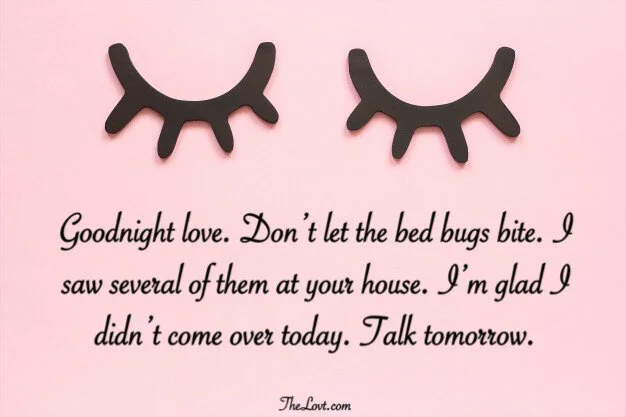 7: You are my sole motivation when times get tough. I love you, even though your funny and scary faces spook me in my sleep. Goodnight, my sweet ghost.
8: As you sleep, don't waste time thinking about the past nor the future because we have little to no control over them. Instead, take your time and kill the mosquitoes that wake you up at night. Goodnight love.
9: Goodnight, sweet woman. Whatever you do, don't look under the bed or outside the window at night. There may be a monster hiding. Just kidding! Don't you dare overthink.
10: Your beauty and splendor are unmistakable. You shine brighter than all the stars combined. Oh, how much I would give to be the moon, so I could watch over you all night. Even though you are annoying, you are still my woman for life. Goodnight.
11: Lay your head down and drift to slumber. Feel free to let your feet pick from under the sheets, no monster or enemy would dare come for you because I am your protector. But you must protect yourself against bedbugs. Goodnight, darling.
12: Hug your chubby teddy bear and make some positive daily affirmations. I just hope that the bear does not hug you back, because that would make me extremely jealous. Goodnight!
13: I promise you the sweetest dreams tonight because I will be in them, but don't get used to it because I won't be available all the time. Sleep well, beautiful.
14: I won't advise you to sleep big tonight because you might never wake up. But I do hope you rest peacefully and let me hear your lovely voice again tomorrow. Goodnight, love of my life.
Also Read: Heartfelt Goodnight Poems For Her