A man is lucky who can sleep at night and wake up to a good morning message for him. And how luckier he would be if the message is sent by his woman, the one who makes his world go gaga in a sweet way! Known to deftly silence the panic and hostility from the alarm clock, you can't go wrong in grabbing any of these good morning messages we have happily developed for you to make your boyfriend or husband's morning. Trust us – you will be on his mind all day, further attesting to the power of romantic words.
Sweet Good Morning Messages For Him
1: I can say that you are the best thing that has ever happened to me, baby. Wake up to see my heart wishing you a beautiful day.
2: I mustn't climb the mountains to prove my love for you. I don't have to cross many seas to reach out for your heart. Your acceptance of my sincere heart is enough for me. Good morning, love.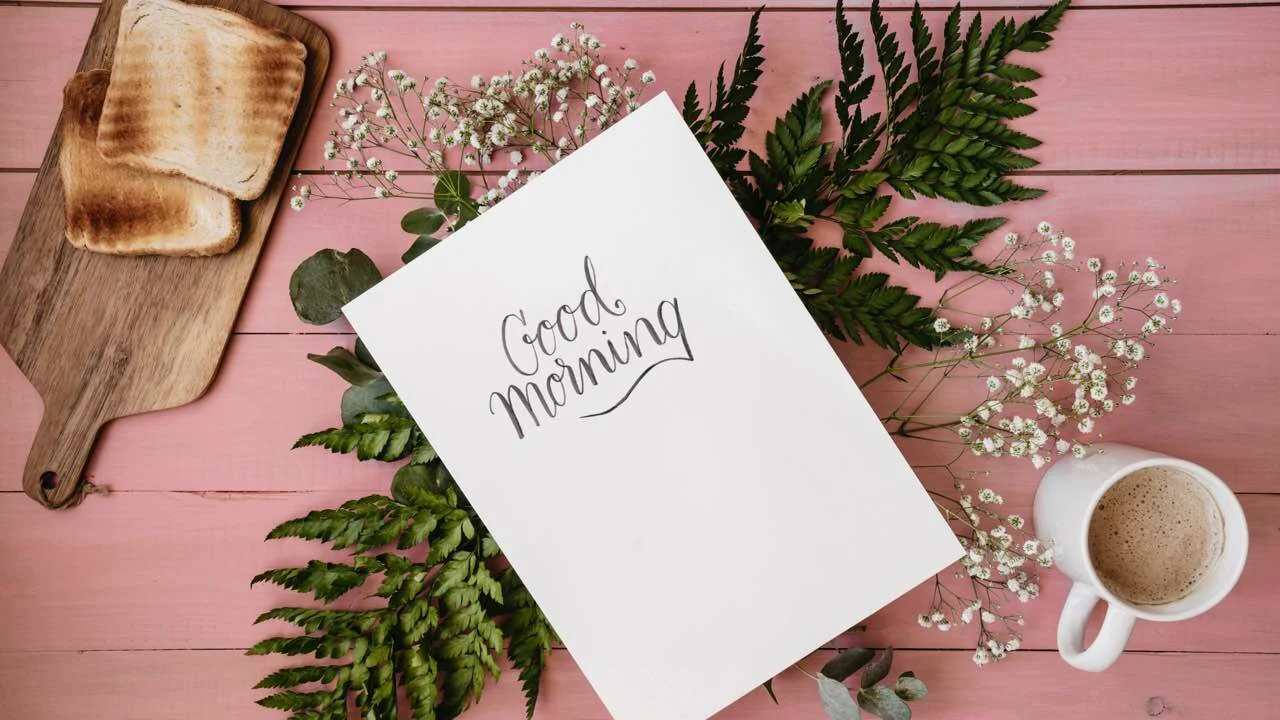 3: Be everything to me, sweetheart. Look into my eyes and tell me that I am yours forever. Hold me, and never let me go for my world is yours. Good morning.
4: The best gift on earth is that of a sound night's sleep and a healthy body on a new day. I love you, darling.
5: I care about you, always praying that you succeed in all you do. As you wake up from bed this morning, may none of your dreams fail today. Good morning, dearest.
6: You live in my heart forever and always. It will be inconceivable to live through today without thinking of you. Good morning.
7: The world belongs to us, baby. We can conquer it if we want. So, wake up, hale and hearty into another day of many exploits.
8: I woke up this morning overwhelmed with happiness. Do you know why? Because I will have you all to myself today. Sweet morning, bae.
9: I wish to wake up to your perfect form sprawled carelessly on our bed. I wish to kiss your lazy lips back to life and be there when you open your sexy eyes to behold my smiling face. Good morning.
10: Have a lovely morning, bright and full. Enjoy your day, and don't forget that I will be thinking of you anywhere I may be.
11: There's no question that today will be favorable for me because you are my good luck charm. Good morning, my heart.
12: Your smiles give me life. I have known no man that gets me at the deepest level like you. I really want you to have a fruitful day today. Good morning, hon'.
13: Everyday of my life is as sweet as your sensuous lips. I am blessed to love you. Good morning, mine.
14: Baby, never forget that my heart always beats for your happiness and peace. I wish you a glorious morning.
15: To the king of my kingdom, Good morning.
16: Thank you for being the most affectionate and considerate person I am privileged to meet in my life. You're simply the best. Good morning.
17: Left with me, you will be waking up every morning to the sound of the orchestra playing soulful tunes for you. Your royalty should be celebrated daily. Anyways, it isn't too late to carry out my desire. Good morning.
18: I don't love you for the sake of loving. I do because there's no life outside loving you. Angel, I will love you nonstop.
19: My youth is renewed with your true love. If there's an afterlife, you'll still be the one my heart leaps for. Good morning, handsome.
20: My body and spirit belong to you. When you laugh, I laugh. I will be downcast if you become hurt or sad. Therefore, you have no other choice than to make me happy today by staying happy.
21: The deadly sound of thunder striking is nothing compared to the sound of the door shutting behind me as I left this morning you for work. I am missing you, sweet.
22: Don't worry about anything today; my love for you has got all covered. Morning, honey.
23: I feel like putting up a post about you on Facebook and hashtagging it, #inlovewithmydreamman. You truly are. Good morning, babe.
24: You mean the world, not just to me, but to our kids. God gave us a priceless treasure in you. Good morning, sugar.
25: The strong confidence I've developed is the outcome of your consistent words of affirmation in my life. I love you with everything in me.
26: As you go out today to hustle for our good, may every good and desirable blessing locate you. Good morning, my prince.
27: In you, I've found a confidante and with you, I am at peace. Wishing you a serendipitous day.
Romantic Good Morning Messages For Him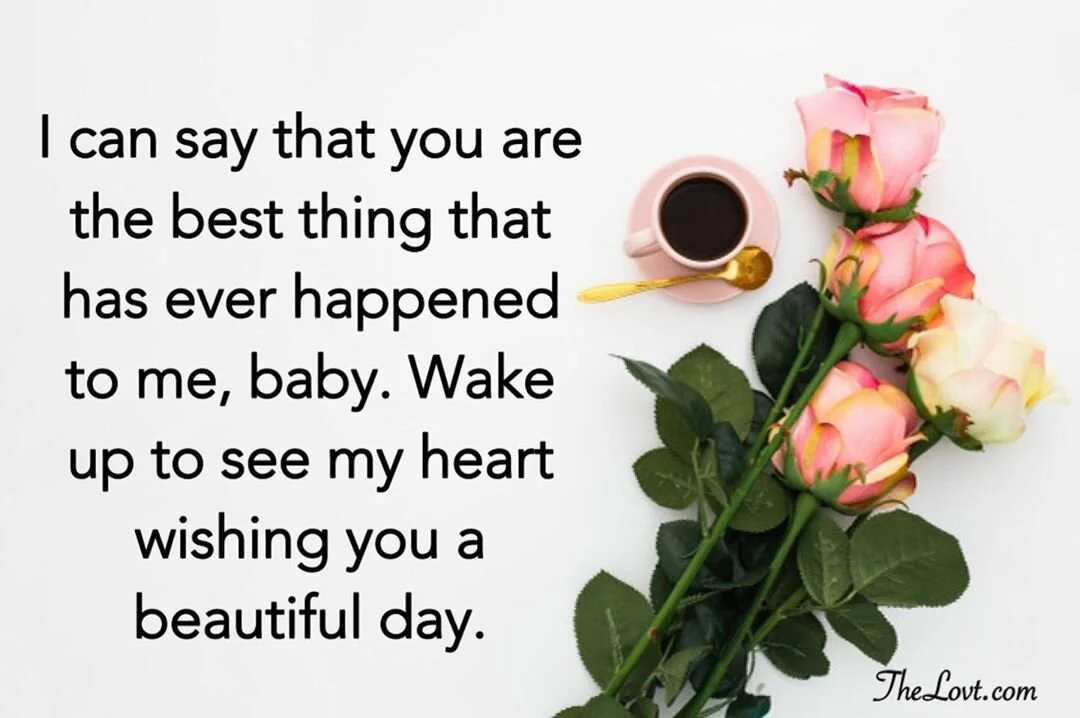 28: Love is being with someone who cares so much about your heart that he doesn't hesitate to scrutinize his decisions before executing them for your sake. I found love in you. Good morning.
29: There is no fear in love. It opens us up to numerous opportunities to live and become. When I say I love you, it is from a heart, fearless and true. Good morning, best.
30: May success and goodness announce you in every step of your way today. May love find and keep you safe until I see you again.
31: Pure luxury is waking up every morning in your arms. Good morning, my crown.
32: I saw the dawn before you but together, we will see gaze at the stars tonight. Good morning.
33: The rainfall drums incessantly on the roof with no apologies. Live today like you own the show. I got you in my heart.
34: The smell of your body in the waking up hours intoxicates me. It makes me want to devour you, body part by body part.
35: No matter how much I think of it, the result still comes out the same – you drive me crazy. Good morning, darling.
36: This day doesn't promise to be a smooth one but my love for you promises to be the wing for your easy sailing.
37: The fleeting moments spent with you surpass forever away from your presence. Good morning, sweetheart.
38: The way you love me is a testimony that I met the right person for me. I'm blessed to have you. Good morning.
39: It is a privilege to wake up to a brand new day filled with the bursting light from the sun. Good morning, my love.
40: I may not have the right words to write to you, but I am resolute in my decision to love you right. Good morning.
41: Don't spare me the details of your day today for I am willing to hear every single one of them. Have a blessed day, bae.
42: I'll be waiting for you tonight to finish up with the romantic moments we started from dawn. Sure you'll be ready for me. Good morning.
43: My joy is renewed daily, knowing that I have got you as my friend and lover. You are everything and more to me.
44: I don't mind keeping you with me forever and a day more. In my heart, in my life, and in all that I do. Good morning, angel.
45: Take it from me – I will never give you up nor let you down. Know that life is incomplete without you.
Funny Good Morning Messages For Him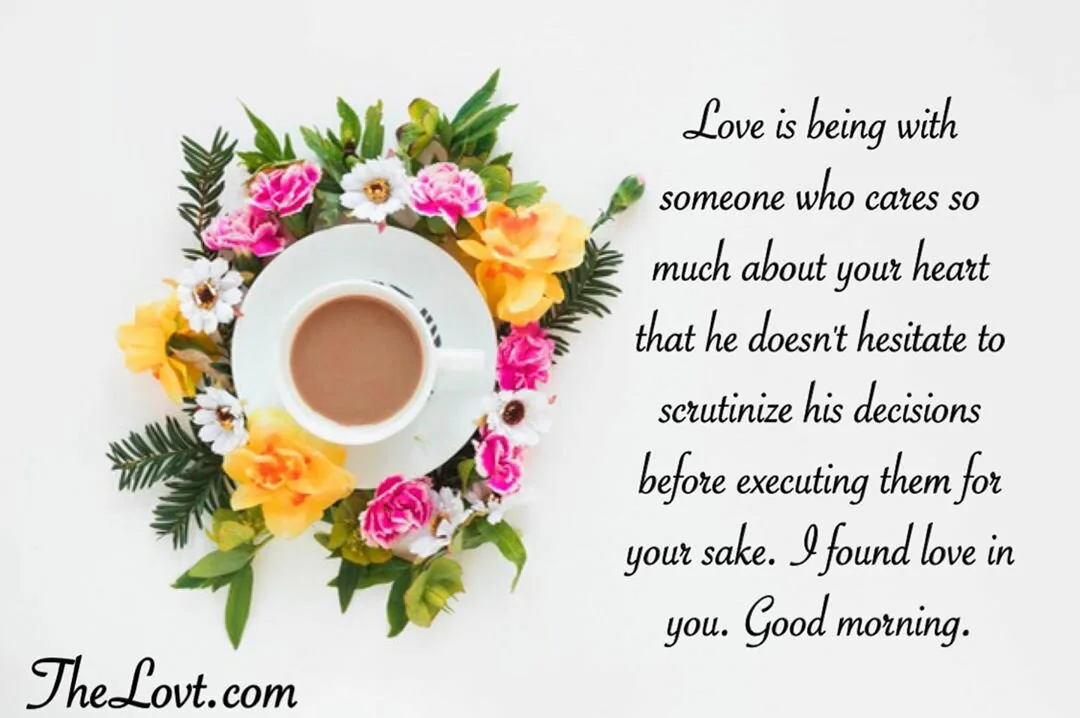 46: Even if you can do without me, you sure can't do without my honey-dripping, sweet-smelling morning message to you. I know, boy!! Good morning, my love.
47: The flowers are in bloom. Can you see them, baby? Of course, you can't when you're busy snoring with closed eyes. Wake up!!!
48: You aren't the morning person so I don't expect you to see this message till later in the evening. After the aim of sending the message has been defeated. Lol. Good morning.
49: I miss you and also miss my early morning coffee. Dunno which comes first though. Good morning, handsome.
50: Don't make my day difficult by not calling to check up on me. This is just a reminder that I will be waiting!
51: I would have woken you up to see me dressed in my new skirt but I guess you'll have to wait till I return, to become the first to see it from the bottom rack. Good morning.
52: I would have loved to be with you through the morning. However, I considered the risk of losing my job and opted for common sense. Good morning, love. Hope you're up.
53: Breakfast is ready; I made sure of that. Dinner should be ready; make sure of that. Good morning, my treasure.