It is often said that friends are like the siblings God never gave us, and that is why a true friend will never walk away even when the whole world does. Making a difference in your friends' lives doesn't have to take a lot of energy or resources.
One word of encouragement could completely transform their lives. Investing in a catalog of wise uplifting messages for friends and family could be the best thing you do today; you never know when you'll need to speak into someone's life.
Life can be a bumpy ride and at one point, everyone is bound to experience pain, stress, trouble, and anxiety. As a good friend, you should live from a place of kindness and uplifting your friends whenever possible. You'd be amazed to realize that energy is contagious. Like a ripple in a pond, you will be able to spark radiance to everyone around you.
All you need is a willing heart. Our comprehensive examples will do the rest. Here's to building others and spreading positivity.
Friendship Messages
1: I have always believed in you, regardless of the situation. You are the most talented, smartest, and wisest person I know. Because of that, I know you can do anything. Blessed evening dear friend.
2: Sometimes, you feel low, other times you are all psyched up, but that's life. Remember you are awesome in your way, so don't let anyone put you down. Nothing is holding you back from being the best version of yourself.
3: All my life, I have never met someone so kind and smart. As long as you keep the light in your heart shining, you will be okay. Brace up, chin up, and know you are worth every good thing in life.
4: To the kindest soul and brightest mind I know, stay strong in all you do. Life will always have its ups and downs. What counts is that you give it your best shot and always put your best foot forward. Best wishes from a loving friend.
5: As you wake up each day, stay positive and hopeful. Worrying about your problems will take you nowhere. Take the practical steps to get solutions to solve your problems. You've come this far, and you are going even further.
6: There is always something good in this world. Change your mindset and think of the positives. Better days are yet to come, dear one.
7: From now on, the only way to go is up. Keep moving, despite life's challenges. One day, we will meet at the top and we'll both smile, thinking about the great milestones accomplished.
8: Today, I choose to celebrate your uniqueness. No one resembles you, and that should be enough motivation to carry you through each day. Stay strong and know you are destined for greater things.
9: Dear friend, you might be going through something that doesn't make sense, but every ounce of energy or effort made counts towards greatness. Don't ever feel discouraged. I'm always keeping you in my prayers.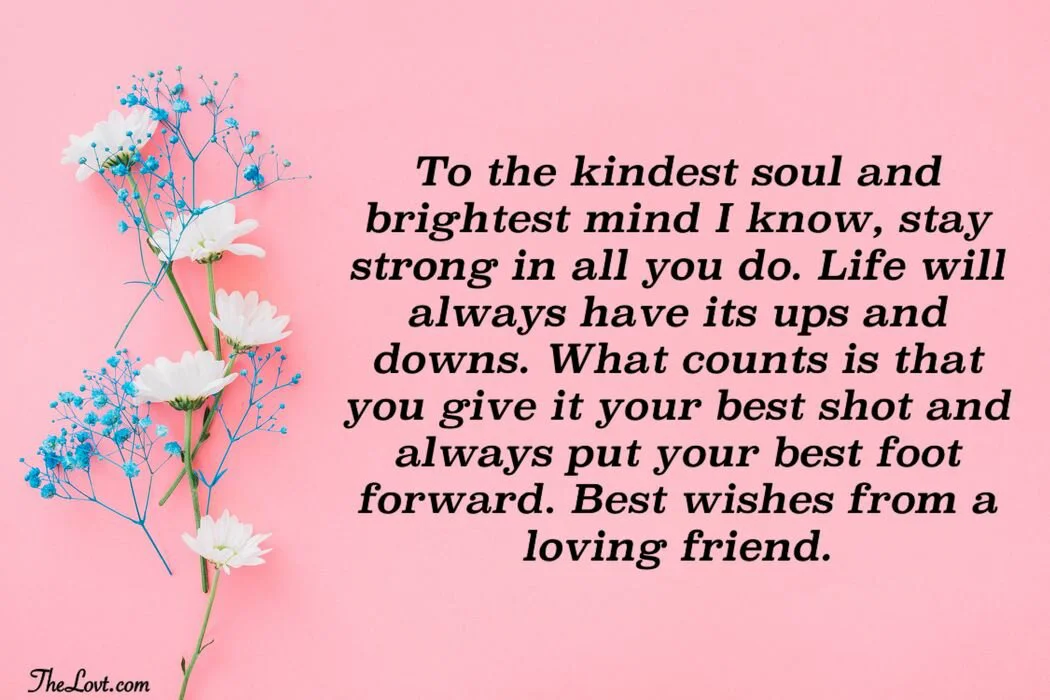 10: Worry and anxiety rob you of your peace and joy, eventually shattering your hope. Ultimately, you are unable to think of solutions. Instead, take the practical step of going back to the drawing board and coming up with solutions. You can do this!
11: Thank you for being such a loving and supportive friend. As you move through this journey of life, don't be afraid of making your existence worth its while. Increase your capacity, expand your skills, and keep your eyes open.
Heart Touching Friendship Messages
1: Whenever the odds are against you, always remember that God is faithful, and He will deliver you. Let the challenges you overcame be a constant reminder that you are well able to conquer all that comes your way. Stay hopeful!
2: As long as you are breathing, you have a purpose in this life. Don't be afraid to stand up for what you believe in and don't cave into the pressure of fitting in. Think of the great things ahead and soar on!
3: Whenever failure comes, the important thing is to pick yourself up and perceive it as a lesson learned. At the end of the day, God is greater than all of your problems. If you ever need a friend to comfort or encourage you, I'm one phone call away. Stay safe, friend.
4: In life, the only thing that is constant and guaranteed is death, taxes, and change. The sooner you accept this, the sooner you'll start seeing things objectively. Weeping may endure for the night, but you will always receive joy in the morning.
5: One day, you will sit down with tears of joy streaming down your face, and you will realize all your efforts were worth it. You should never give up on life. Chances are, your best smile, hardest laugh and best hugs are yet to happen.
6: Be on the lookout for opportunities and never waste time trying to prove what you are capable of. As long as you mind your business, things will be manifested divinely. Thank you for being a great friend.
7: Sometimes, I smile when thinking about you because I am proud to be associated with someone great. If you ever feel low, remember that someone idolizes and thinks highly of you. You will make it in life, trust the process!
8: Through you, I have learned the meaning of true friendship. Despite the hurdles, life throws at you, never settle for anything less than the best because you are destined for greatness.
9: You are the one person who brightens up my life. As you go through this hard period, stay strong knowing there is always a light at the end of the tunnel. Sooner or later, you are bound to get over this. Keeping you in my prayers.
10: Embrace the person you have become, put yourself together, and always strive to blaze through new levels. You haven't come this far just to give it all up.
Emotional Friendship Messages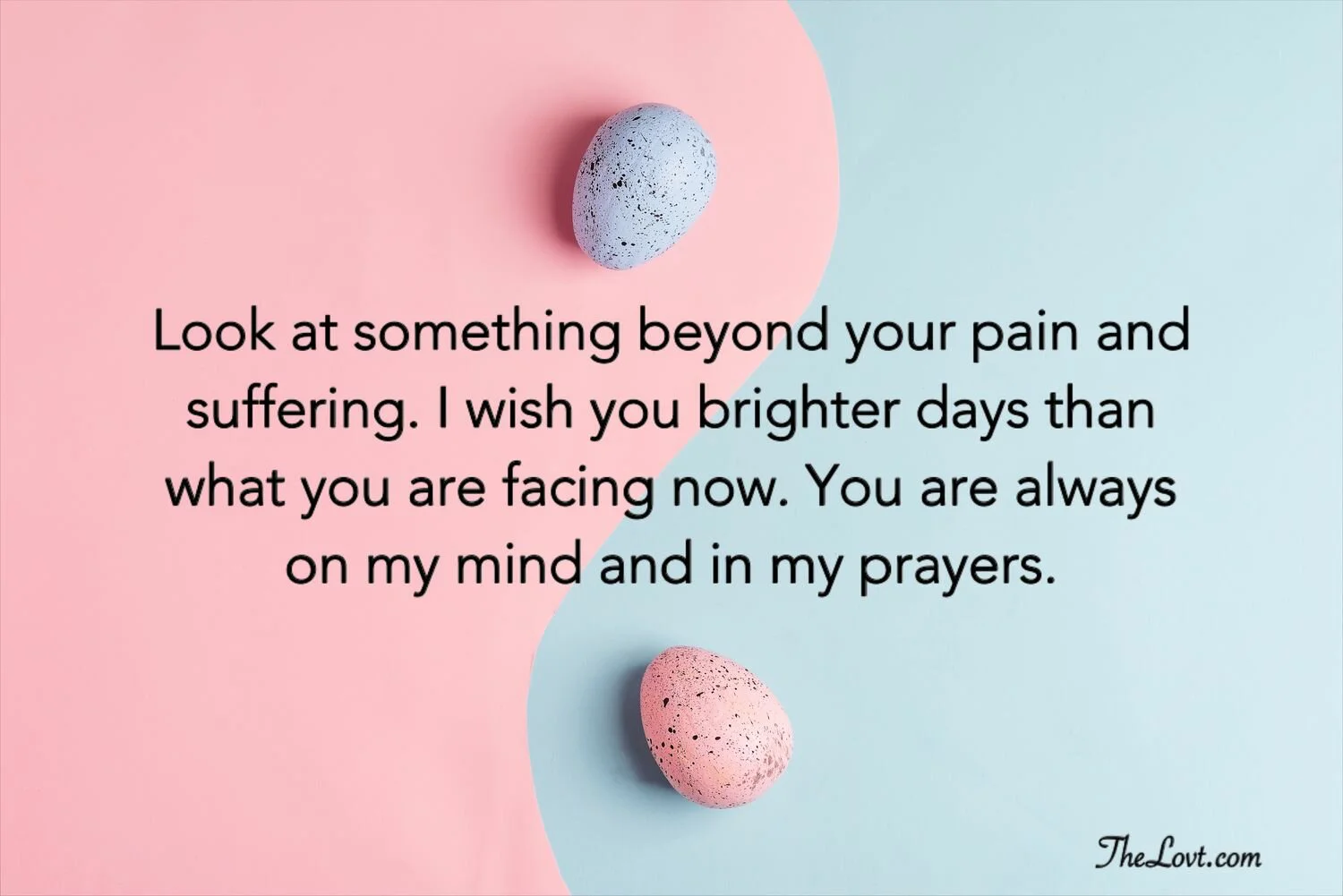 1: Ever since you came around, my life has been nothing but beautiful. Thank you for being the perfect example of a true friend. As you journey through life, my prayer for you is that you receive divine intervention and strength to handle all you go through, because life will not always be a bed of roses.
2: God gave you this life because He saw you fit to live and overcome all it has. Don't ever give in or lose hope because a higher calling and a higher purpose are awaiting you. Stay blessed!
3: Look at something beyond your pain and suffering. I wish you brighter days than what you are facing now. You are always on my mind and in my prayers.
4: Friendship is all about emphasizing the positives even when things seem negative. As you read this, always strive to be able to pick yourself up and being accepted for who you are. More than anything, I pray that God gives you strength and peace.
5: Don't go out of the way of your plan and mission. Despite how good you are, you will always have naysayers and people who criticize you. You'd rather stay positive and stick to what's right.
6: Ever since you came into my life, I kept you locked up in my heart and threw the key away so no one else takes advantage of you. If you are going through challenges, know they are temporary. You will end up just fine.
7: Just as little drops of water can form an enormous river, so do your little efforts have great results in the end. Let's hold on to the faith we profess and strengthen each other every day. Great things come to those who wait.
8: Don't ever give up after the first failure. Go ahead and fight on with all your strength because you have the power to bring down strongholds and conquer mountains. Best of luck, dear friend.
9: You bring an atmosphere of peace and happiness, and that's why I consider you to be one of my greatest friends. As long as the stars shine and the rivers flow, you will always be my friend. Stay strong and keep winning.
10: Thank you for accepting me the way I am and accepting me for who I am. When issues come, keep in mind you have a friend in me, who will never give up on you. Cheers to more years of friendship.
Funny Friendship Messages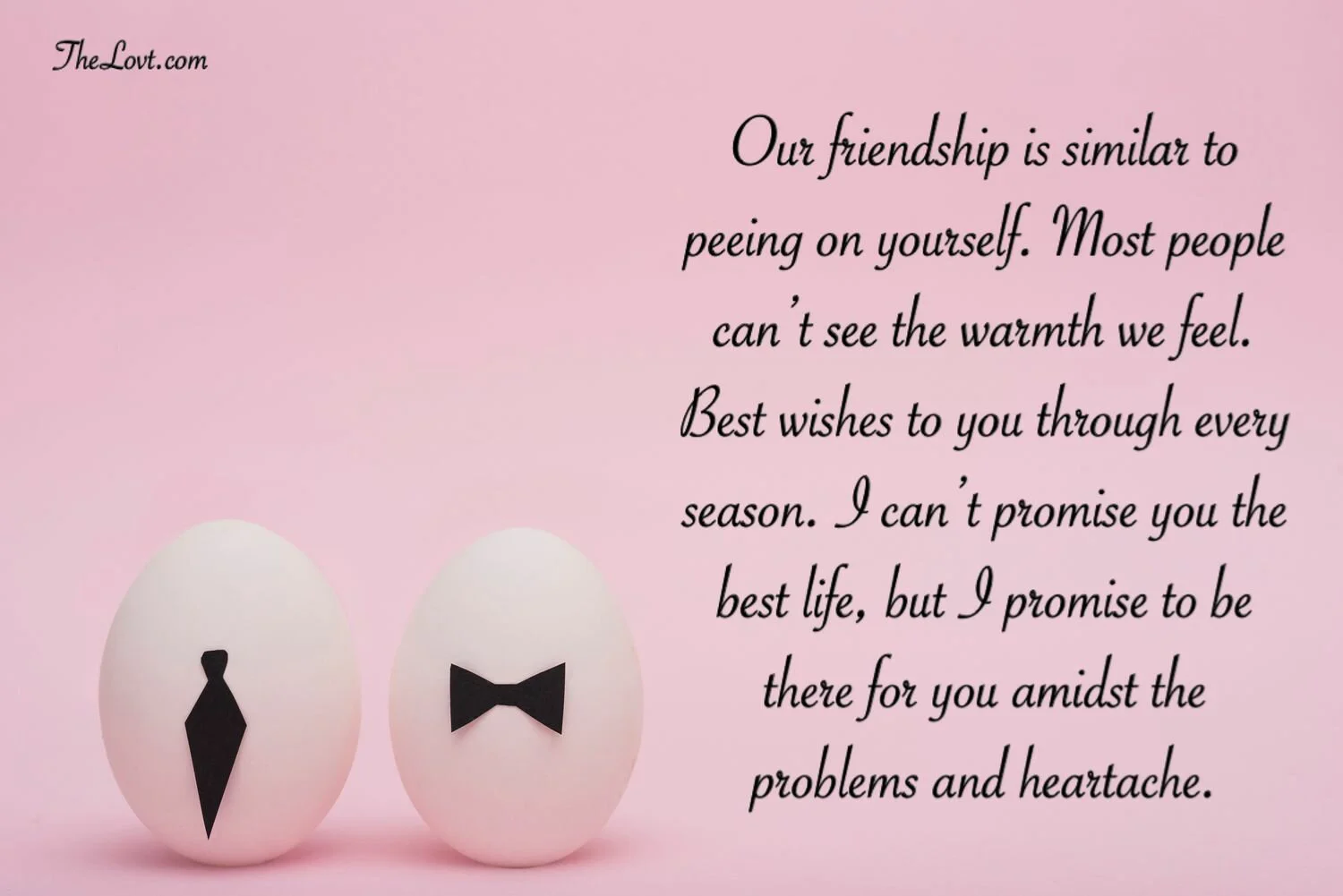 1: We are best friends because we have been there for each other and because you never let me do stupid things alone. I will always be your go-to person. Take heart during this hard period and know I believe in you.
2: In all those years of friendship, I have never broken your heart, but I wouldn't hesitate to break your bones, simply because you have 206 of them. Kidding though! Stay motivated and work hard in school. I love you.
3: I will always be here for you, regardless of the time and event. Smile every day knowing I have your back. If we were on a sinking boat and only had one life vest, I would make sure to pass your goodbyes to your family. What are friends for?
4: When life gives you lemons, you should always make lemonade, and find some vodka, then have a party. On a serious note though, I'd like to send a word of encouragement and hope to you and your family. Keep pushing and have a positive mindset. You are blessed.
5: One of the reasons why I will always have you by my side is because you have given me a shoulder to cry on. Like any other best friend, I would be ready to hurt anyone who makes you cry. Walk boldly knowing I have your back.
6: We've been friends long enough to remember who the bad influence has been. As we grow and mature up, I pray that you gain depth of insight to discern situations as they can and have the strength to live right.
7: Our friendship is similar to peeing on yourself. Most people can't see the warmth we feel. Best wishes to you through every season. I can't promise you the best life, but I promise to be there for you amidst the problems and heartache.
8: You must be a great loser for having a friend who is a loser. Together, we will rise and achieve all the goals we have set. Be strengthened today and know all your labor is not in vain. You have what it takes to make it!
9: Always remember you are unique, just like everyone else. If you ever get lonely, I will be here to disturb you. If you ever need a shoulder to lean on, I'll be here. You will ride on the greatest heights, as long as you remain consistent.
10: No matter how hard you work out, you will never attain a body like mine. You, however, have the greatest mind I know. Use it in the right way and you will solve almost anything that comes your way. Cheers to greatness and beyond!
Also Read: Beautiful Birthday Wishes For A Best Friend