The perfect birthday card with a special message penned down is enough to make your boyfriend's day. Coming up with the perfect birthday surprise can be grueling, but you can never go wrong with birthday wishes. If you have no idea where or how to start, don't worry, we have you covered!
Accompanying any of these birthday wishes with a nice gift could put you on the list of the world's best girlfriends. Just kidding, there is no such list. On a serious note though, use this collection to show your man how much you love and appreciate him. Don't forget, birthdays only happen once a year.
Birthday Wishes For Boyfriend
1: You have always understood my past, believed in my future and accepted everything about me. You are simply the best boyfriend. Happy birthday!
2: Happy birthday my love. Here is wishing you all the happiness and joy that this life could give. May all the desires of your heart be answered this year.
3: To the man of my dreams and my best friend: This is yet another year and another opportunity to lover harder and achieve all our dreams together. Have a blast today!
4: On this special day, may you eat, make merry and enjoy the company of friends and family. Endless kisses from me and the best of wishes as you turn over a new chapter. Happy birthday, sweetheart.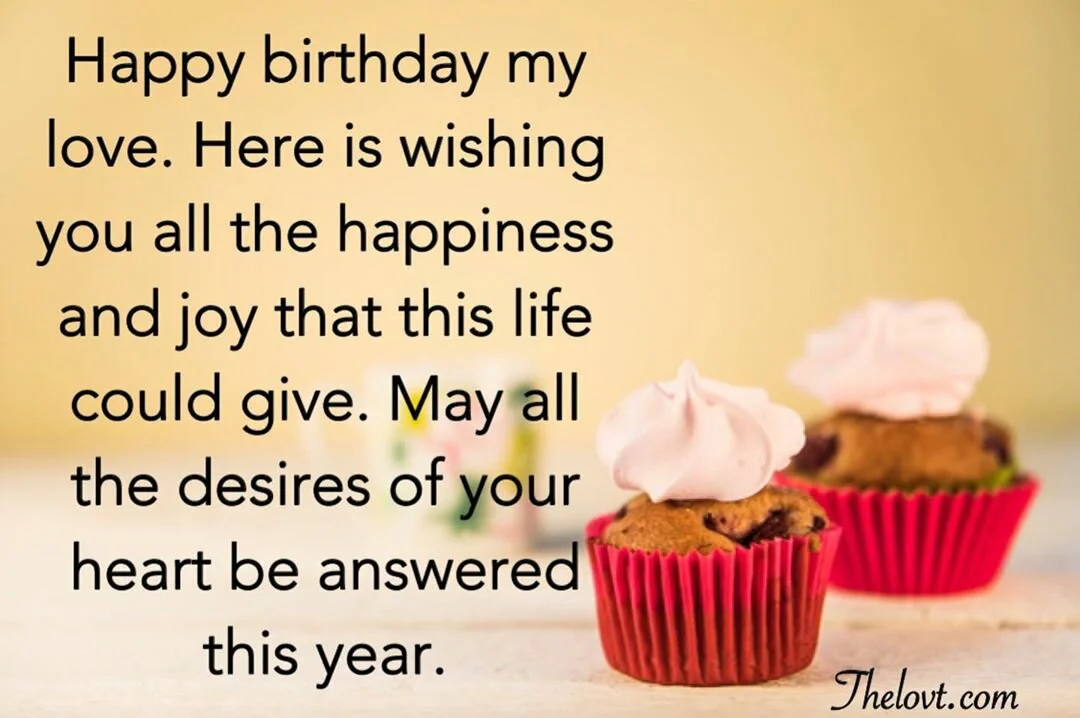 5: Happy birthday Prince charming. Finding someone as great as you are is similar to finding a needle in a four-leaf clover. I count myself lucky each day. As you celebrate another year in your life, I feel so proud of what you have achieved.
6: Above the music, the laughter and the partying, I pray that everything you set your mind to do blossoms and that all your desires come true. Happy birthday my dear.
7: Have a healthy happy birthday my love and productive life ahead.
8: My love, as you celebrate another year of blessings, I hope that all your desires come true and that you get many more reasons to smile.
9: May this day and this new year be filled with flowers, memories, happy moments and friendship.
10: Sending an ocean of love to the most incredible boyfriend. For always having a charming, caring and loving character, Happy birthday!
11: Float through this day with the biggest smile and know you are the most special person in my life. Happy birthday, honey!
12: To the guy who charms me effortlessly every day and the most handsome boyfriend in the universe, you complete me. For that have the happiest birthday yet! I can't wait to see you.
13: Warmest birthday greetings to my rock and confidant. May this day bring forth everything you have ever hoped for and may it be as cheerful as you are. I'm proud to call you mine.
Heartfelt Birthday Wishes For Him
14: Though I might not be able to fully express my feelings for you through words, you mean the whole world to me. Every minute away from you feels worse than torture. Happiest birthday to my prince charming.
15: I wish nothing but a magical birthday to you, my love. For the longest time, I perceived love as the craziest journey, but you discarded all the doubt and fear for me. For opening up my mind and for the years we've had, Happy Birthday and I love you!
16: Happiest birthday to my love doctor. You came into my life and mended my broken heart, stitched my deepest wounds and gave me a taste of true love. My sincerest wishes and gratitude for everything.
17: My big guy, you bring out the extreme sides in me helplessly and you spark emotions as no one else does. I wish I could wrap my hands around you forever, just to appreciate you for the much you have done. Happy birthday and may you have the best in life.
18: This feels like my birthday too. Until you came into my life, I never knew I could love life with someone this much. I hope you experience the best on this day because you have given me more than I ever needed. Happy birthday.
19: Happy birthday dear one. As you turn another year older, let any wish you have, be my command. I hope I can give you the royal treatment you deserve for the rest of your life.
20: Sending the best birthday wishes to my forever happiness. You have taught me how to love and how to endure the worst in life. In every dark moment, thinking of you becomes my light at the end of the tunnel. Enjoy this day.
21: More than anything, I wish that our love lasts forever and that we spend many more birthdays together. Have the most beautiful birthday, yet.
22: Amazing how I feel your presence even when I close my eyes. I reflect on what we have each day and I hope that this new year brings forth strength and peace to continue being the loving boyfriend you are.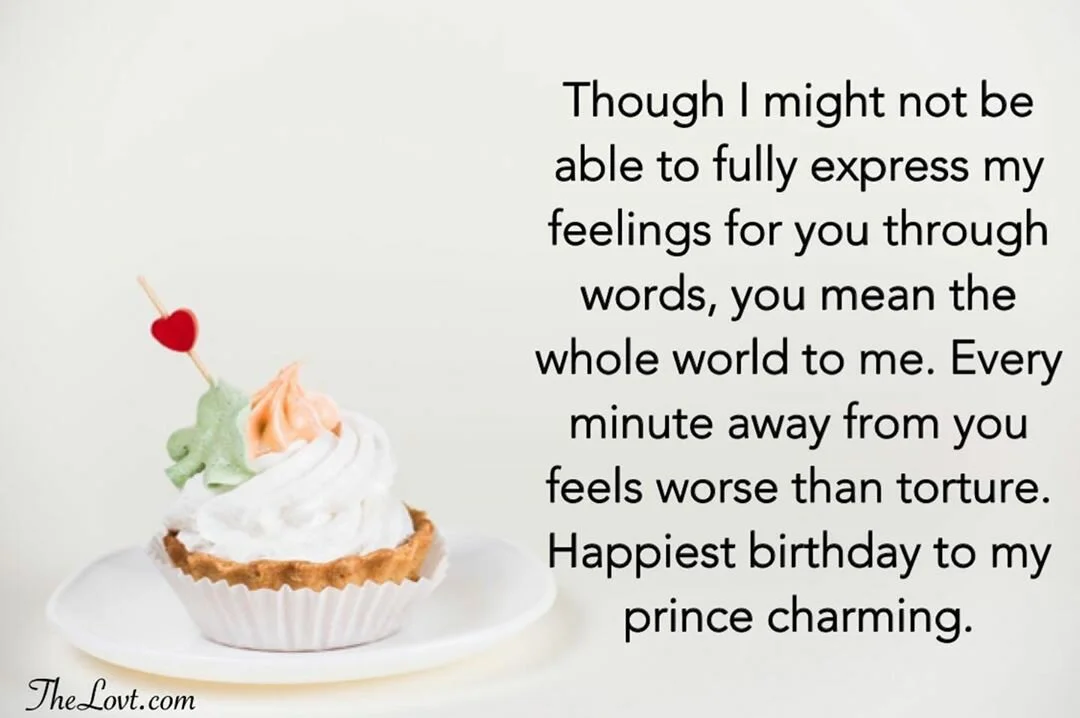 Emotional Birthday Wishes For Boyfriend
23: Seeing you celebrating yet another year brings me so much joy. I have never loved someone so madly and never shared as much as I have with you. Without you, my life would be meaningless. I am forever grateful for accepting me with all my imperfections. Have a blast today!
24: On such a beautiful day, God created his most beautiful creation. I am honored and humbled to be part of your journey in this life. You truly are a blessing. Happy birthday, honey.
25: You deserve the greatest celebration for your birthday. If I could, I would buy anything and everything for you today but for now, accept my heartfelt wishes. I adore you.
26: Hold me closer like never before and never let me go. I want nothing more than giving you hugs and kisses. Have a grand birthday; I know we will celebrate many more.
27: Happy birthday cute pants. Often, I try describing and expressing my love for you, but words are simply not enough. Like the sun rises and discards the dark, so do you light up my world.
28: All my life, I have never met someone who is so resilient and strong-willed. I wish you the most fulfilling birthday and a productive year ahead. Keep up with your good deeds!
29: Happy birthday, my cuddle partner. There is nothing I wish more than to be with you during this cold season. As you age gracefully, continue being the author of my best memories.
30: From one loving heart to another, happy birthday, my hero. The love we share is like gravity that holds us steady and like a glue that gives us a strong bond.
31: To other people, you may just be an ordinary person; but to me, you are a bonfire that is ever blazing in summer. Better things are yet to come. Happy birthday!
32: With the utmost love and devotion, I wish the most handsome guy a blessed birthday and peace to prevail in all situations. Every moment spent with you is like therapy at the end of a busy day.
Funny Birthday Wishes For Boyfriend
33: Sometimes, I wish every day was your birthday, so I would get to eat cakes and sweets. I love you for coming into my life. Happy birthday my candy.
34: Since today is your birthday, I'll allow you to have a cheat meal and as much chocolate cake as you want. But just for today. Happy birthday, gumdrop.
35: It's amazing how you become increasingly handsome as days go by. I hope your love for me is also growing as you grow older. Happy birthday big guy!
36: Happy lovely birthday to the most interesting and humorous guy in the world. I would have loved to plan a surprise birthday party for you, but as you are well aware, I am not good with secrets.
37: As you grow older, it is my prayer that you also grow wiser so that you'll match the intelligence in our arguments. Just kidding, I love everything about you. Happy birthday.
38: Happiest birthday to the only person who makes me tick and my blood pressure rise. I promise if you make me mad, I'll wait till tomorrow to get my revenge.
39: I admit that sometimes I can get a little too hormonal and annoying, but after being with you for so long, I know that I want to be with you all my life. Happy birthday to the great gentleman that you are.
40: Happy birthday, goofball. On most days, you are the best boyfriend, but on some days, I feel like smacking you on the face. I still love and appreciate you though. Enjoy this day.
41: For a moment, forget that you are aging. Have fun and let your body catch up later. Have the best birthday my love and may you attain your full potential this year.
42: Receive the warmest birthday wishes to your last and most-loving girlfriend. You are sexy, crazy and everything I've ever dreamt of; that's why I can't keep my hands off you. Live out this day with bliss.
43: To the guy with the biggest heart, the warmest smile, and the best culinary skills, may this birthday bring forth all your dreams and desires. Well, apart from you marrying your celebrity crushes.