If you have a son, daughter, friend, or cousin who is turning 18, you would want to make their first day of adulthood worthwhile, wouldn't you? Aside from the incredible gifts, have you thought about composing a birthday message?
Of course, such a great celebration should be marked by an empowering message. You can pass it through a birthday card, sticky note or any other means; the list is endless. What matters is that you have the power to make your loved one feel special on their last day of childhood.
Here are some of our best 18th birthday wishes. Read through!
Happy 18th Birthday Wishes
1: As an older and wiser friend, I can tell you that age is just a number. You have hit one of the major milestones in life and I hope you understand that maturity only comes through experiences. Happy birthday!
2: Today is one of the most important days of your life, I wish you a bright future, more blissful days and blessings like never before. I celebrate you!
3: At long last, you are ready to start taking care of yourself. I know you might be feeling nervous, but I'll be here whenever you need. Growing up is fun and thrilling! Happy 18th birthday dear one.
4: Happiest birthday loved one. The defining moment has come. You finally get to prove to everyone how responsible you are. Turning 18 doesn't mean you have to experience all the grown-up escapades, rather, meditate on taking charge of your life.
5: Heartiest congratulations for coming this far without getting into any serious trouble. You'll always be my sweet small sister even as you grow old. Happy birthday!
6: Happy 18th birthday darling. I hope your days of adulthood will be as rewarding as your childhood days. You have been resilient all through and I'm sure that the best things are yet to come.
7: As you turn one year older and graduate to this new level of freedom and liberty, I pray that you will purpose to make wise decisions and enjoy every moment of it. It's a blessing to see you grow so big. Happy birthday!
8: Though you are now permitted to do everything, always keep in mind you should take responsibility for any action you take. Wishing you a merry happy birthday and a prosperous adult life ahead.
9: Happy birthday young man! This is the day you have waited for all your life. Embrace all that adulthood has in store for you but stay strong during the hard times. Soon, you'll get used to the numerous duties and responsibilities.
10: Don't worry about adulthood. For now, we need to celebrate. I am so happy to be part of your journey. Happy 18th birthday. The only thing I can tell you is to be brave enough to fail, make money, fall in love and have fun.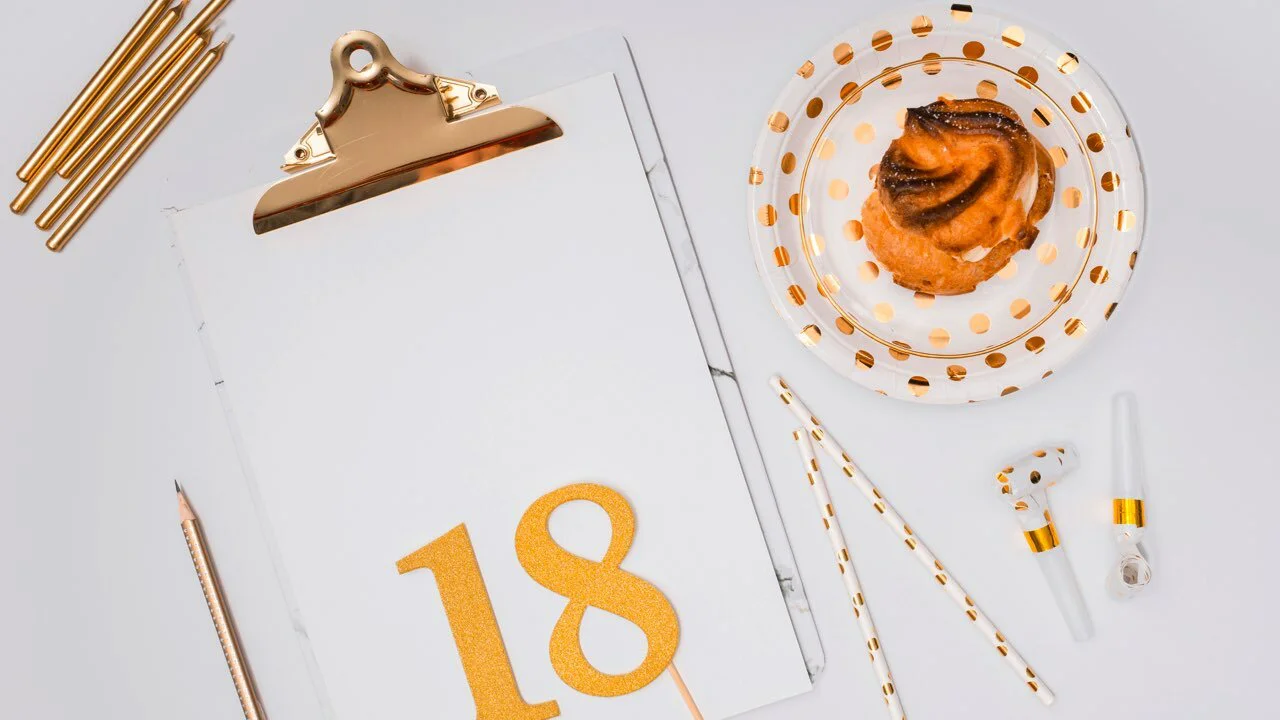 Funny Happy 18th Birthday Wishes
11: While others may see you as a grown-up, you'll never be old enough to share life experiences and secrets with me. Enjoy yourself on this great day because the next few years may be bumpy. Happy birthday, champ!
12: Turning 18 technically means you're now an adult. Don't fool yourself though. You are still a kid to many. At least you now get to try out some of the fun grown-up stuff. I'm happy for you.
13: To my best friend and clown: You now have the right to buy more stuff and wreck your life as much as you want. Happy 18th and welcome to adulthood.
14: It doesn't matter to me whether you are turning 18 or 50, all I know is that it's time to party. On a serious note though, I will always be here if you ever need to talk because adulthood is not a walk in the park. Happy birthday silly!
15: As the years go by, so does my love for you increase. I wish you a fantastic year ahead and a lifetime of sound decisions. Remarkable birthday ahead.
16: You are one of my most trusted friends and I would never trade you for anything. Being the last one in the squad to turn 18, we have to spoil you with food and drinks. Say goodbye to childhood.
17: It's amazing how the little girl I once knew has turned into a majestic young lady. Don't let anything or anyone change your good heart. If anyone messes with you, I'm one phone call away. Have an amazing 18th birthday.
18: Even with your long beard and groomed hair, you are still a ten-year-old with eight years' experience. I have seen the best and worst sides of you, and I know you are set for life. My only wish for you is that you increase in wisdom and stature.
19: Have a wild and happy 18th birthday. Now that you can make grown-up decisions, keep in mind that your parents have the liberty to throw you out any time. I am proud of the far you've come.
20: You are growing up so fast. At this rate, you will be 100 years in no time. Happy birthday buddy. Here's to making new grown-up memories and keeping more secrets.
21: As you enjoy yourself, remember this is the last day you can play video games; adulthood calls for such maturity mate. You have transformed into an admirable person with a reputable character. For that, I know you will make an exceptional adult.
Happy 18th Birthday Wishes For Daughter
22: Baby girl, thank you for making me the proudest mother in the world. You have been a responsible, mature, kind, caring and loving daughter. As you turn 18, I am convinced you'll have a bright life ahead, with so much potential. Happy birthday.
23: Even as you begin adulthood, you will remain to be my small beautiful girl. Today marks one of the greatest events in your life. Purpose to take charge of your life and you will grow to be a responsible woman. I love you.
24: Happiest birthday to the most obedient, caring and sharpest daughter in the world. As a dad, I have seen many things in the world, and I know you have what it takes to conquer anything that comes your way.
25: Growing up has always been scary but thinking of the good times and greater times ahead should keep you moving. As parents, we have done our best and brought you up in the right ways. May you also reciprocate the same to the people you meet out there. Happy birthday dear one.
26: Happy birthday, baby. Today, we celebrate the most accomplished and sweetest teenager. Seeing you grow up is both sad and happy for me, but I pray that all your dreams and desires come to accomplishment because you have always been a force to reckon with.
27: Growing up, you have made me laugh more times than you have made me cry. I could never thank you enough for proving to be a mature and responsible daughter. 18 is just a number. Keep up with the good character darling!
28: Happy 18th birthday princess. As you set your heart and mind towards setting up your foundation as an adult, dare to believe and try out as many things are possible. No human is limited!
29: You have inspired many by being discipline and maintaining a seamless record in school. Graduating into adulthood only means you are at a tougher level. Let your principles propel you all through. Happy birthday my dear.
30: Exactly 18 years ago, we received a bundle of joy that changed our lives completely. I cannot overemphasize how life with you has been a roller coaster of joy and laughter. You are the most precious thing in our lives. Happy 18th birthday.
Happy 18th Birthday Wishes For Son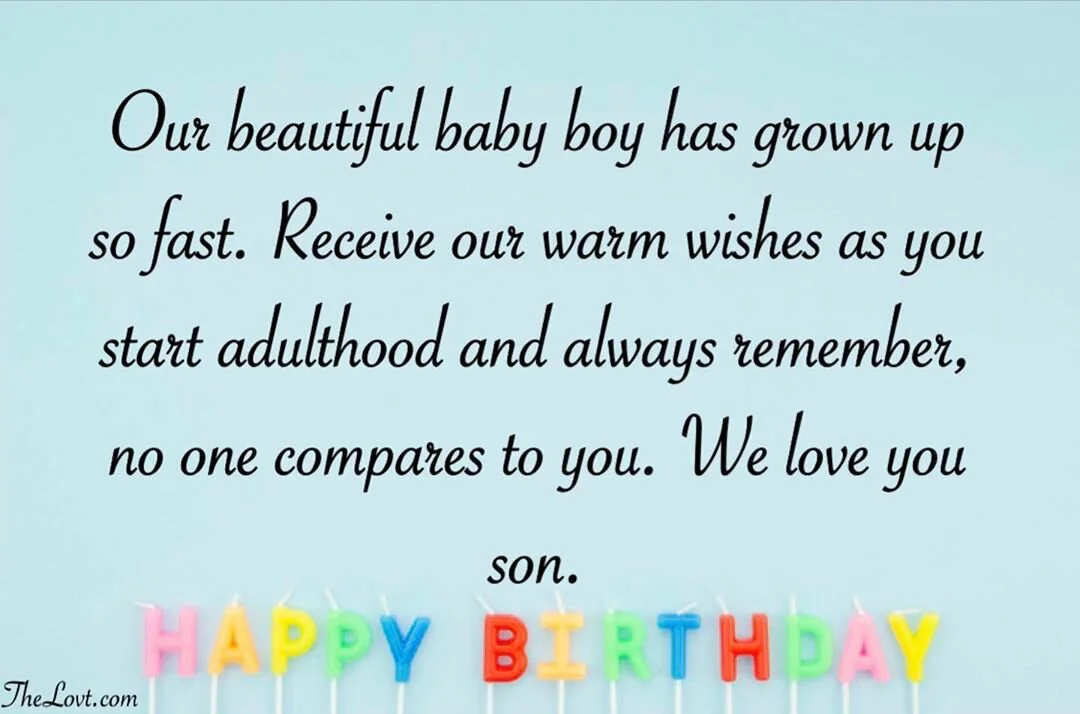 31: Our beautiful baby boy has grown up so fast. Receive our warm wishes as you start adulthood and always remember, no one compares to you. We love you son.
32: I know it has been a long journey getting this far, but we can celebrate knowing you have finally become an adult. I am proud of the man you have become. Can't wait to get some grandkids from you.
33: Happy birthday young man! A challenging, interesting, wonderful time of your long life begins at 18. We are all happy to be associated with you. You have so much energy to give and insights to offer, so shine your way and be the best you can be.
34: In tasting life's depth and vastness, stay grounded to your roots and to the principles we have instilled in you. Nothing gives us joy more than seeing our successful sun doing exploits. Happy birthday, son.
35: Happy birthday, dear son. Even at eighteen, there are many things I still haven't taught you. It is my hope you will continue having a teachable heart and a receptive mind. Cheers to adulthood!
36: Today, we celebrate a new adult in the house. Happy birthday, son. From now on, you are in control of your destiny but also keep in mind with great power comes great responsibility.
37: As you enter this special period of your life, I pray that you learn how to balance on the ledge of teenage-hood and adulthood. I could never ask for a more polished and well-mannered son. Congratulations!
38: To the only boy who looks like an eight-year-old even at eighteen, have a remarkable birthday. May you master the art of taking responsibility for your actions.
39: With two years to complete freedom and adulthood, 18 may seem confusing and fun at the same time. We love you so much and it would be our greatest joy to see you succeed. Happy 18th birthday baby boy.
40: Happy birthday! The decisions you make and the friends you choose now will have a great impact on your life. I hope that this transition to adulthood will help you realize who you want to be.