Aside from birthdays and weddings, graduations fall under the 'most sensational occasions' in a person's life. Marking the end of a lengthy and tough milestone, graduations are meant to be celebrated in style whilst preparing for the next phase in life.
Going by this, you should come up with something interesting, heartfelt and equal to the magnitude of the achievement. If you are looking for something unique, superior and heart-warming, this is for you.
This cocktail of inspirational, funny and self-motivational graduation wishes will help you come up with a special recipe for any graduation
Graduation Wishes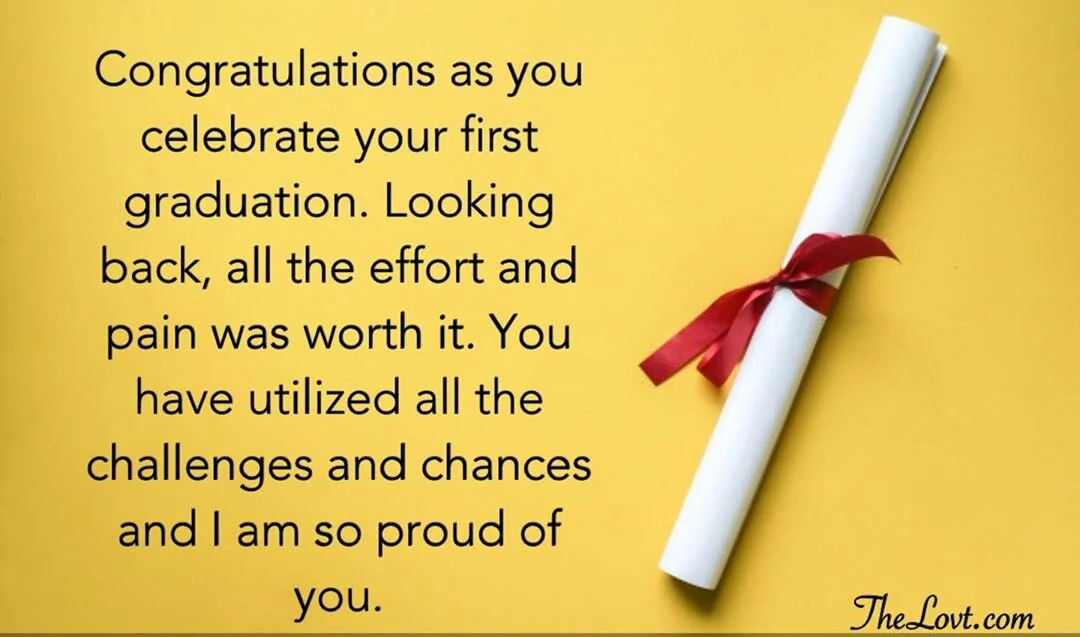 1: The sleepless night and numerous sacrifices have finally paid off. Enjoy this great reward as you now come up with a roadmap to your next achievement. I hope to share in the joy of future celebrations. Congratulations
2: Many congratulations on shinning so bright and graduating with such a grade. You have proven time and again, that you are a star in the making! Keep shinning dear one.
3: This must be one of the best moments in your life. All the hard work and commitment you have put in has finally paid off. More rewards lie ahead. Congratulations and may great doors open for you.
4: Today and always, I wish that blessings and success follow you. You have been an inspiration to many in school and seeing you graduate is just momentous. Have the most colorful graduation.
5: You are a combination of ambition and brilliance. You kept the faith and believed to walk down the glory road. May this day bring the fulfillment and happiness you deserve. Take some time and let this achievement sink in. Congratulations.
6: Without a shred of doubt, you have made everyone proud. For being the best in your class and the discipline you have portrayed, Congratulations!
7: Congratulations for this mark of excellence. As you remember the challenges you have had to overcome and cherish the fruits of your labor, may all the success in the world follow you.
8: Spread your wings, soar high like an eagle! May you experience the best in the years to come because you deserve it. For you, the sky is only a point of view, but not the limit.
9: In everything you set your heart to do, may success follow you. You have worked tirelessly to achieve this, so enjoy every bit of this glorious day. Warmest congratulations darling.
10: Such an outstanding achievement deserves a mighty celebration. You have spearheaded this family's glory and raised the bar to another level. Congratulations on this big win!
11: Congratulations as you celebrate your first graduation. Looking back, all the effort and pain was worth it. You have utilized all the challenges and chances and I am so proud of you.
Inspirational Graduation Wishes
12: Watching our daughter growing up and chasing her dreams is just sensational. This reminds me of the struggles and all you have faced. It has yielded much fruit. Congratulations.
13: Such a beautiful day marked by a remarkable occasion. As long as you keep believing in yourself, there is no limit to what you can accomplish. Congratulations dear one.
14: It feels like yesterday when you started school and now here you are receiving the powers to practice the degree you have always desired. I would like to congratulate you from the depths of my heart for being the most resilient and committed person.
15: To an amazing nephew, congratulations and receive my warmest gratitude for doing me proud. You have influenced and motivated your cousins into working hard and becoming better people. All the best!
16: As you celebrate this major achievement, don't forget that life goes on. Keep on working hard, keep on chasing your dreams and proving to the world that you are a force to reckon with. Congratulations!
17: The world needs your goodness and beauty, but most of all, it needs your wits. I hope you will grow up to become a solution-giver and a motivator of dreams. Enjoy this great achievement.
18: I know it has taken a lot of hard work to get here, but now you are ready to accomplish all you ever wanted. Take on the world and bloom with grace. Best wishes as you dare to achieve greater things in life!
19: Take pictures, eat as much as you can and make merry all night because you have outdone yourself. Congratulations with love, for your diligence and extremely high standards. Graduating is truly a major milestone in this journey of success.
20: I appreciate the fruits of your hard work and the strength you have mastered to get through any situation. Graduating amidst all the challenges at home is indeed extra-ordinary. Cheers to the biggest win, yet.
21: As you prepare to join the workforce and experience the external environment, keep in mind that hard work is a constant quality that needs to be nurtured and observed. I believe in you and so should you. Receive the best acclamation for this accomplishment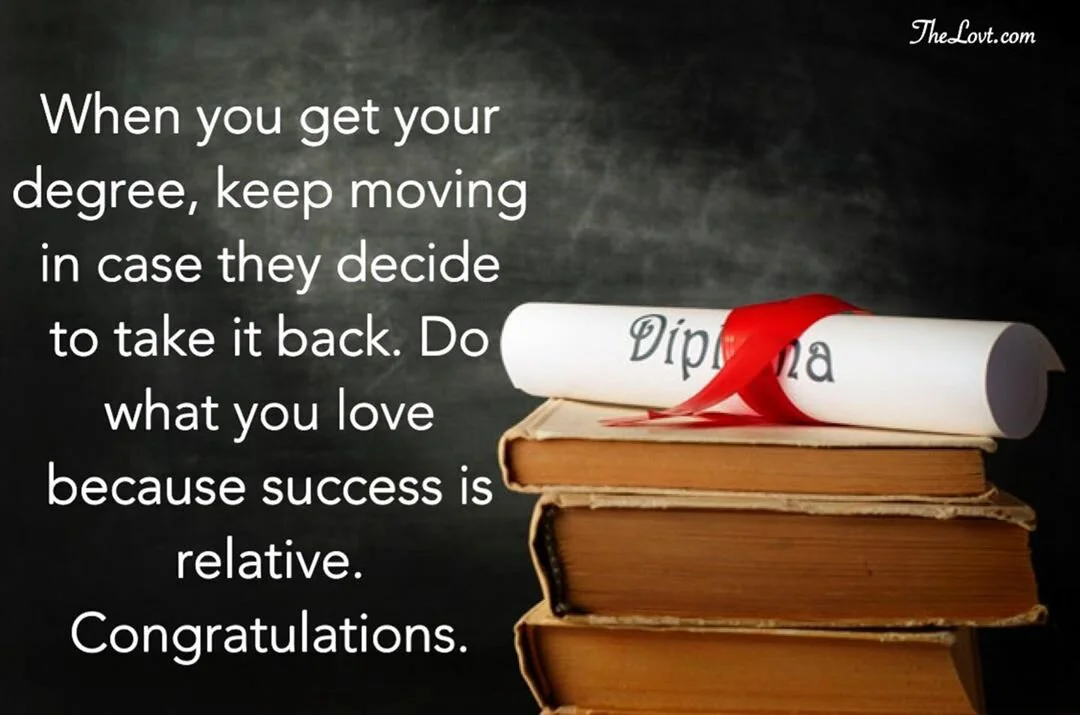 Funny Graduation Wishes
22: I have known you from the day you were born and though you were always stubborn, I'm glad you've matured and grown up to achieve such greatness. Warmest wishes on your first graduation.
23: It's amazing how you took a misstep in the right direction a few years ago and landed yourself one of the best courses in the world. Cheers to more breakthroughs and academic milestones.
24: Like a hen, you have sat your way to success without doing much. Kidding though! I know the journey has not been easy, but you have come out stronger than you were. Congratulations!
25: As you prepare to transit to the working class, note that life often gives you a test to teach you a lesson, unlike school where you had a test before the lesson. All the best and the highest commendation for your graduation.
26: You sure don't look like the serious hard-working students, but you have made it this far, thanks to your luck. We are all proud of you though. Congratulations.
27: To some of us, your graduation and high performance have come as a complete surprise. Have the happiest graduation and keep on working for a better future.
28: I love your spirit of competition and how you hide your astonishment amidst failure. I am convinced that the best is yet to come. Happy graduation day.
29: I am impressed by your ability to come up with such a graduation speech considering you have a high intolerance of public speaking. In so many ways, you are one of a kind. Cheers to greatness and beyond.
30: Stay true to your vision, follow your dreams and envision a higher reality. Never follow other people's paths, well unless you are lost in the woods. Have a heart-felt graduation party.
31: When partying, drinking and eating fades, keep in mind that success is moving on from failure without losing enthusiasm. Feel appreciated.
32: When you get your degree, keep moving in case they decide to take it back. Do what you love because success is relative. Congratulations.
Graduation Wishes For Myself
33: It has been the longest journey, but I have finally graduated. I pray that all my dreams and wishes come true. Best of luck to me.
34: On this day, looking in the mirror, I am proud of who you have become. May this graduation mark the beginning of something big and incomprehensible to the ordinary human mind.
35: Whoever thought this day would come? It feels like I was a freshman yesterday. Congratulations to me and many thanks to everyone who has played a part in this journey.
36: Having graduated, I am sure beyond a reasonable doubt, that anything I set my mind to do will happen. I am proud of the person I have become and happy for the great times ahead.
37: Moving on to the next chapter in life feels scary and exciting at the same time. I have learned a lot and grown into a mature responsible adult. I'd like to wish myself happy graduation.
38: Reaching this major milestone and accomplishing what most people failed makes me feel like a superhero. I have run the race diligently and exceeded all my expectations. Congratulations to me.
39: After working tirelessly, I have finally reaped the sweet fruits of success. With great happiness, may this graduation mark the end of a tough error and the beginning of something new.
40: I never thought being called a graduate would be so much fun and sensational. All this has been made possible through loyal friends, supportive parents, and caring family members. May the celebrations begin!
41: With great confidence, I can say I have made it. I have never felt my dreams closer than I do today. This is such a great feeling to embrace. Congratulations to me!
42: As I stand here and make my final graduation speech, I now know that graduating is a matter of working smart for a few years to achieve a bright future. I am proud of everyone who has helped me along the way.
43: I take this opportunity to congratulate myself, though it will still take time to digest this achievement. Things have worked out much better than I expected. Everyone in my life is part of this great success.