The feeling of making her the happiest girl in the world or watching her blush effortlessly is probably one of the greatest feelings in the world. Lads, you could most certainly achieve this using money and gifts, but it will get boring at some point. That's why we encourage you to be spontaneous in your relationship.
It is no doubt, girls love sweet, romantic guys, but this doesn't happen overnight. Our heartwarming goodnight texts below could be a great starting point. Even better, poems have been proven to be quite artsy and more romantic than normal messages. One poem a day could keep boredom away.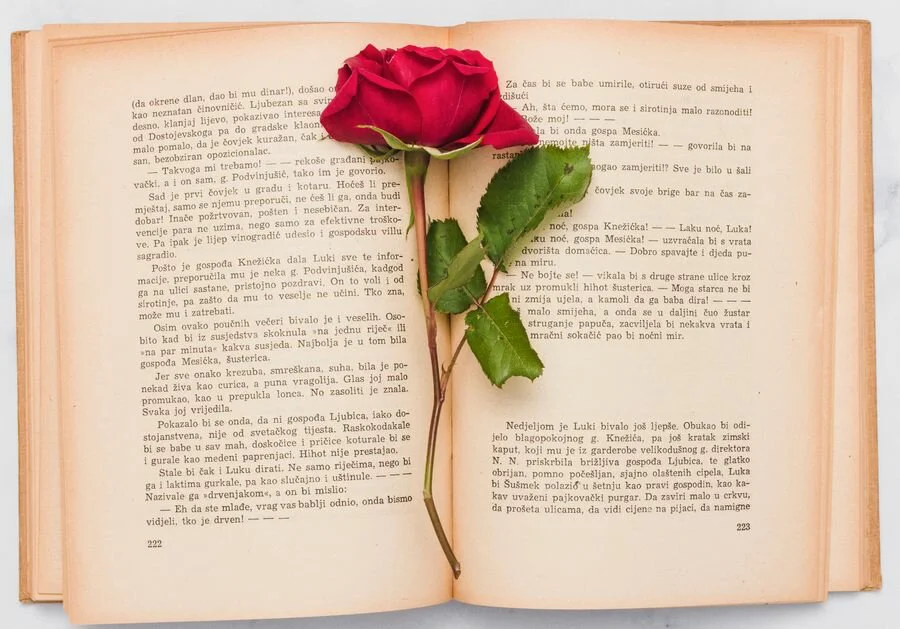 Sweet Goodnight Poems For Her
1: I feel like a poet
Lost for words and without a voice
Like a painter without a proper brush
Like a life without many choices
Like a flower without any fragrance
Being away from you is the worst torture
I miss you and everything about you
Goodnight, baby girl
2: More than anything, I wish we could hug things out
And Facetime or Snapchat all the time
And let everything about us be sublime
I know we can text, Facebook and Tweet
But I wish I could give you kisses so sweet
I wish we could snuggle and cuddle
As we talk about the future and everything about us
For now, Let me lay my head down and think about you
Goodnight, my love
3: I can't help but smile when thinking about you
As I lay in bed restless and wide awake
You are the only thing that calms my nerves
You are divine in every way. Your beauty
Your elegance and complete make up
All bring out an angelic expression in you
And that's why I could never compare you
To anyone else in the world
I love you.
Goodnight, dear one.
4: Lying in bed without you by my side
Is one of the worst feelings you could find
You are a person in whom I can abide
Someone to stand with me throughout the tides
Having you for life
Would make me the luckiest person in the world
No one else brings out the best parts of me as you do
Goodnight, honey.
5: All my life, I have been the typical guy
I may not be great at expressing my feelings
But that doesn't mean I won't stand up for us
You brighten my life more than the sky on 4th July
If I said I don't want to spend the rest of my life with you
I would be lying to myself
You are the one my heart beats for
The one whom I wish I met way before
because no one else gets me as you do
Goodnight, love of my life.
Short Good Night Poems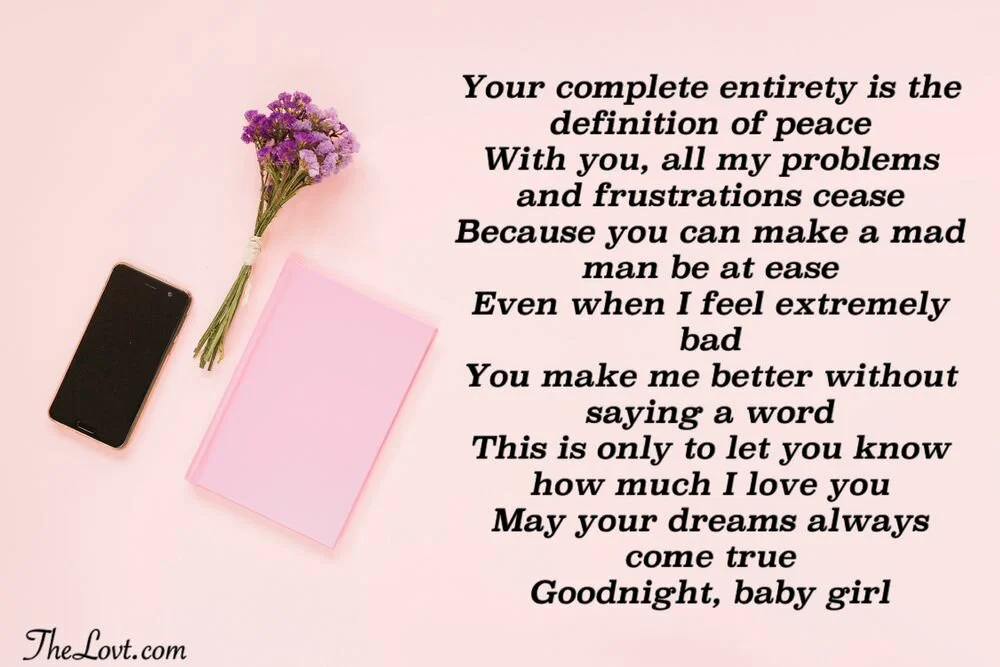 1: I feel lucky to be called your boyfriend
As the sky darkens and the moon shines
My heart crazily yearns for your touch and affection
You have worked on everything in me to perfection
Even with my flaws, you display love in a divine expression
May this love blossom and turn into something beautiful
The stars are magically glistening and shining on us
May we live to see the goodness of our days
Sleep well, my beautiful queen.
2: The birds have finally stopped chirping
And the sun is just about to set
As the moon comes up and displays its beauty
May your thoughts and dreams shine brighter than the stars
Keep in mind that you make my heart thump
And because of that, our love thrives in the waves of bliss
I miss you more than anything else in the world
Dream of the beautiful future we have together
Goodnight, honey.
3: Something about you
Filters all the bad memories and retains all the beautiful ones
Thinking about you is like walking through a magical garden
Or living in a royal castle, where food tastes better
The music feels better, sleep satisfies better and life seems longer
Before you rest your beautiful body in that cozy bed
Keep in mind that you are the one I want to wake up next to
For the rest of my life
Goodnight, sweetheart.
4: Being loved is by far, one of the greatest sensations in the world
The serenity, the sound mind, the crazy heartbeats, and crazy butterflies
Are all signs that we have some intense chemistry going on between us
Your wonderful presence, your irrevocably addictive company, is all I miss
What could I possibly give, what could I sacrifice, just to have you by my side
Like a loyal soldier to his master, I promise to stand by you
Till the end of our tomorrows.
Have a peaceful, fulfilling sleep, my love
5: Your complete entirety is the definition of peace
With you, all my problems and frustrations cease
Because you can make a mad man be at ease
Even when I feel extremely bad
You make me better without saying a word
This is only to let you know how much I love youMay your dreams always come true
Goodnight, baby girl.
Famous Goodnight Poems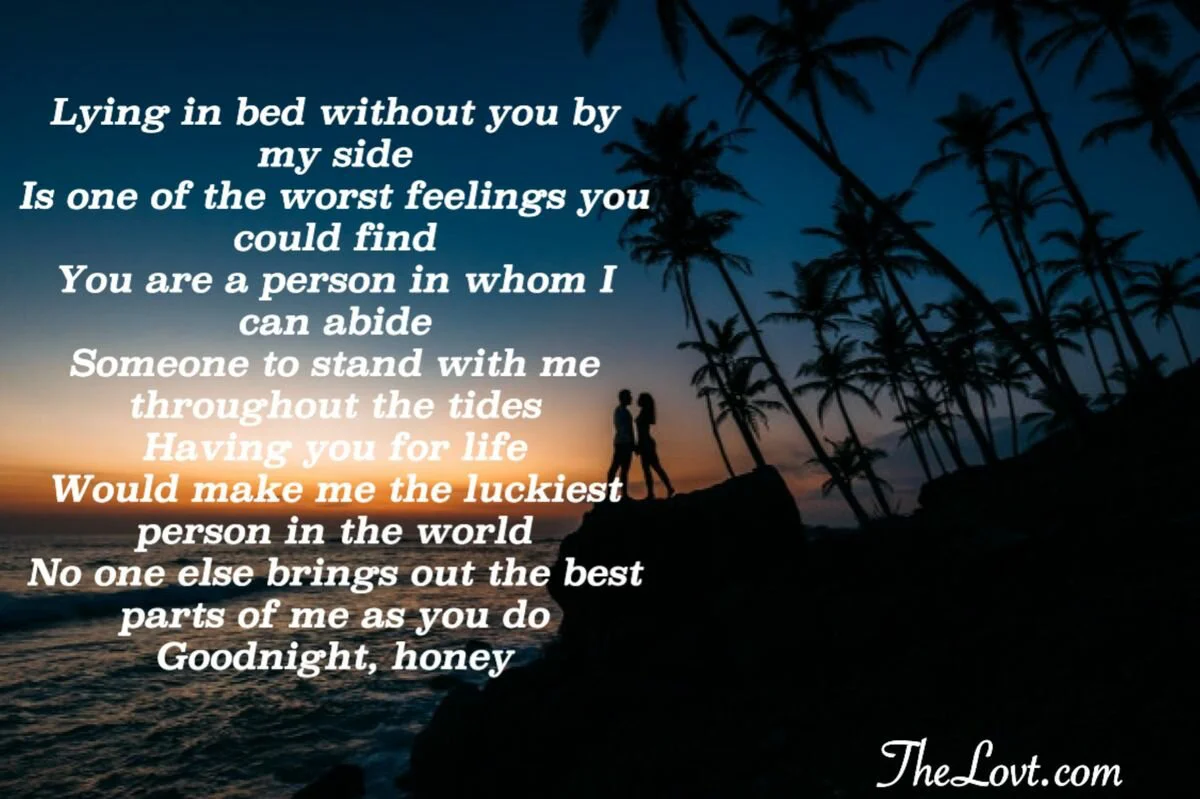 1: Each time I look at you
My breathing gets heavy
My heart beats in a funny rhythm
My fingers get all jittery
And from deep within, I feel so shaky
I miss you with all I have You are the best thing
That could ever happen to me
Goodnight, my sweet cucumber.
2: Like a car without an engine
A building without a clear façade
Or a book without any title or cover
I am too, lost and confused
When I'm away from you
I can't help but think of how Life would have been without you
Thank you for transforming me
Goodnight, my avocado
3: During such soft nights When blossoms bloom in magnificence And the stars align in conformity
I wish I could have you all to myself
To experience the naked tenderness And the passionate kissed in the air
For now, let's savor each other in memory
Goodnight, queen of my heart
4: Sweet dreams and best wishes to my love
May the night bring you peace and rest
May the soothing wind lull you to slumber
Like a mother lures her young one to sleep
Each moment, I long for your soft touch
I crave for your smile, your touch, and your energy
Thank you for being mineI love you.
5: Close your eyes and think about the new day ahead
We know it will be the best one yet because we have each other
Each day, we get a new opportunity to prove everyone wrong And achieve the best we could be in this life
It's time to close your eyes, my love
Drift off into the world of all impossibilities
And think about us the whole time
Goodnight, sweet one.
6: Rest your head and go to bed
Rest your gorgeous eyes and Let your mind drift off to a peaceful place
A place where everything feels right
A place where there is no strife
But only bright adventures
Have the best night yet, darling
7: Dreamland awaits you, my queen
Go forth and make everything a big win
Because you deserve to be on the winning team
As you retire to bed tonight
Think about what the future holds for us
As well as techniques of how to stay beautiful
Goodnight, fell loved and appreciated
Funny Goodnight Poems For Her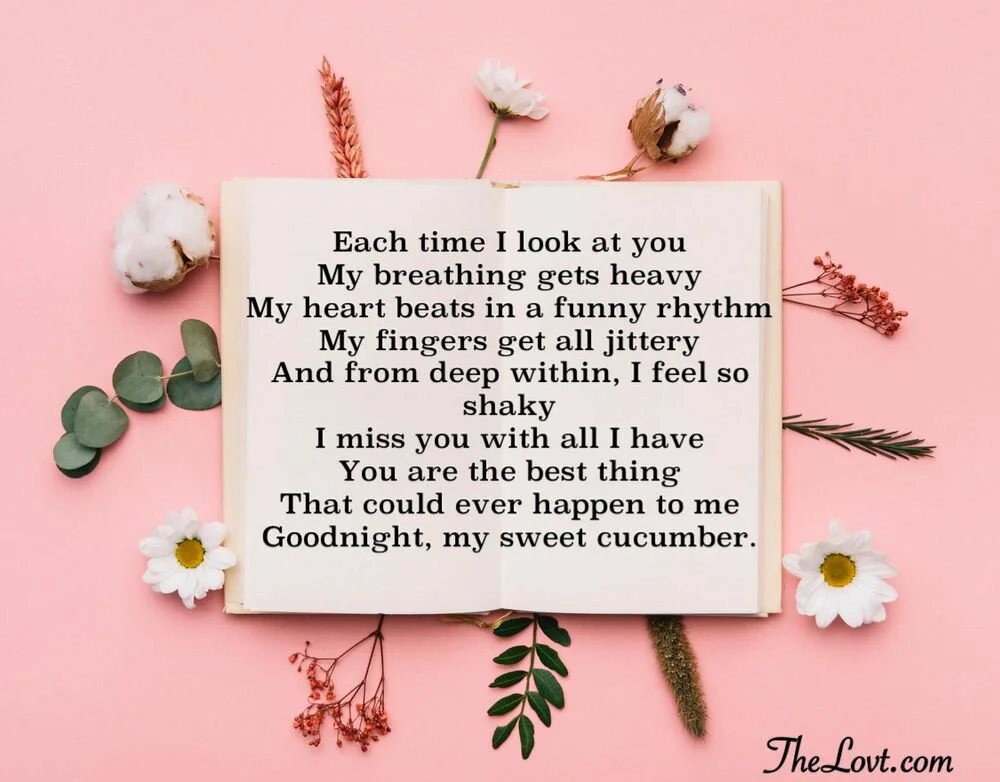 1: As you close those big sparkly eyes tonight
Don't let the fat bed bugs in your bed bite
Also, your mattress has missed you
So don't keep it waiting
Have a sound sleep and a remarkable day tomorrow
I love you unconditionally
2: You have been on my mind all day long, dearest one
For such a long time now, you have been my greatest distraction
As well as the muse to all my artsy work and creative designs
Before you sleep, I just had one thing to say to you
Don't forget, to brush your teeth, wash your face and feet too
We still have, a bone to pick, because of the shortage of hugs nowadays
Goodnight, sleeping beauty
3: Falling out of bed today
Because I had to pick up your callIs such a fierce way to end my day
However thrilling and fulfilling it was
You will have to pay for it
With your sweet kisses, cuddles, and snuggles
Sleep well, my love and have better nightmares than yesterday
4: I heard that the good people
Enjoy their sleep more than the bad ones
This would imply you have a hard time sleeping
Because you are both good and bad
In ways only I can attest All I wish for you is a sound night's rest
And psyche for tomorrow's endeavors
Goodnight, little princess
5: Before heading to bed
I had to talk to the love of my life
And tell her that she doesn't need
To talk to Instagram or Facebook
Every night to tell people that she's sleeping
Just shut up and sleep, babe
I'm the only one who cares about you
Goodnight, I love you dearly
6: May the sweetest and most romantic person in the world
Come to your dreams tonight and grace all your memories
May he spark the bonfire heart inside you
To bring out the best in you and lighten up your world
But this should not be a habit because I am not free every night
Goodnight, future wifey.