Mornings can be cumbersome for most people, especially in this rat-race of a world we live in. Establishing a power-packed morning routine could form a solid bedrock to get you through the day.
One of the key things to include in your morning pattern should be; sending a quick good morning text to your friends. You'd be amazed by how much a single text could transform a person's day. People have so much going on in their lives; it doesn't hurt showing some love or being part of their solution.
Believe it or not, you would also feel much better knowing you helped someone kickstart their morning in the right way. Without ado, below are some of our finest sample good morning messages for your friends.
Here's to developing a new habit and reaching for your best life.
Sweet Good Morning Messages for Friends
1: Good morning to you, my friend. I hope this day comes with smiles, blessings, and laughter. Don't hide the radiance in you. Everything you set your mind to do will prevail if you believe in yourself. Have a good day!
2: Today, I pray that you and your loved ones experience the most fulfilling day, full of favor and blessings. My life is better because of people like you. Good morning.
3: Just like the sun lights up the world, I believe friends like you light up my life. As you out to do your daily tasks, know you are an amazing person and you deserve the best in life. Have yourself a beautiful day, dear friend.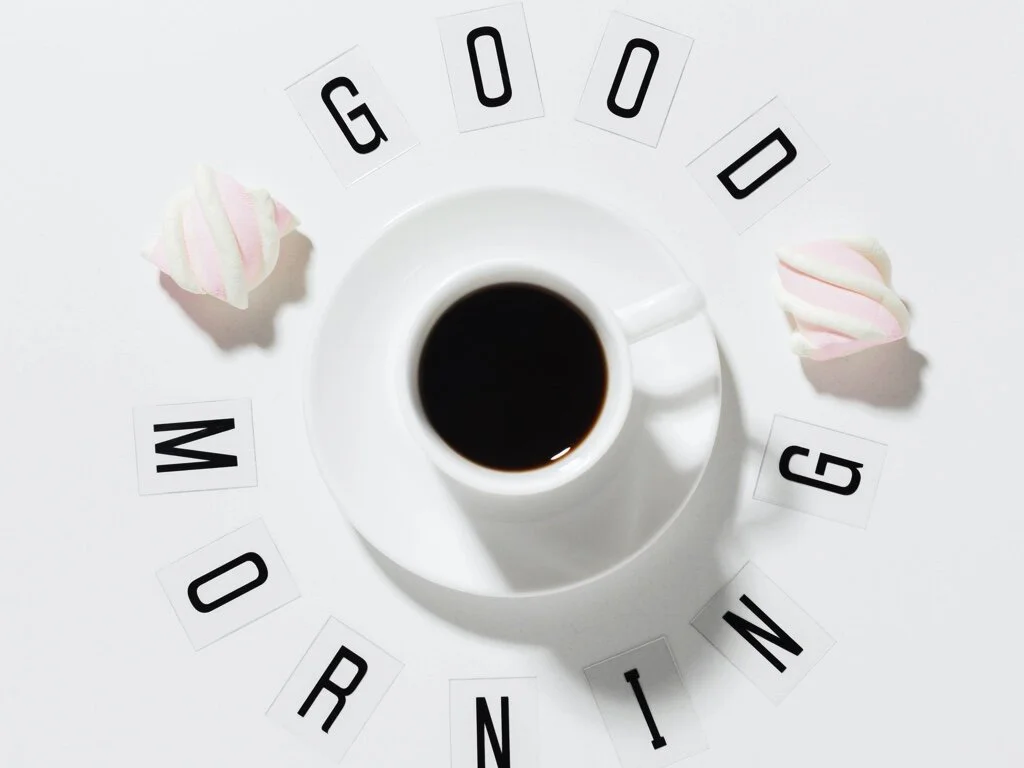 4: Sending the sweetest wishes for your morning and day. I hope your day is as perfect as you are. Get out and chase your dreams like the warrior you are. Good morning, dear one.
5: The darkness has finally been taken away. Rise with the sun and let it brighten up your mood and spirit. Good morning buddy! You are a giant in your way. Go and prove it to the world!
6: Nothing would make me happier than seeing you smile. You've kept me going throughout the darkest of days. I promise to always have your back. Rise and keep smiling. Good morning!
7: Good morning lovely friend. Wake up and embrace the opportunities that come your way. Watching the beautiful sunrise is not as satisfying as hearing your crazy laughter. I miss you goofball.
8: Thinking of my sweet friends in the morning is stronger than a shot of coffee. Wishing you a splendid day ahead reminding you to forget the past and focus on things to come. Stay safe!
9: With such a great best friend, I don't need an alarm because I find myself waking up early to disrupt your sleep. Regardless of anything, you have the strongest wits and the sweetest smile. Good morning and day, bestie.
10: Life has so many disappointments. At the same time, it has numerous opportunities. Today, I hope you find an opportunity amidst the storms and manage to smile through the tough situations. Blessed morning!
11: Good morning lovely friend. If you were to remember one thing, know you are enough. A million times enough. Thank you for always being there for me.
12: Time has come to wake you up my friend. Get ready and slay your demons throughout the day. Above all, wear your smile like a loaded gun. I appreciate everything about you. Good morning.
13: To my beautiful friend, I send lovely morning wishes. You deserve the best in the world so never give up on your art. Brighter days are yet to come. Thinking of you keeps me in check and brightens me up. Have the most splendid day today.
14: Each day, I think of how supportive you have been, and it moves me to tears. Cheers to the most wonderful friend in the world. May all your dreams and visions come true. Good morning and have a good day
15: Before you set off for work, believe you have all it takes to achieve your dreams. You first see opportunities in the mind. I pray that God gives you the insight you deserve and the wisdom to handle different situations. Good morning ahead.
Heart Touching Good Morning Messages for Friends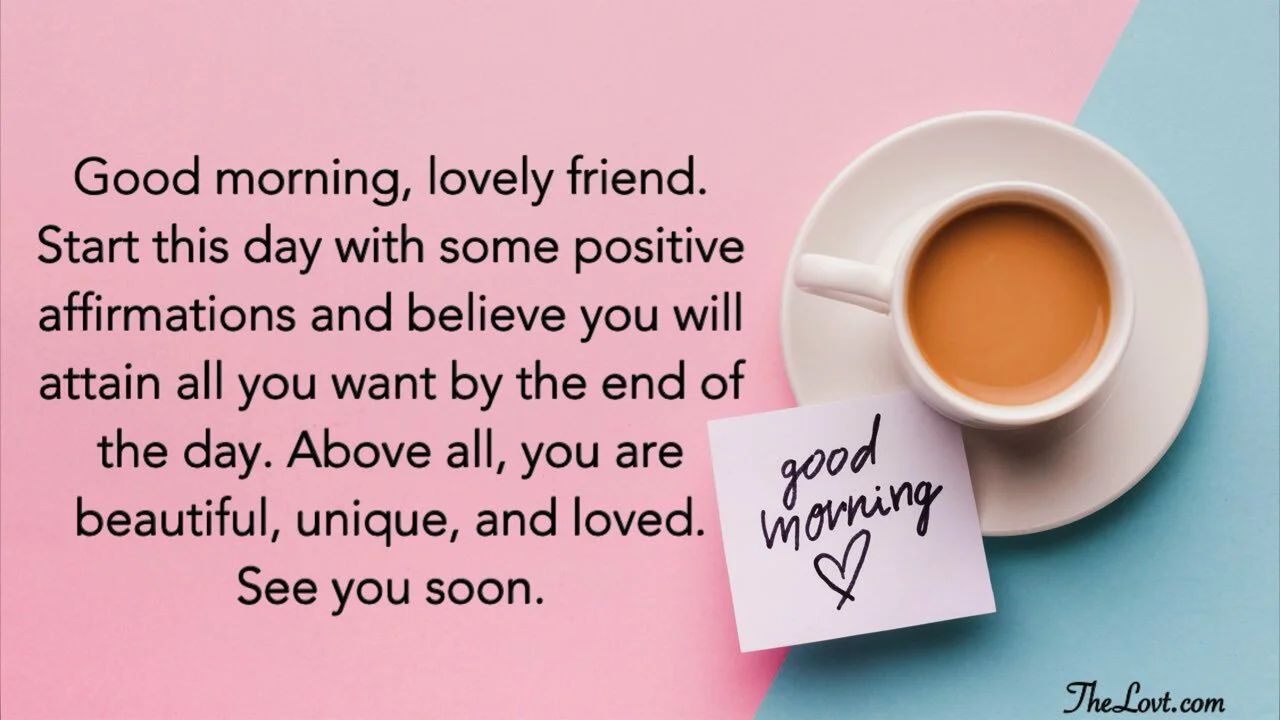 1: Rise and shine dear one. Behold, a new day has come. We have quite some work to do. Regardless, don't forget to have fun at work and stay positive in all things. Wishing you a perfectly productive day.
2: Good morning, lovely friend. Start this day with some positive affirmations and believe you will attain all you want by the end of the day. Above all, you are beautiful, unique, and loved. See you soon.
3: One of the best ways to spend your morning is by having pancakes with your best friend. That's why I'm on my way to your place. I'd better find you up, sleeping beauty. See you in a few.
4: Buddy, I hope you are having a good morning. Just a reminder that you are strong and full of strength. May this day bring laughter, peace, and great ideas. I appreciate you.
5: Saying good morning to you is another way of saying I think about you and have the best interests of you at heart. You will always be on my mind. Good morning, beautiful friend.
6: I cannot guarantee you a day without a few mishaps, but I do guarantee a friend whom you can lean on and take some advice from. Always smile, knowing you have the company of a loving friend. And that is better than most things in life. Good morning.
7: I love mornings because I get a constant reminder that I have a great friend who will always have my back. Sending the best of wishes to you and your family. Tell me how your day was in the evening. Much love from me.
8: Good morning buddy. I just thought of telling you that I feel alive when I'm around you. No one makes me feel so special and loved. I would never contemplate how life would be without you. Thank you and great day ahead.
9: Relish this bright day, bestie, as a foretaste of what the future has to offer. We can only be hopeful and open-minded, but with each other, we have love and companionship. I love and appreciate you.
10: Rise and shine dear friend. Summon all your strength and resilience, because you are going to make the world a better place today. Wear boldness and strap faith around the waist because you are more than a conqueror. Good morning!
11: Good morning. I hope you like texts from me. Eat your cereal, brush your teeth, and take a proper bath because the world is not ready for the greatness in you. Every day is another opportunity to outdo yourself. I believe in you.
12: Mornings have the power to determine the course of your day. You have been a blessing to my small world, and I would love us to spend the rest of our lives in this tight union. Wishing you breakthroughs and blessings today.
13: Having you around spices up my life like grilled chicken. Our friendship looks good on the outside but is even sweeter on the inside. Good morning BFF. I hope you have a day that is as lovely as you are.
14: Great friendships, like what we have, make life worth living. I'd like to send tons of thank you kisses because you have been a major contributor to my transformation over the years. Receive all your wishes today and the days to come. Good morning.
15: To my one and only true friend, it feels good knowing I have you in my life to stay. Seasons come and go, but the love we have for each other will always remain. Wake up and keep winning. All the best!
Funny Good Morning Messages for Friends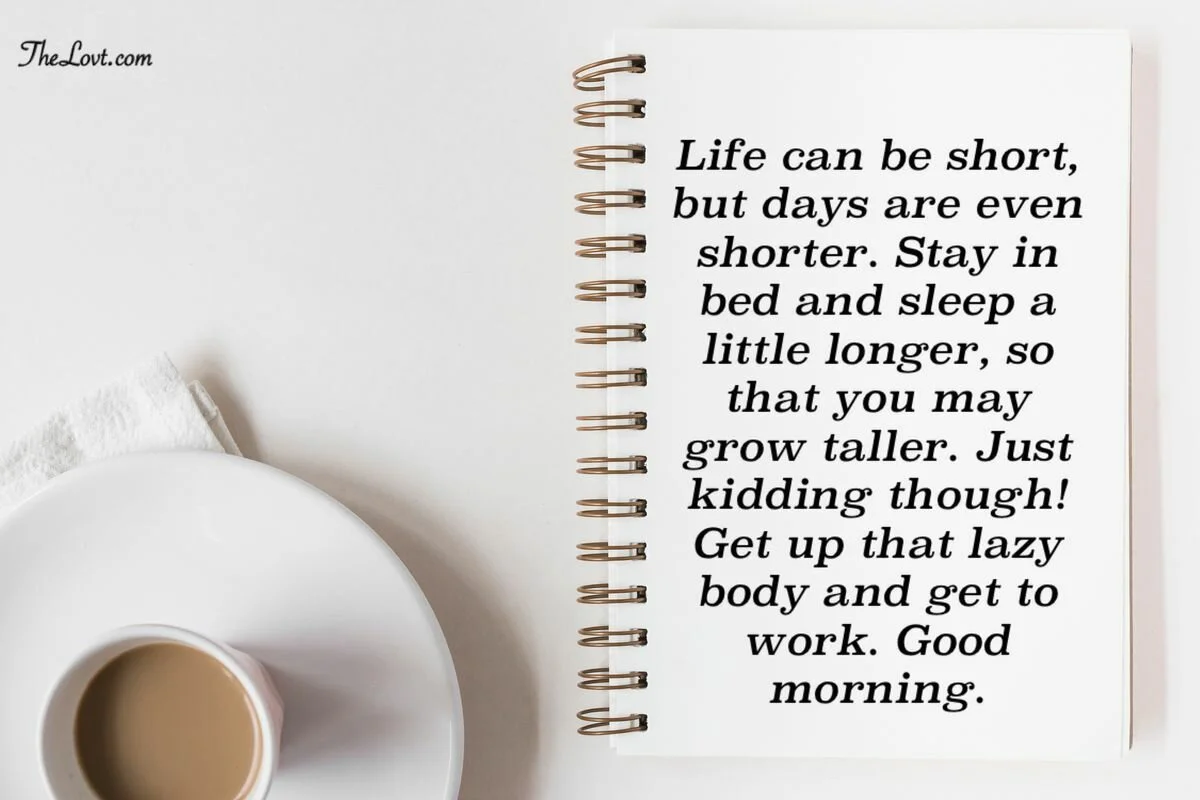 1: Good morning special friend. I love the fact that you never get mad at me even though I laugh at all your blunders and make fun of you endlessly. Each day, you teach me the importance of friendship, as I teach you the importance of having a good laugh.
2: Life can be short, but days are even shorter. Stay in bed and sleep a little longer, so that you may grow taller. Just kidding though! Get up that lazy body and get to work. Good morning.
3: Sometimes, I feel like the only thing keeping us together is the fact that we are both early risers. Starting the day off with a couple of jokes and some encouragement is the glue each friendship needs. Splendid morning, dear one.
4: If you are reading this message, it means you have finally woken up and ruined the entire morning. Cheers to annoying each other for the rest of our lives. Good morning buddy.
5: Good morning, sleepy one. I would like to wish you immense luck today. But if you get lucky enough to win the jackpot, just know I am entitled to 10 percent of the cut because of the good luck wishes.
6: Sending love and strength to you, dear friend. I know it is not easy to wake up every day just to remember how ugly and stupid you are. Be positive about everything. You have a great life ahead of you.
7: Good morning crazy friend. On some days, I want to hit you so hard, but on most days, I wish I could re-arrange the alphabet just to keep U and I next to each other. Dreamers like you do not need inspirational messages. You just need annoying friends like me.
8: One of the worst things I have had to endure is you opening my morning texts in the evening. I still do it anyway because I care. I cannot wait to hang out with you and laugh at the silliest stuff. Enjoy your morning.
9: I keep wondering when we are planning to take this friendship to the next level, only to remember we both have better halves. Just kidding! Have a spontaneous day, full of love and blessings
10: Lazy bone! I beseech you to wake up. If only I could get there and wake you up physically. I know how hard it is for you to leave the blankets, don't worry, they are not going anywhere. Have a hysterical day.
11: I hope I am not the only one who feels like the night was short. Please wake up and help me jam start my morning with your crazy humor. Tell a joke or this friendship comes to an end. Good morning.
12: Good morning. Just a brief reminder that you are fat, and no amount of exercise will give you the body you desire. Just kidding though. I mean the exact opposite of this. Have a good day!
13: Behold, the morning fairy has come. Behold, I plan to dust you with joy and luck. Laugh and be happy because you have a good day ahead of you. Get up before the sun decides to set early. Good morning!
14: Who is always chasing you out of bed? Because you always wake up before the sun rises. For once, dear, spend the whole day in bed. Laziness can be healthy sometimes. Wishing you a lazy day ahead
15: You are someone that makes me laugh, gets on my last nerve, and still has my back. I would never replace you with anything in the world.