Unmatched delight, mixed emotions, and sanctioned pride are some of the things you should expect to feel on your sister's big day. Indeed, this once-in-a-lifetime event marks a remarkable milestone that affects everyone, in one way or another.
A wedding card plus the gift of your choice would be the ideal combination. Normally, as a brother or sister to the bride, you would feel the pressure to outdo yourself, especially when it comes to wedding wishes and gifts.
Our arsenal of warm, emotional and funny wishes should help you do the job. Gifts may fade and wear out, but words will last forever.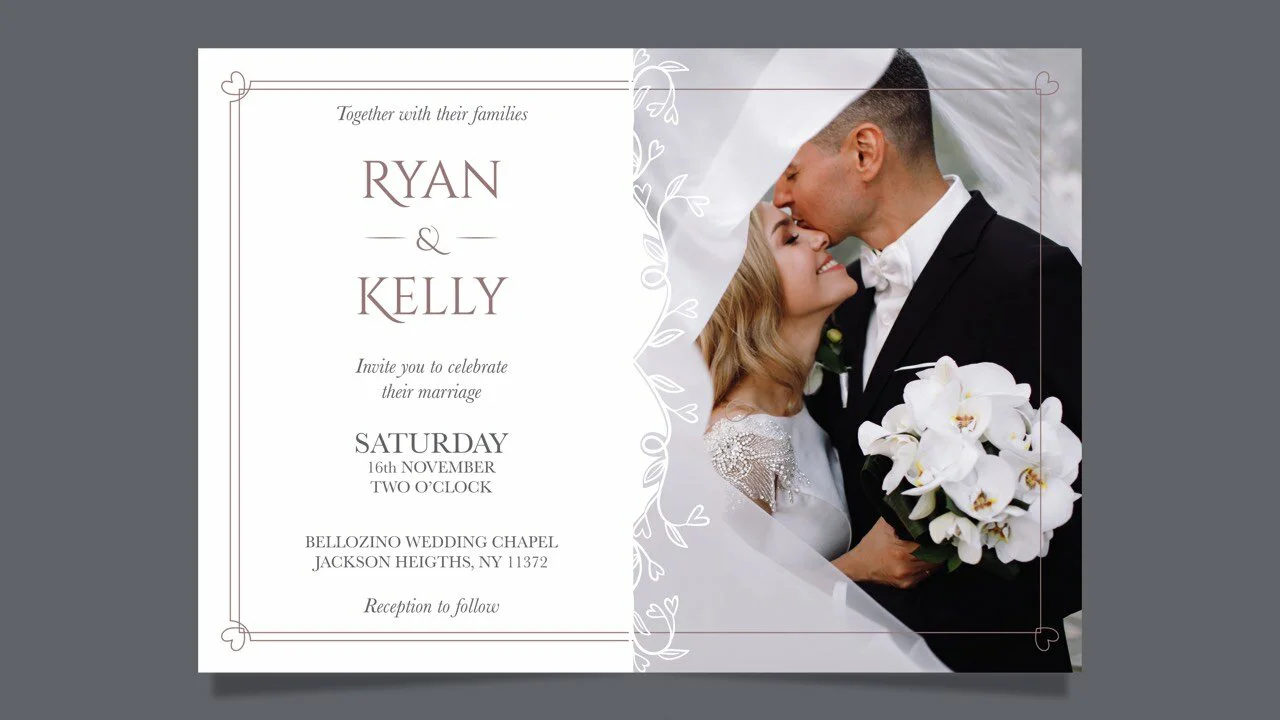 Best Wedding Wishes For Sister
1: Heartiest congratulations to the best sister in the world. Growing up, I never thought this day would be filled with so much emotion. Continue spreading love, bliss, and daylight, like the sweet person you are.
2: I will recall this moment all my life. The day we finally escorted our small sister to her groom for life. Congrats dearest one. May you enjoy all that this new life has in store. You have been a blessing.
3: From the singing to the dancing to the speeches and cutting of the cake, this day could not have been better. To top it all, your majestic smile crowned the day. From the depth of my heart, I wish my baby sister the best in this new voyage and may the odds be ever in your favor.
4: To my closest companion and my only confidant, congratulations. Although it saddens me that I won't be seeing you at home as often as I used to, I take heart in the fact that you are happier this way, and that is what matters.
5: Getting married to the man of your dreams is not only a dream come true for you but me as well. Seeing you graduate through all stages in life makes me proud to be called your sister and I know we will celebrate many more milestones.
6: My dearest sister: Receive my warm wishes for being the most accommodative sister in the world. May your marriage be filled with everlasting joy and prosperity. I love you. I love you both.
7: Have the happiest married life my dear sister. I am so happy for you, even though you have annoyed me all my life. I wish you nothing but the best.
8: I have seen you grow up from a stubborn girl to a responsible young woman. Have the happiest married life my dear.
9: I know you will be an awesome wife. You will also be an exceptional mother who will create a happy home. All your dreams have finally come true. Thank you for making me the proudest brother in the world.
10: All my life, I have never seen such a beautiful bride. I wish you the best of luck as you cross over to true womanhood and as you take responsibility for having your own family.
11: I hope your newlywed husband knows how lucky he is to have such an amazing wife. Growing up, you have been our pillar of strength and a refuge in times of need. You are going to be the best wife. Congratulations!
12: Though you are moving away from home, I'll always be by your side. Keep up with the good work, continue inspiring people with your noble acts and ensure to take care of your husband. I love you and congratulations.
Emotional Wedding Wishes For Sister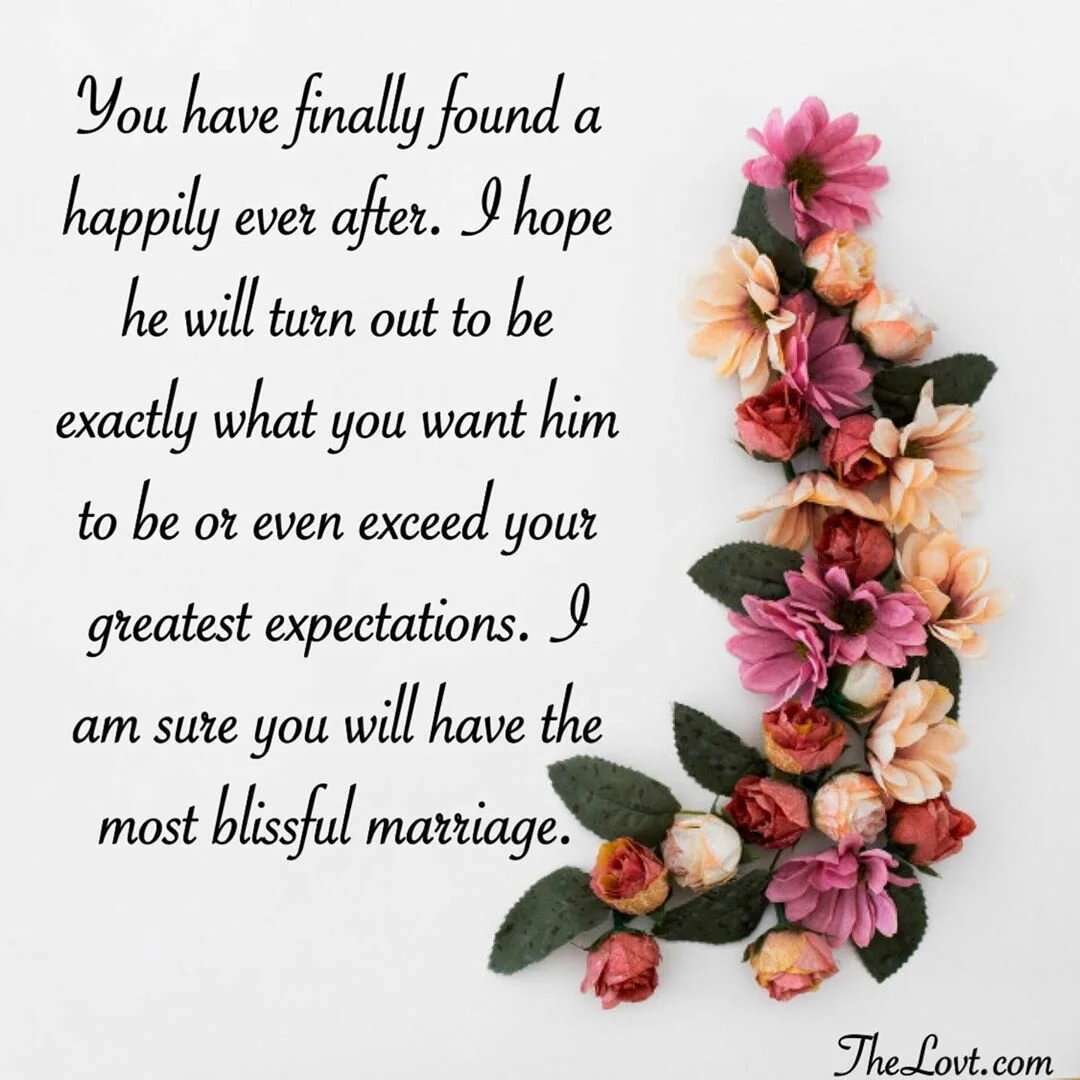 13: You have finally found a happily ever after. I hope he will turn out to be exactly what you want him to be or even exceed your greatest expectations. I am sure you will have the most blissful marriage.
14: My greatest prayer is that you have a warm cozy beautiful home full of happiness all year round. You will make an amazing mother to your future kids. I know all this because I have had the rare opportunity to know you all my life.
15: Everlasting love is all I wish for you. Congratulations to my big sister who has been the most responsible and loveliest person. Today marks the start of a fairytale, only this time, it has the best lead character. I love you.
16: You are all grown up and dressed like a monumental figure, which is even better than we ever imagined. I will remember this moment for a lifetime because I love you to the moon and back. We are family for life, even though you will be away from us.
17: An immaculate lady with the man of her dreams. Happy married life dear sister. You have made us all proud, which easily makes you the greatest role-model in our family.
18: I still can't believe you have tasted marriage-life before us all. Dear sister, a fond dream has finally come true. It is my greatest prayer and heart's desire that you will experience the best this life has to offer.
19: It is so inspiring to see your progress on this wonderful journey. As you start building your new lives together, may you share numerous special moments and build up a foundation of trust. Congratulations, our iron lady!
20: With a somber mind and a cheerful heart, I hope that your newlywed life turns out better than you expected. Please remain the generous, bright-eyed, loving and kind person you are. Discoveries and new ventures await you. Have the best life, yet!
21: As you turn a new leaf and become a family person for life, may you increase in everything you put your hand to do. You deserve all the happiness in the world.
22: You finally have the opportunity to build a family. A lot of people spend a lot of time trying to find their soul mates, but you are lucky to have found yours soon. May you have a lifetime of abundance, joy, and peace. Congratulations.
23: Though you are moving out, always know that in me, you have a friend, a confidant and a loving sibling. I love you and I hope that this new life will be better than the life you've lived.
24: I have never met such a loving and admirable couple like you guys. I have confidence that you will make a great team and have adorable babies. I will miss you dear sister, but this just another glorious stage in life.
25: I know marriages are not always nice and easy, but you have been through the worst experiences and I believe you will do a phenomenal job. Cheers to the best sister in the whole world.
Funny Wedding Wishes For Sister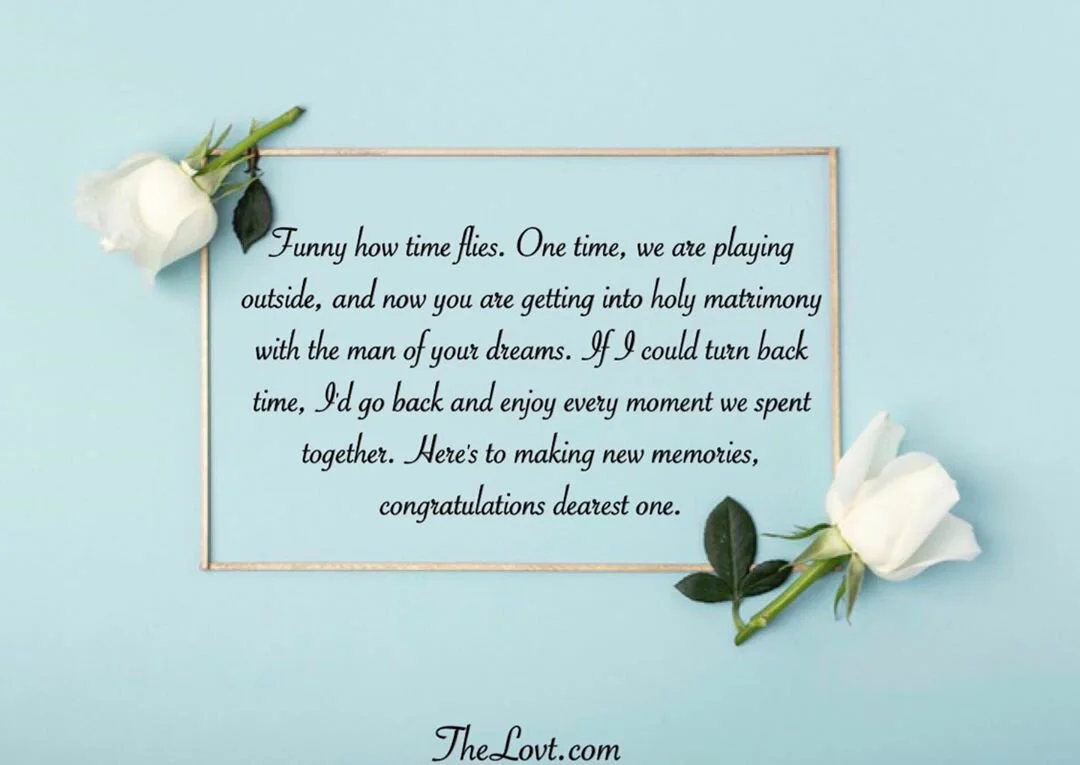 26: As you celebrate this milestone, I pray that you also enjoy all that comes with it. From inside jokes, fun experiences and crazy adventures together. Wishing you all the happiness in the world. I love you, sister!
27: The fairest and most annoying person in my life after our mother has finally gotten married. I'm still in disbelief you'd find someone who genuinely loves you. Though it has taken you long, I hope you will make memories that last a lifetime.
28: My prayer for you today is happiness with no flaws. May you have a stress-free marriage free of tantrums and your extreme moods.
29: You always took care of me and had my back, as any other big sister would do. Seeing you getting married makes me happy because it's your turn to be pampered and taken care of. Congratulations!
30: We will sorely miss you, dear sister. I still remember how you first took your baby steps and first pronounced your name. Seeing you walk down the aisle brings me so much joy and emotion. Welcome to your new life.
31: Funny how time flies. One time, we are playing outside, and now you are getting into holy matrimony with the man of your dreams. If I could turn back time, I'd go back and enjoy every moment we spent together. Here's to making new memories, congratulations dearest one.
32: Here's to the newest members of the newly wedded crew. You have added another status to your name, and I hope you will find fulfillment in every aspect.
33: We used to dream of our futures and marriages as kids but who knew this moment would be this glorious. Wishing you and your new partner a happy marriage and abundance in everything.
34: And two became one! You do realize you will now sleep with the same person for the remaining part of your life? May you both enjoy the finer things in life and experience a productive marriage.
35: Many congratulations on finding the ideal husband. With you out of the game, I feel challenged to also settle down with someone. As a sister, you have been a great role-model and I know you will make a great mom as well. Thank you for everything.
36: Dear sister, I am wishing you the very best as you sign off out of the bachelor phase. I trust you will be an accountable wife, responsible mother and wise advisor. But if your husband ever breaks your heart, I won't rest until he has paid. Just kidding, congratulations darling!